Monthly Archives:
March 2022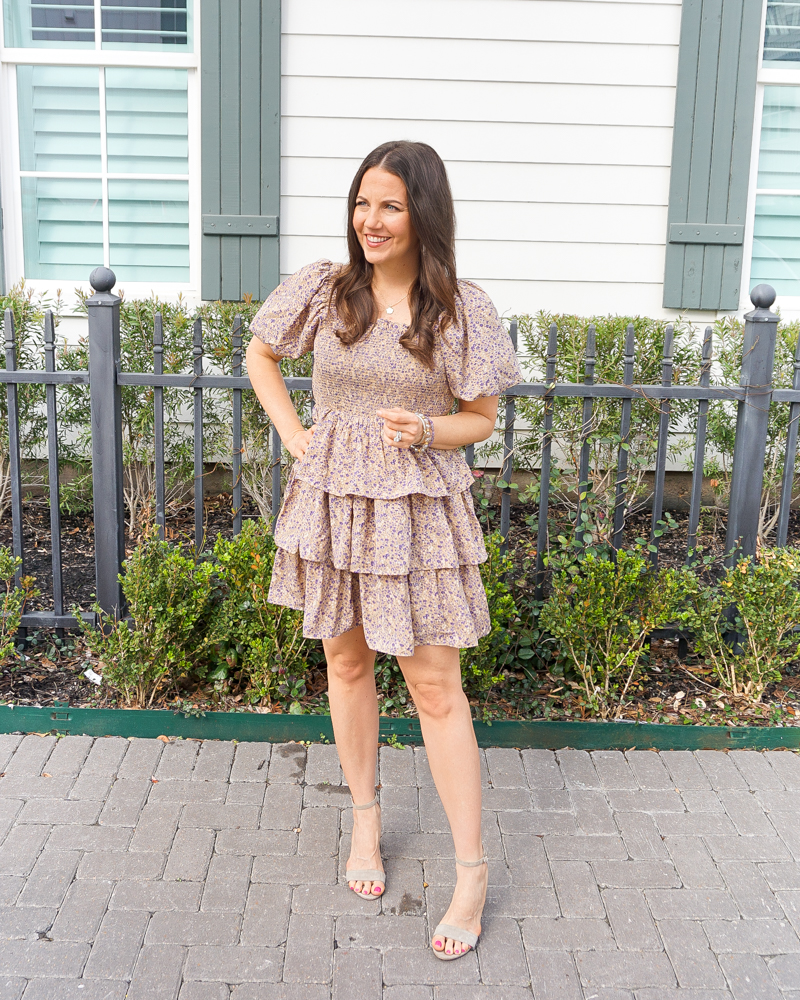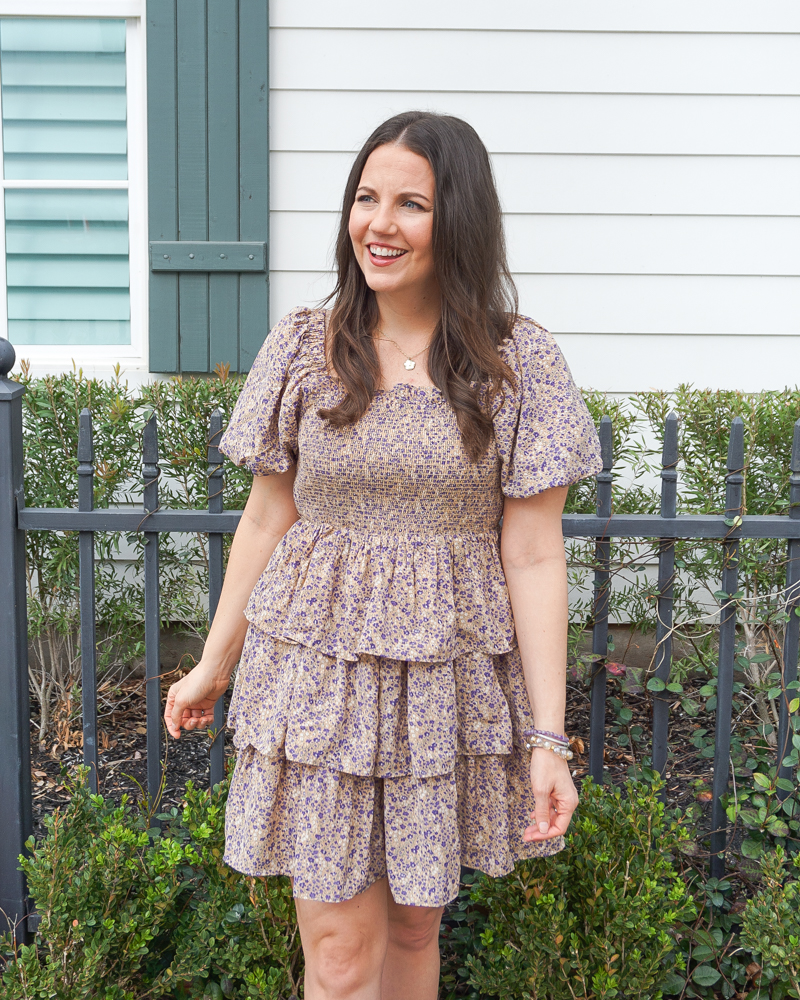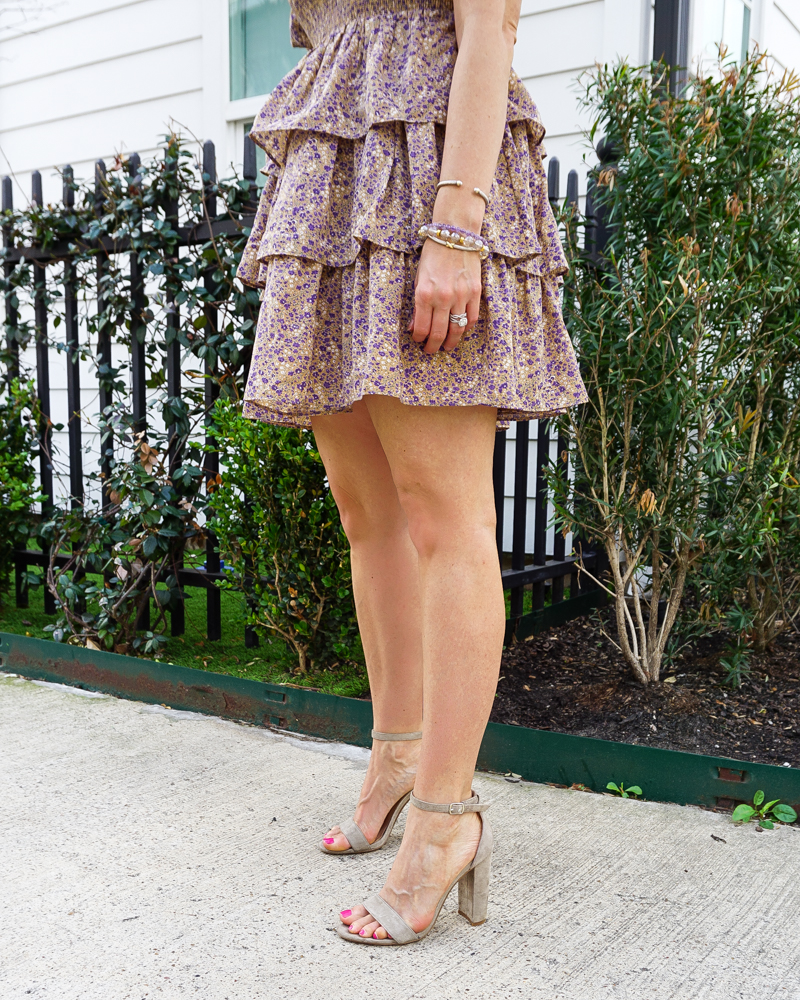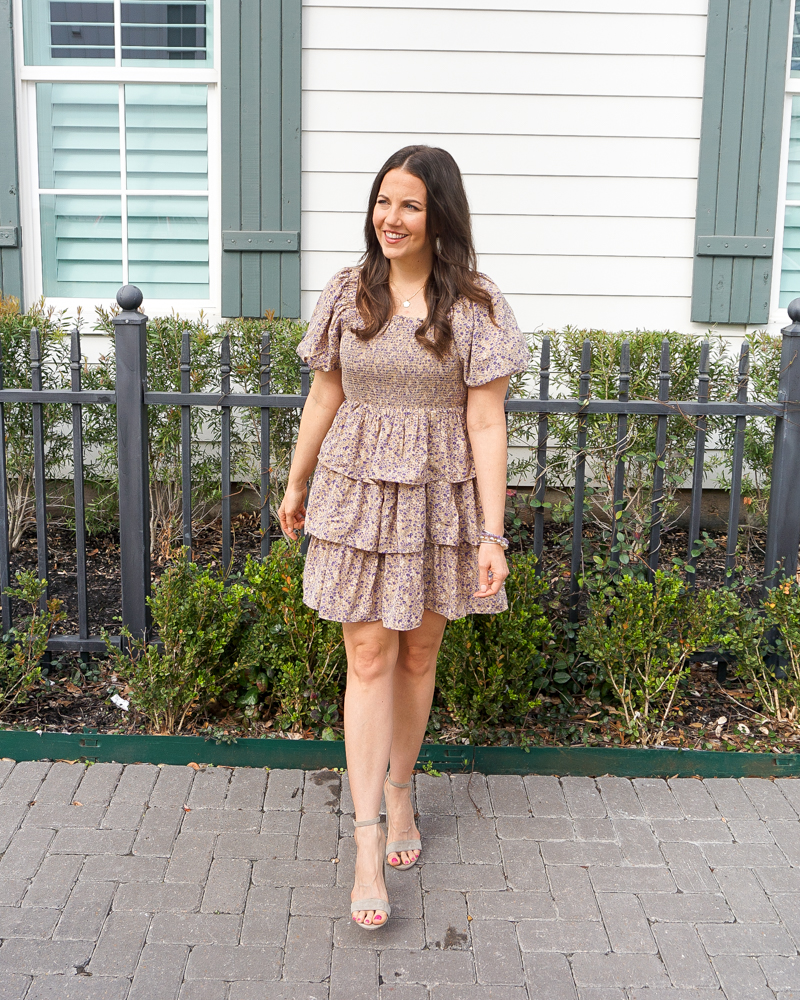 FLORAL MINI DRESS WITH SLEEVES
Ready to add all the spring dresses to your closet?  This little mini dress is a must and can be dressed up and down.  I wore it with block heel sandals for church a few weekends ago.  I think it would be the perfect Easter dress. You could also pair it with a simple nude colored pair of pumps instead of a sandal.  In addition to Easter, this dress and heels combo will also be perfect for any bridal showers you have this spring or summer.
Now let's switch over to a more casual side. A flat pair of sandals or wedges is the way to to go to dress this down a bit for a casual brunch or even a casual Easter lunch.  You can also toss a denim jacket over this dress to give it a more casual look.  The sleeves have a puffy look, but they lay flat under a jacket.  The dress and jacket combo with a pair of cowboy boots will be perfect for rodeo for all my Texas gals.  See that western inspired outfit here.
With the ability to dress up and down, this tiered skirt dress will give you lots of versatility in your closet this spring and summer.  I love all the details on this dress from the purple floral print, smock bodice detailing, fun and flirty tiered skirt, and you know I love a statement sleeve.  It all works perfectly together for the essential spring dress.  I'm wearing this dress in a size small.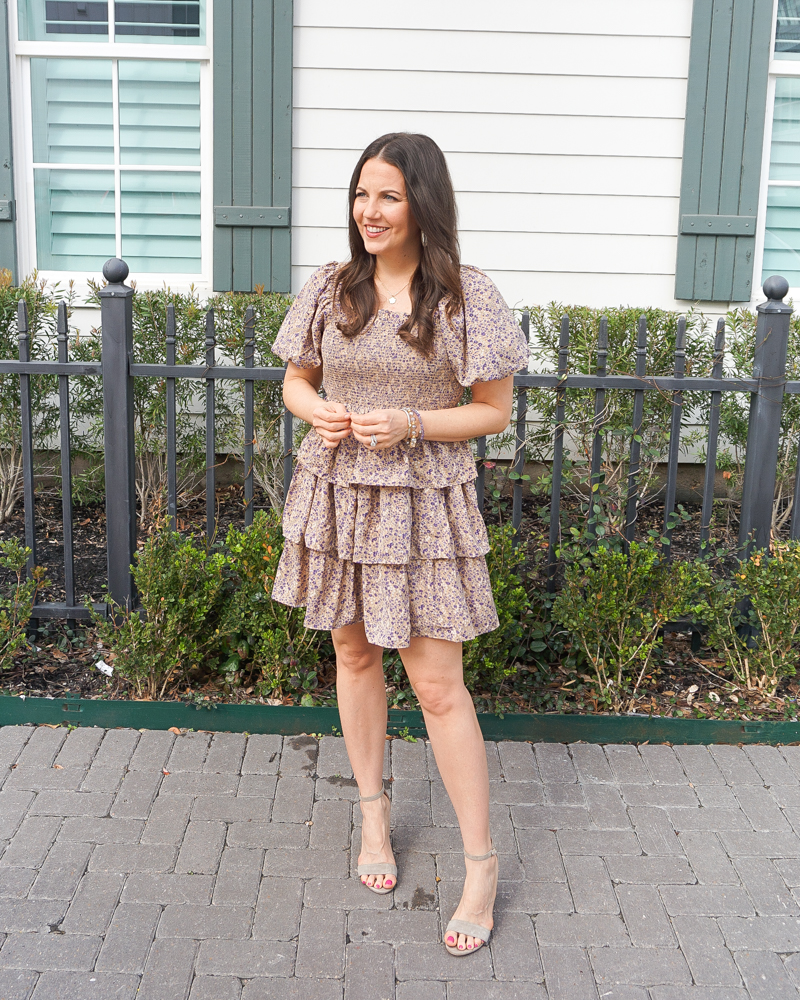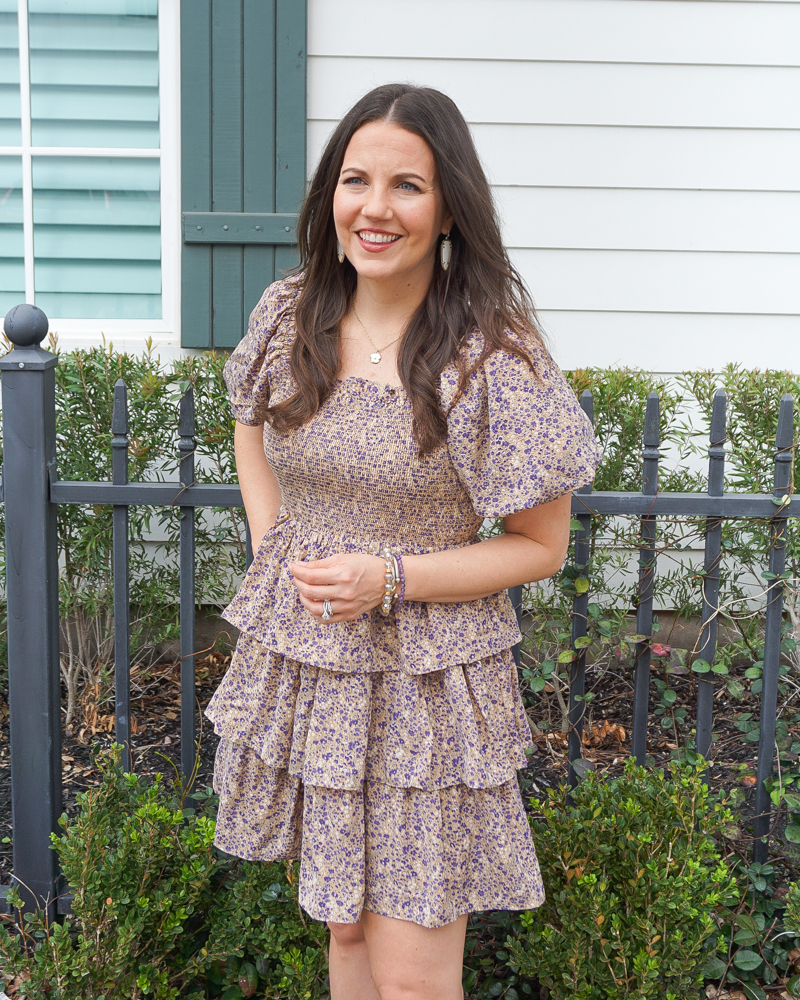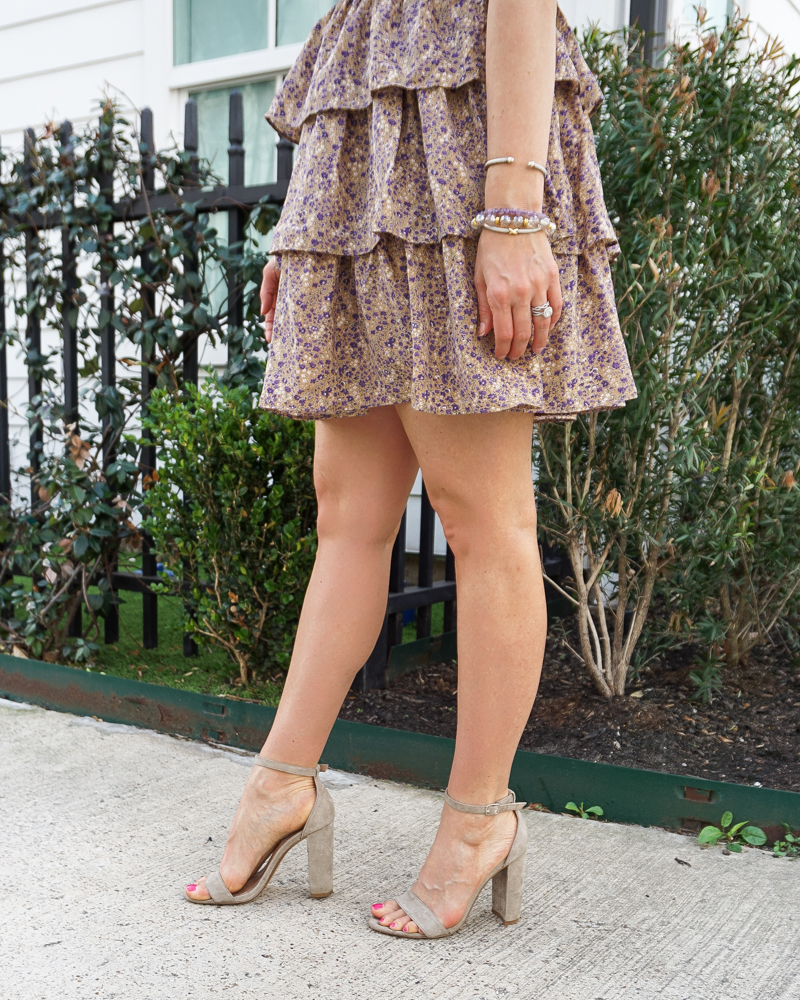 SHOP THE LOOK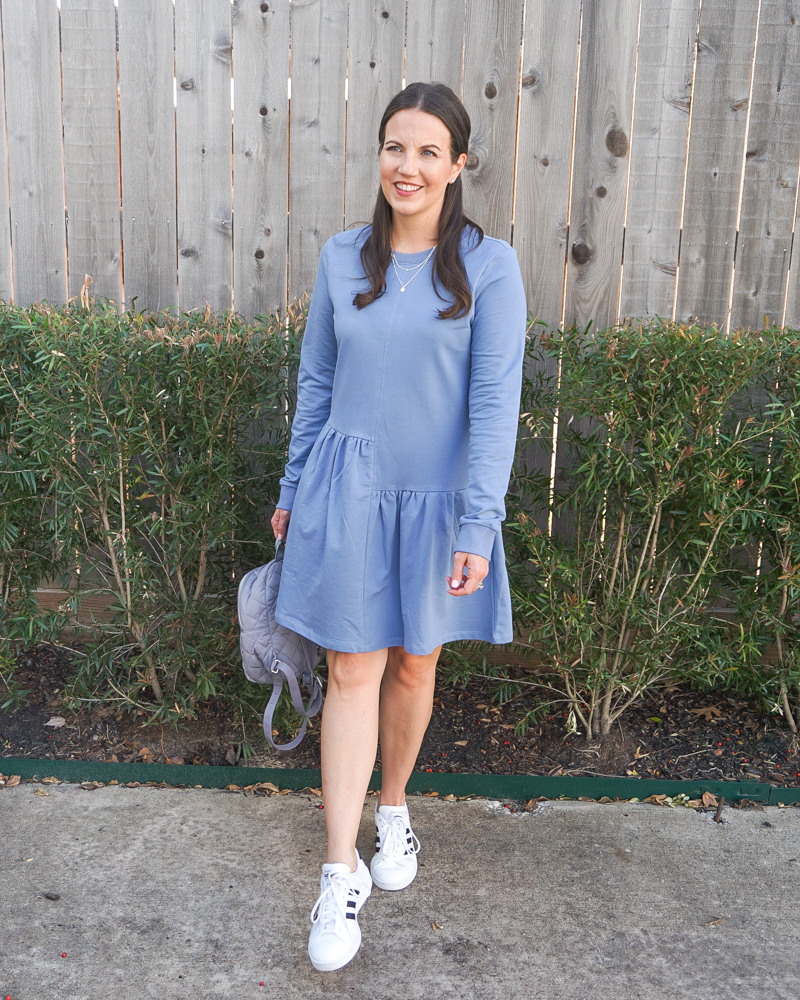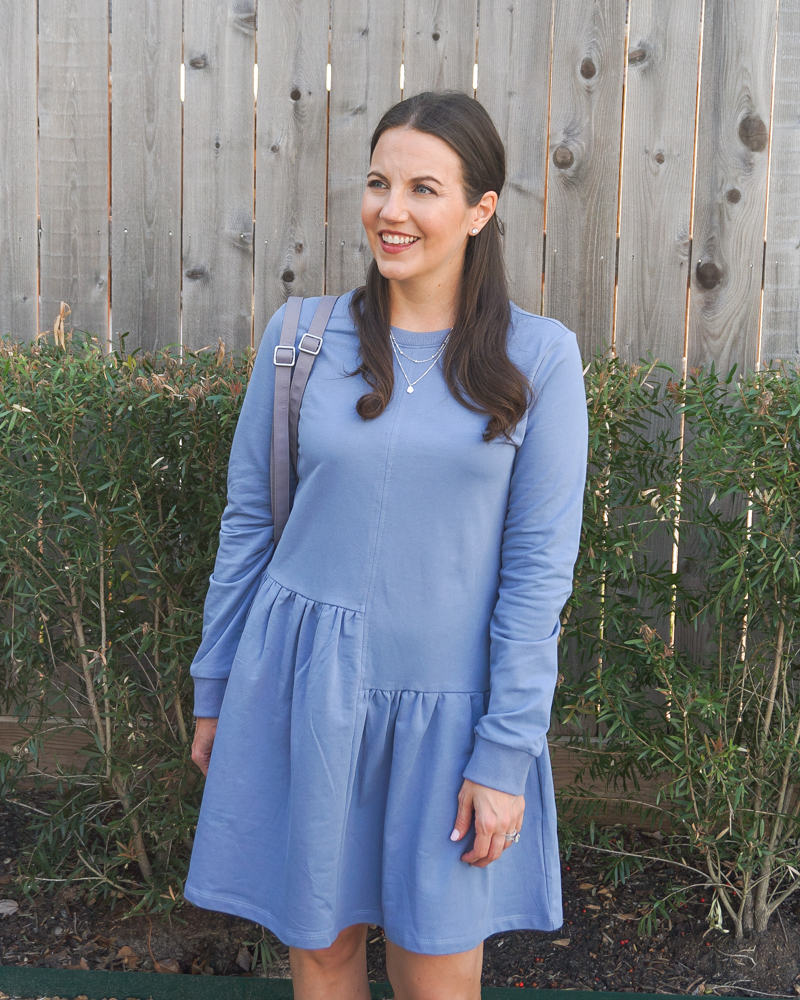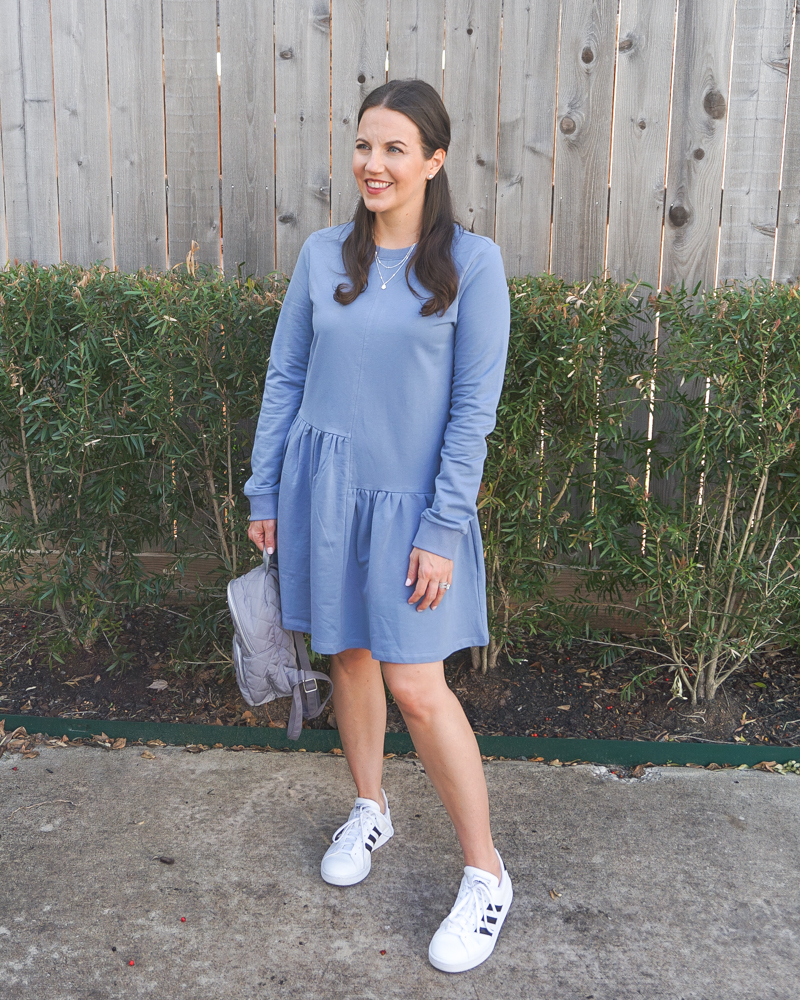 How to Wear a Dress with Sneakers
March is here, and I'm ready to start sporting all of the spring dresses!  For an errand running weekend, you can pair your dress with sneakers for an easy on the go outfit.   White sneakers are perfect because white will work with a variety of colors and prints.  Plus, the white helps the color of your dress POP!
My light blue dress is a super comfy sweatshirt knit material. It will keep you warm on the cooler spring days.  The style and material of the dress have a more casual vibe which is perfect to pair with sneakers.  Keeping with my casual vibe, I added in my little gray backpack which is perfect for an errand running day.  Whenever I have a crew neckline, I love to grab this layered necklace. I think it lays perfectly over my dress for a simple everyday necklace look.
My casual weekend outfit hits all the must haves for wearing a dress with sneakers.  Casual, comfy, and a little bit sporty with little feminine touches in jewelry, color combos, and a ruffle hem.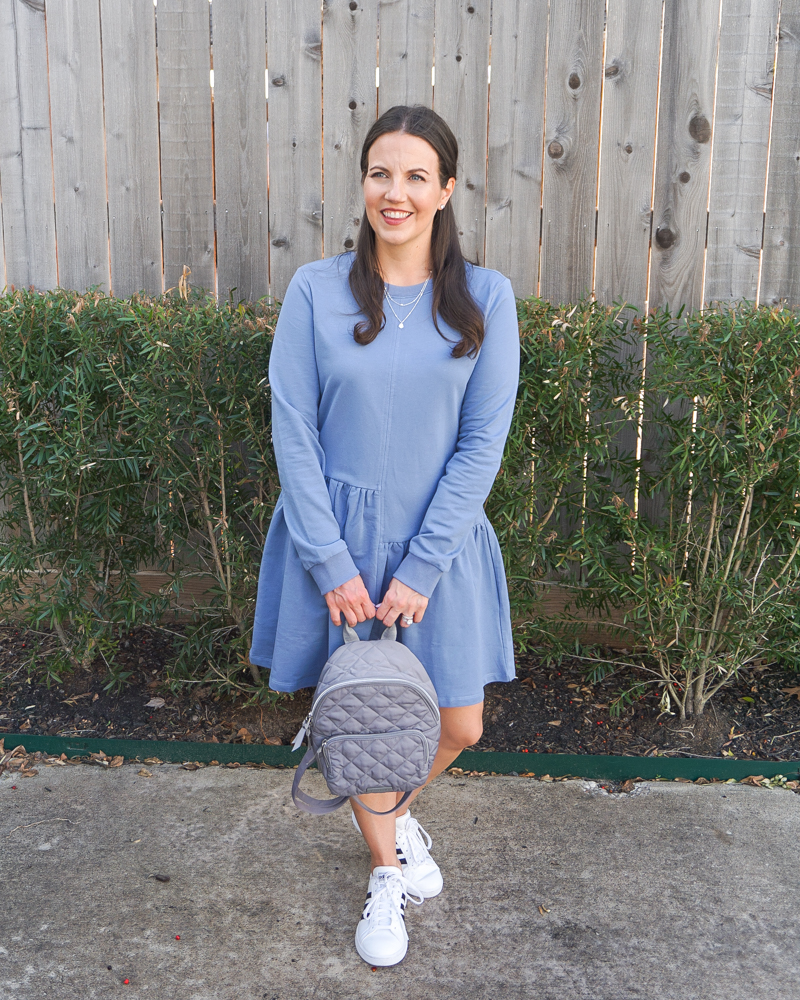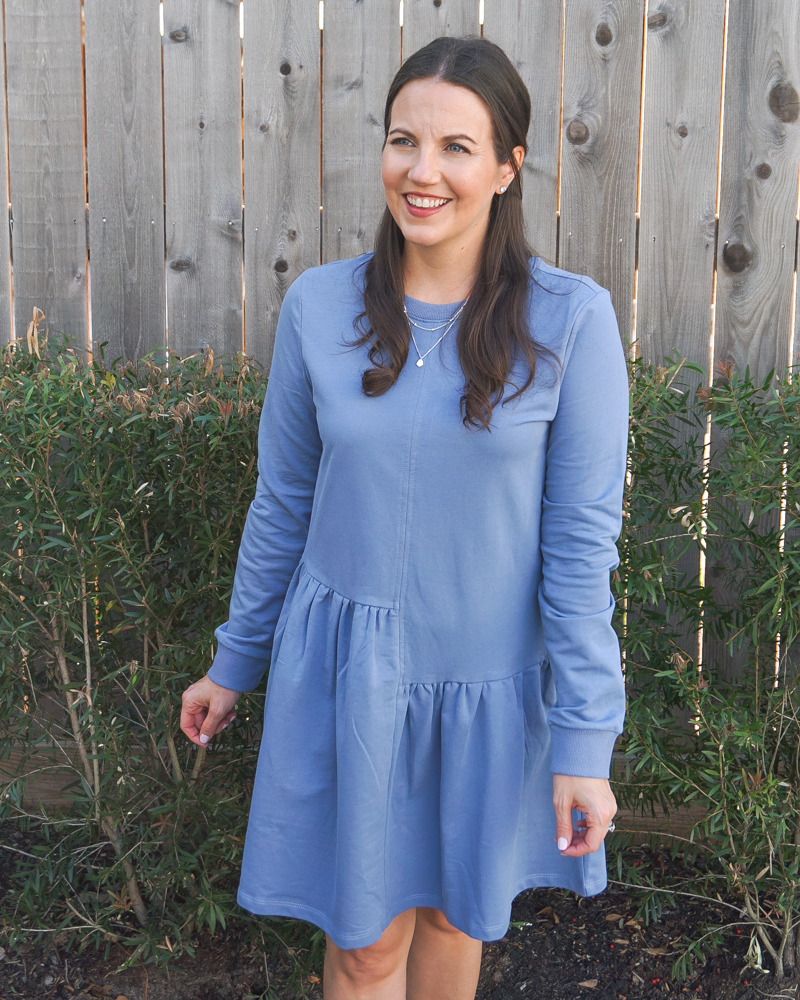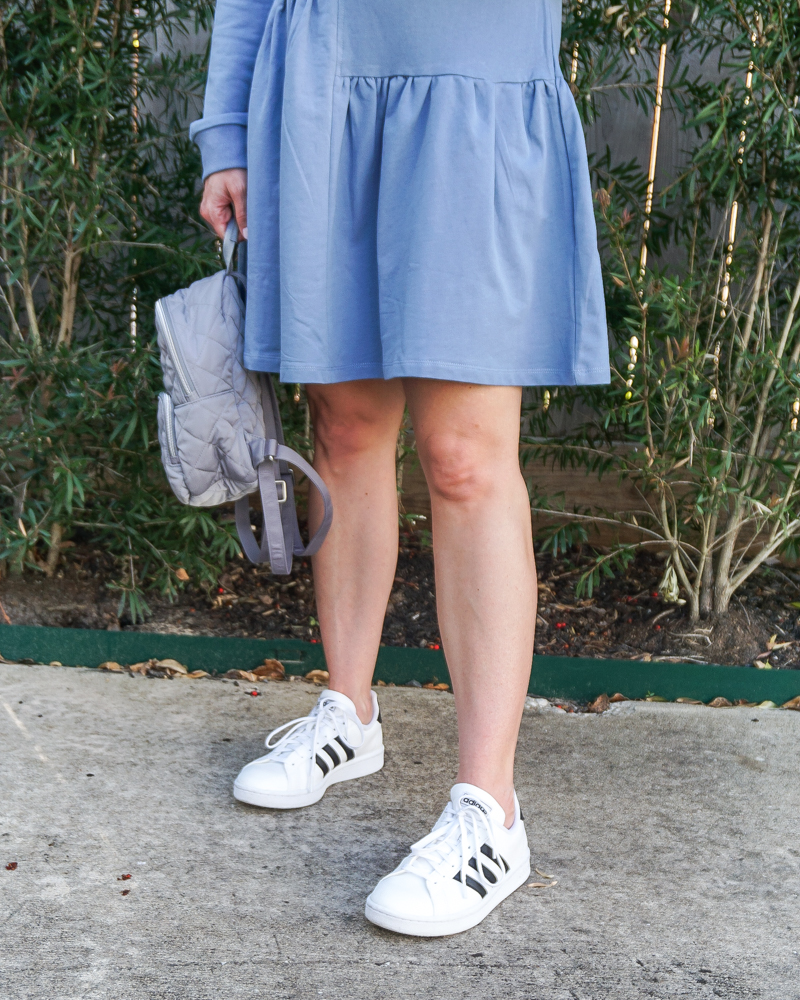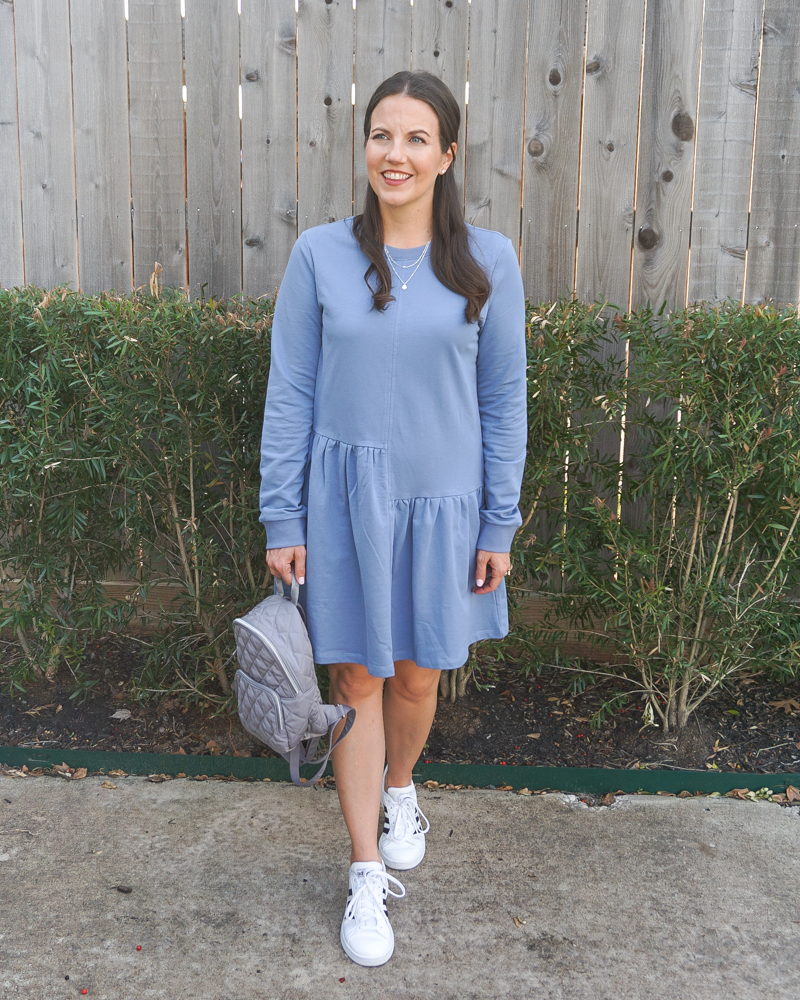 SHOP THE LOOK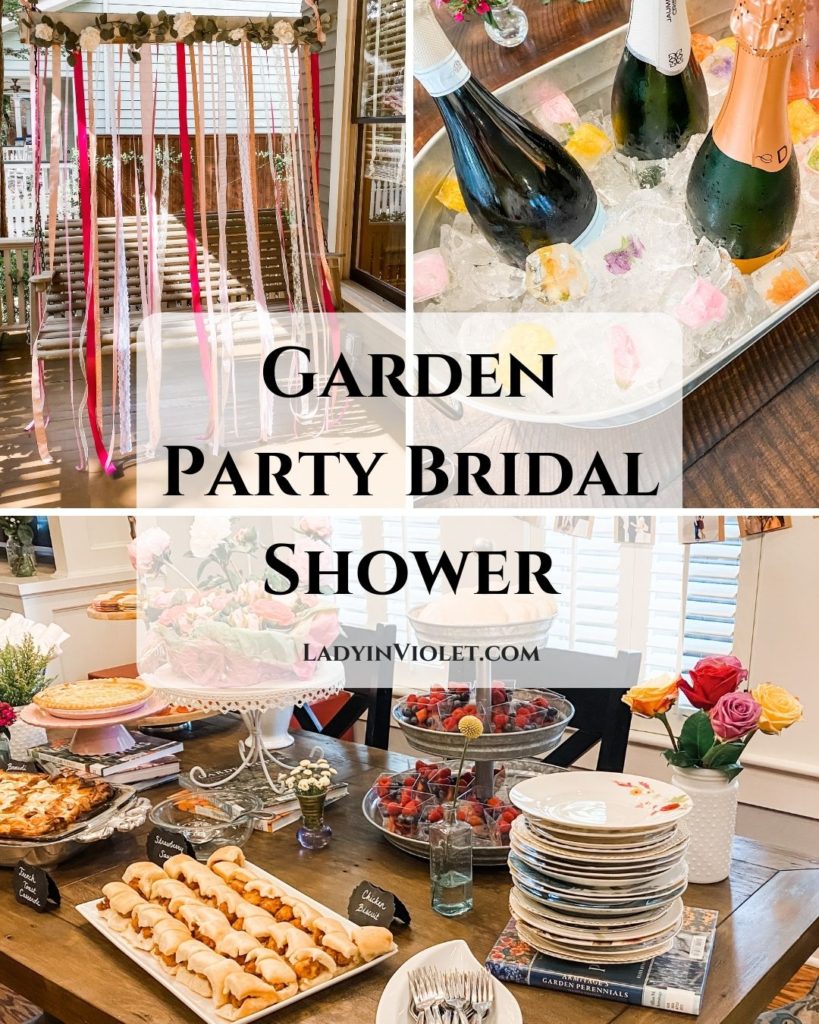 Garden Party Bridal Shower
Last summer while I was in the middle of planning my wedding, a few of my girlfriends were planning the prettiest Garden Party Bridal Shower.  The food was amazing, the mimosa bar was fabulous, and the decor was absolute perfection.   It really felt like walking into an indoor Garden Party with the all the flowers spread out throughout the house.  I rounded up all of their ideas and work into one big post filled with ideas for your next bridal shower.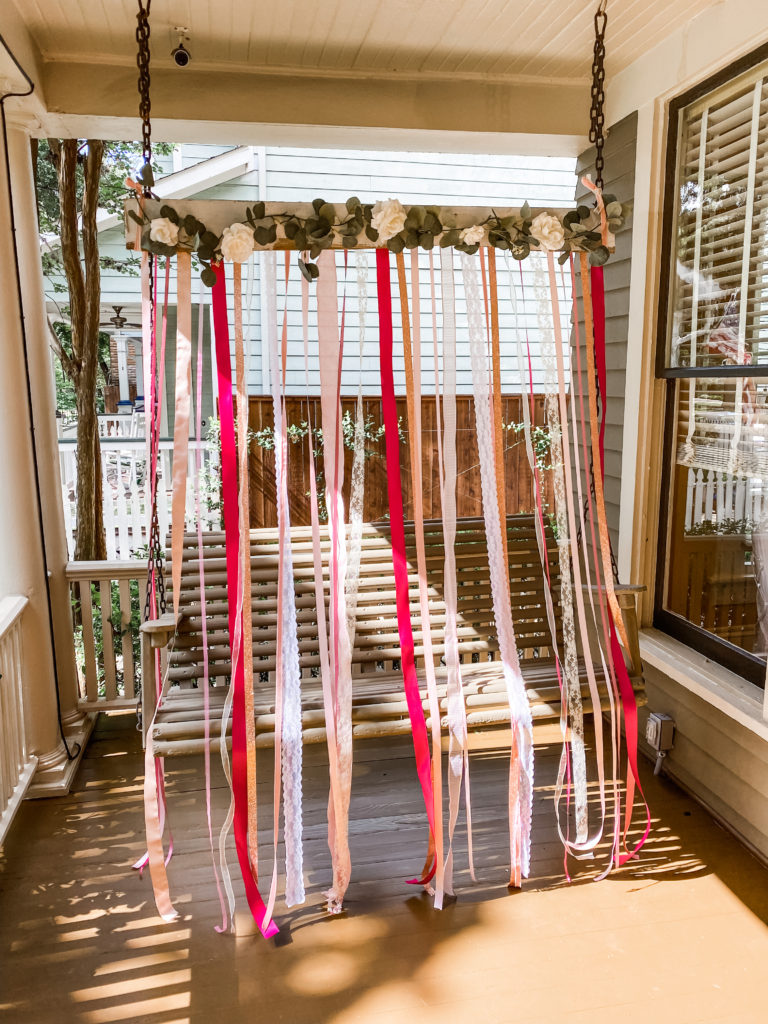 DECORATION IDEAS
Ribbon and Flower Photo Wall, Garden, Flower, and Plant Books to add height on food table, Pink Glitter in Champagne Glasses,  Bride & Groom Photo Banner, Mimosa Table, Assortment of Small Vases with 1-3 flowers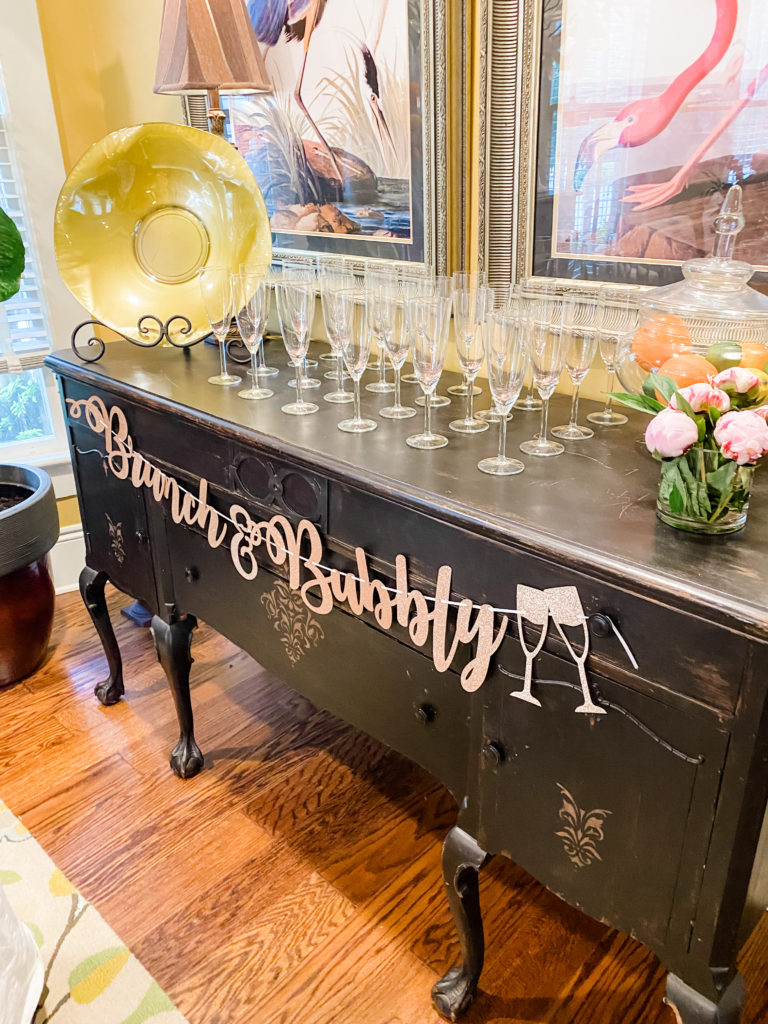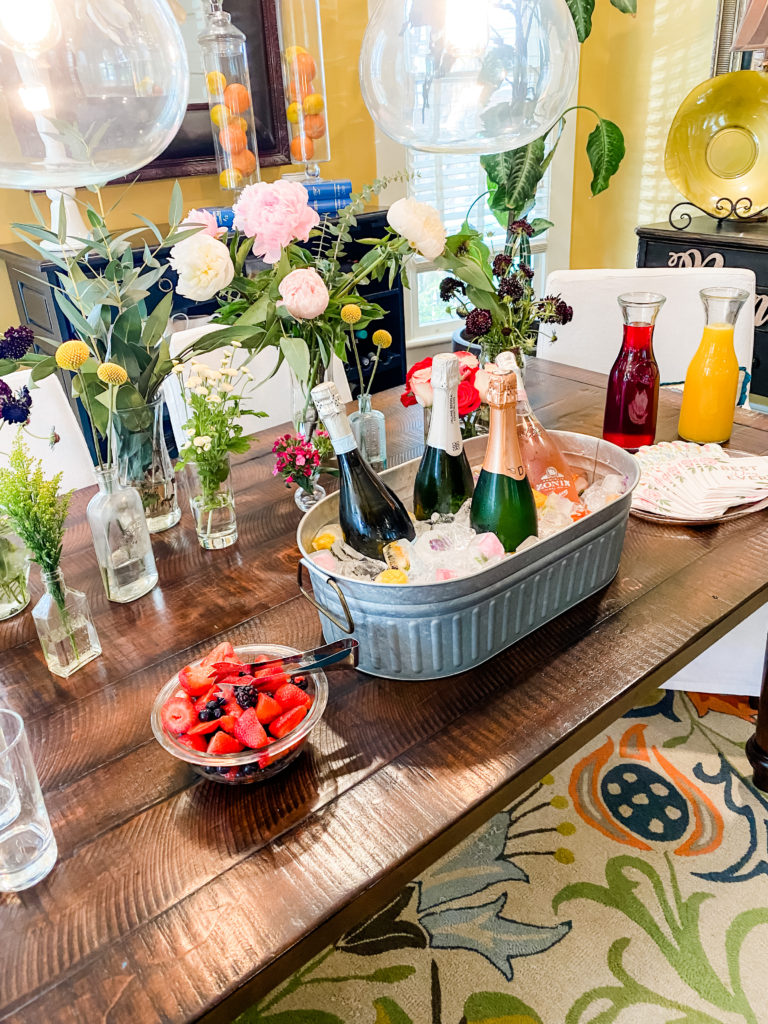 MIMOSA BAR MUST HAVES
Rose & Champagne, 2-3 Types of Juice (OJ, Cranberry), Fresh Fruit (Strawberries & Blueberries), Flower Ice Cubes, Champagne Flutes with Glitter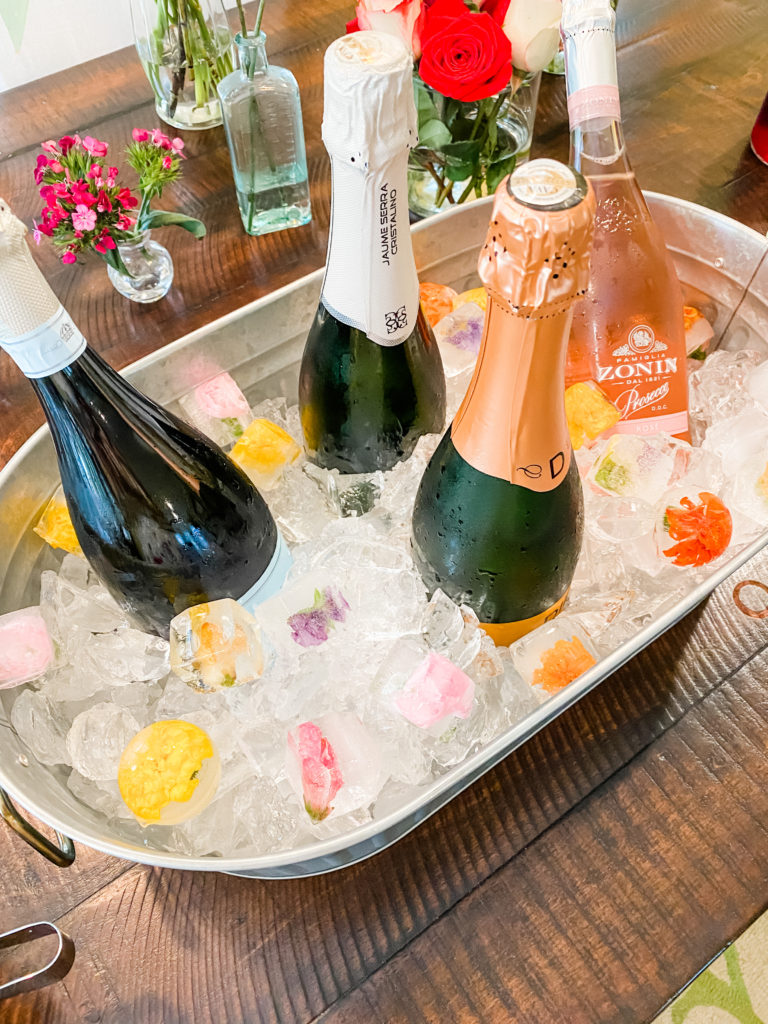 How to Make Flower Ice Cubes:
Choose edible flowers. Boil distilled water and let cool. Fill trays in layers.  Fill each cube of ice tray to 1/4-1/2 filled with water, add flower, and freeze.  Fill next 1/4 to 1/2 and freeze.  Continue until each cube in tray is full.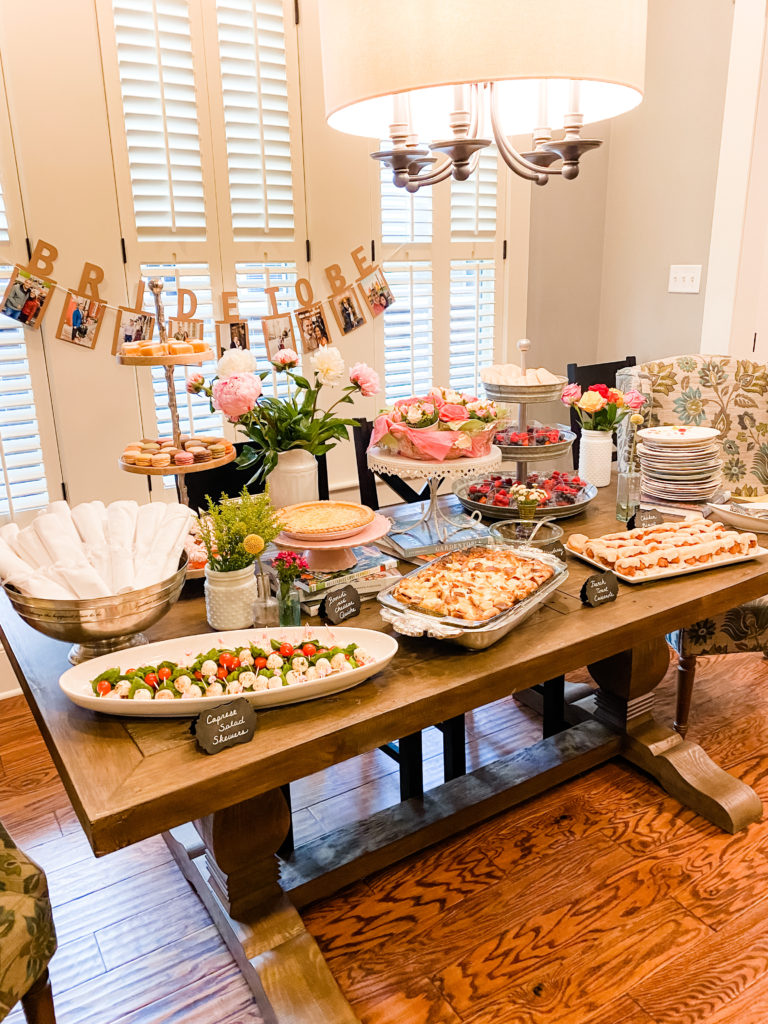 ON THE BRUNCH MENU:
French Toast Casserole, Caprese Skewers, Mini Chicken Biscuits, Quiche, Yogurt Parfaits with fresh fruit and granola, Strawberry Cookies, Mini Dessert Tray with mini cupcakes, lemon bars, and macaroons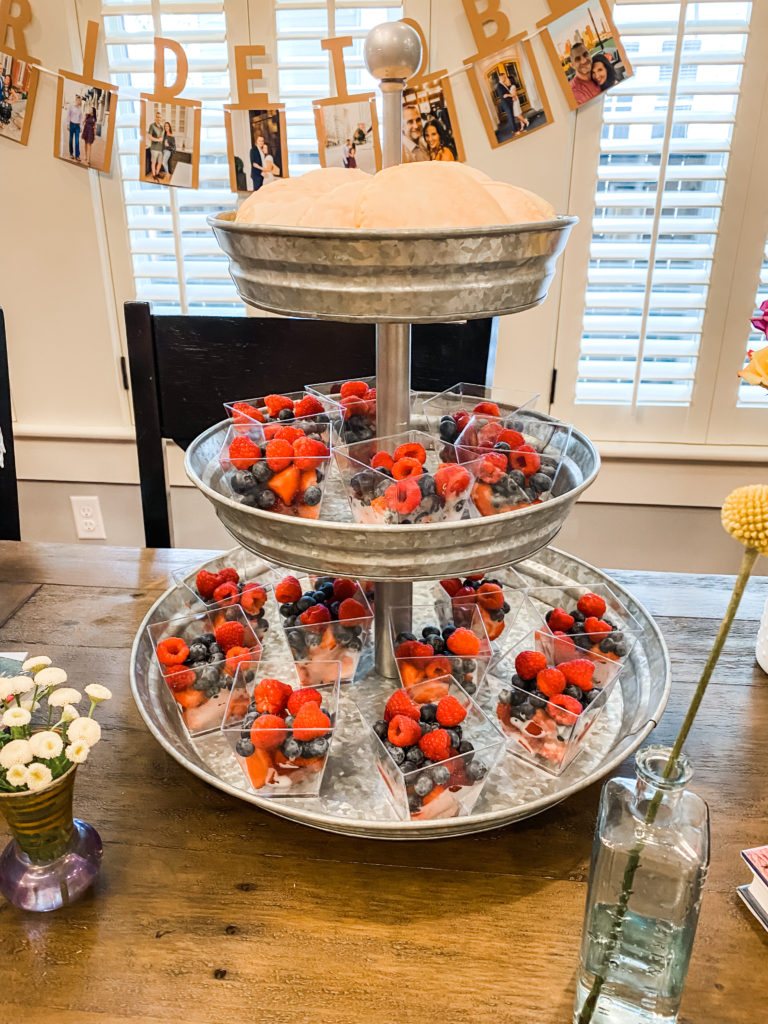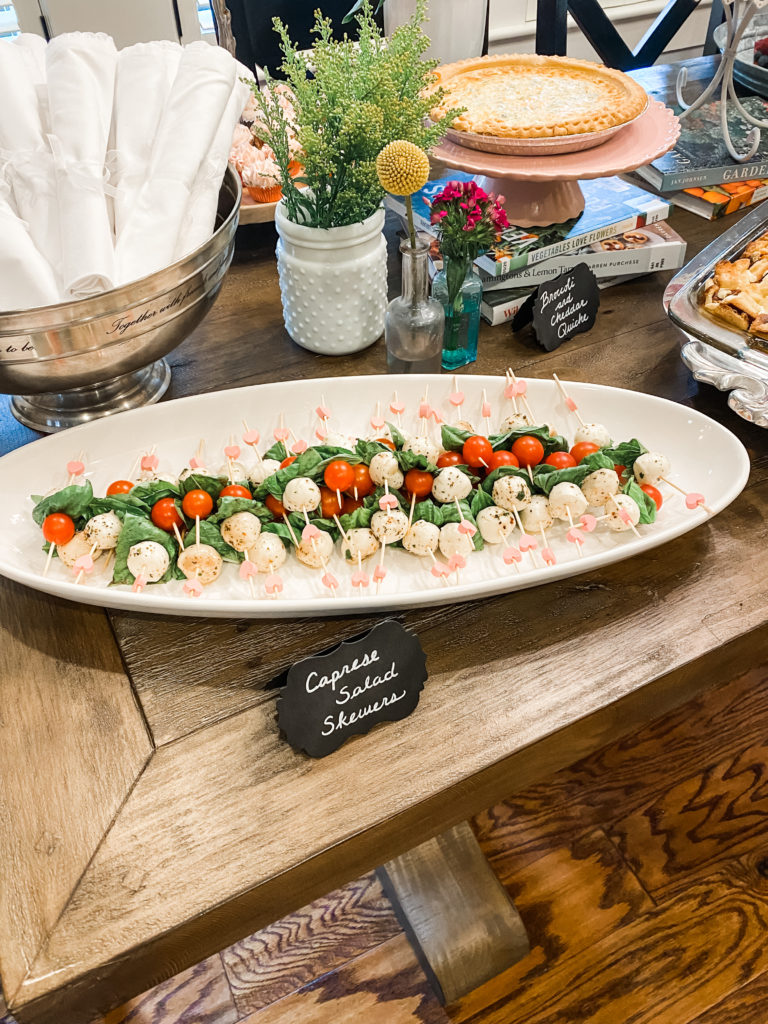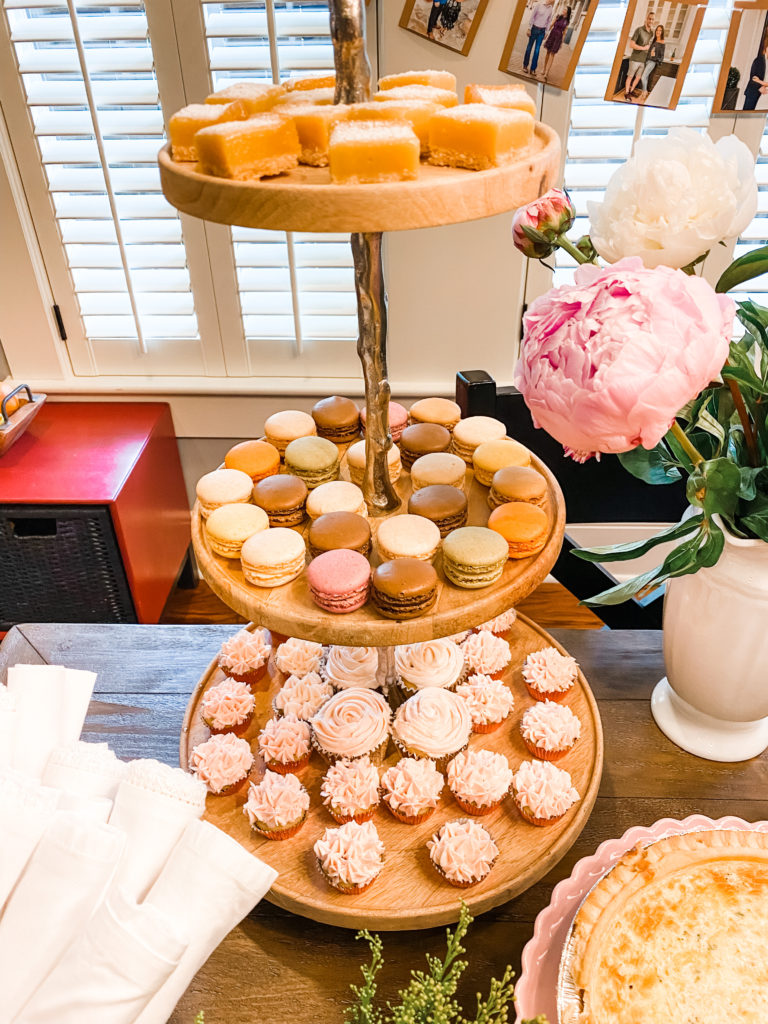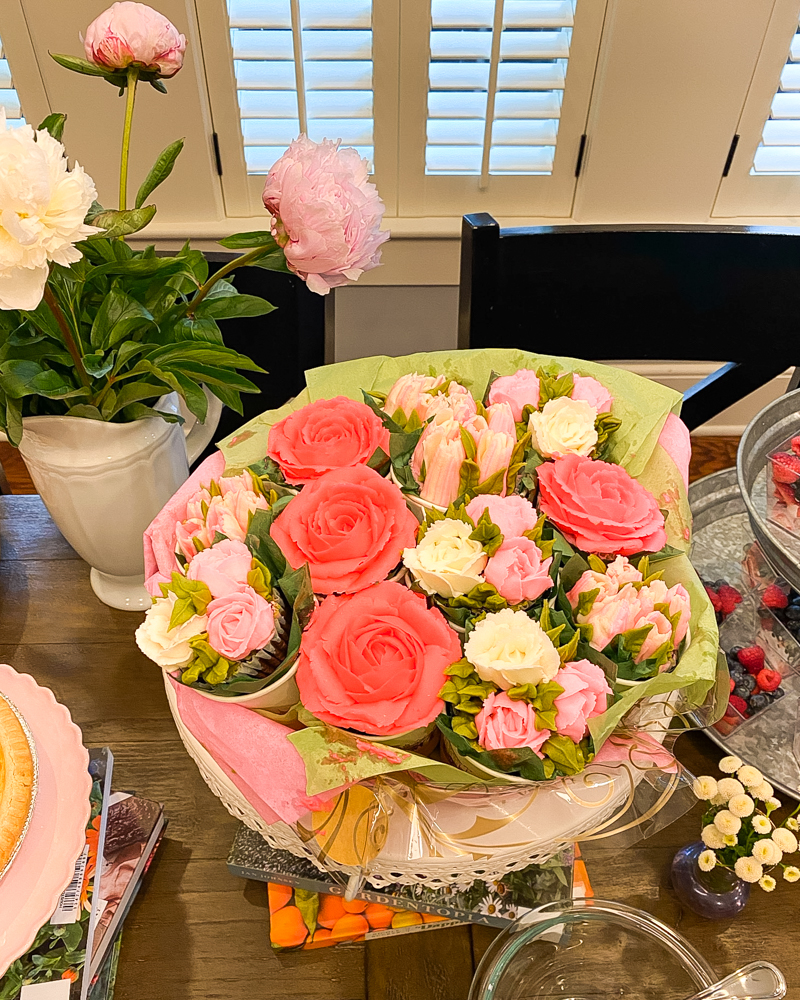 Garden Party Cake Idea: Floral Bouquet Cupcakes by Baked Blossoms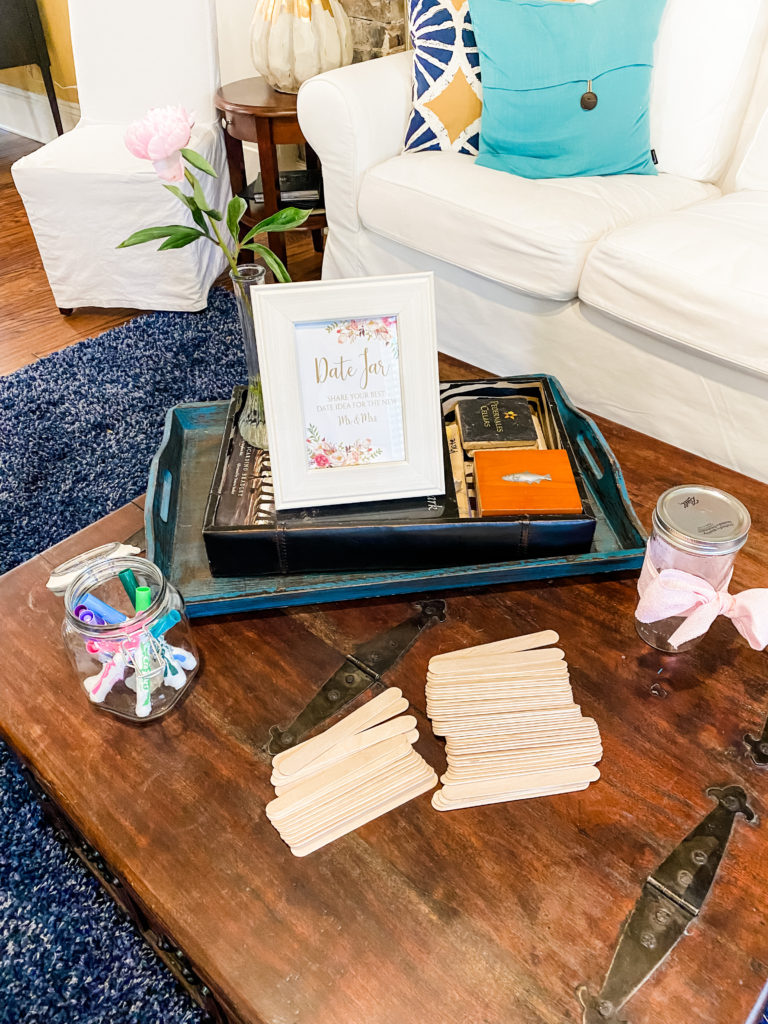 GAME IDEAS
Date Jar: Have guests write date ideas on a popsicle stick
What Did the Groom Say? Ask the groom questions and see if the bride can guess his answers, fun to share as a video or just have answers written out
Who Knows the Bride Best?  Have guests answer questions about the bride
Bridal Bingo with wedding gifts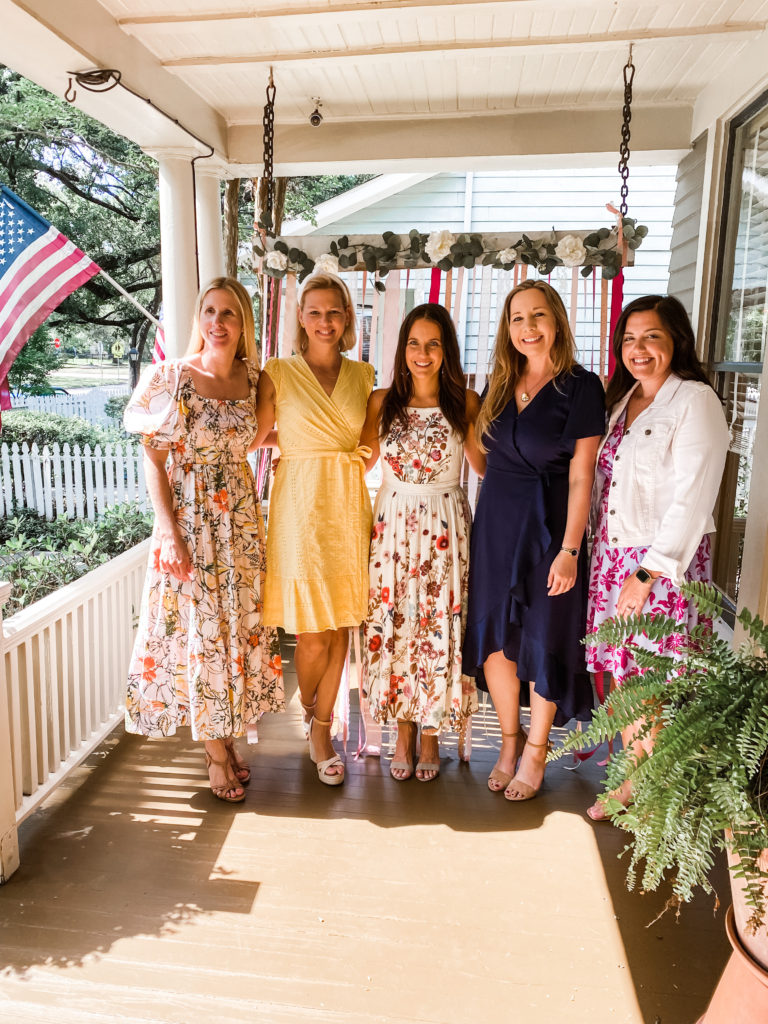 BRIDAL SHOWER DRESSES
FOR THE BRIDE

FOR THE HOSTESS AND GUEST