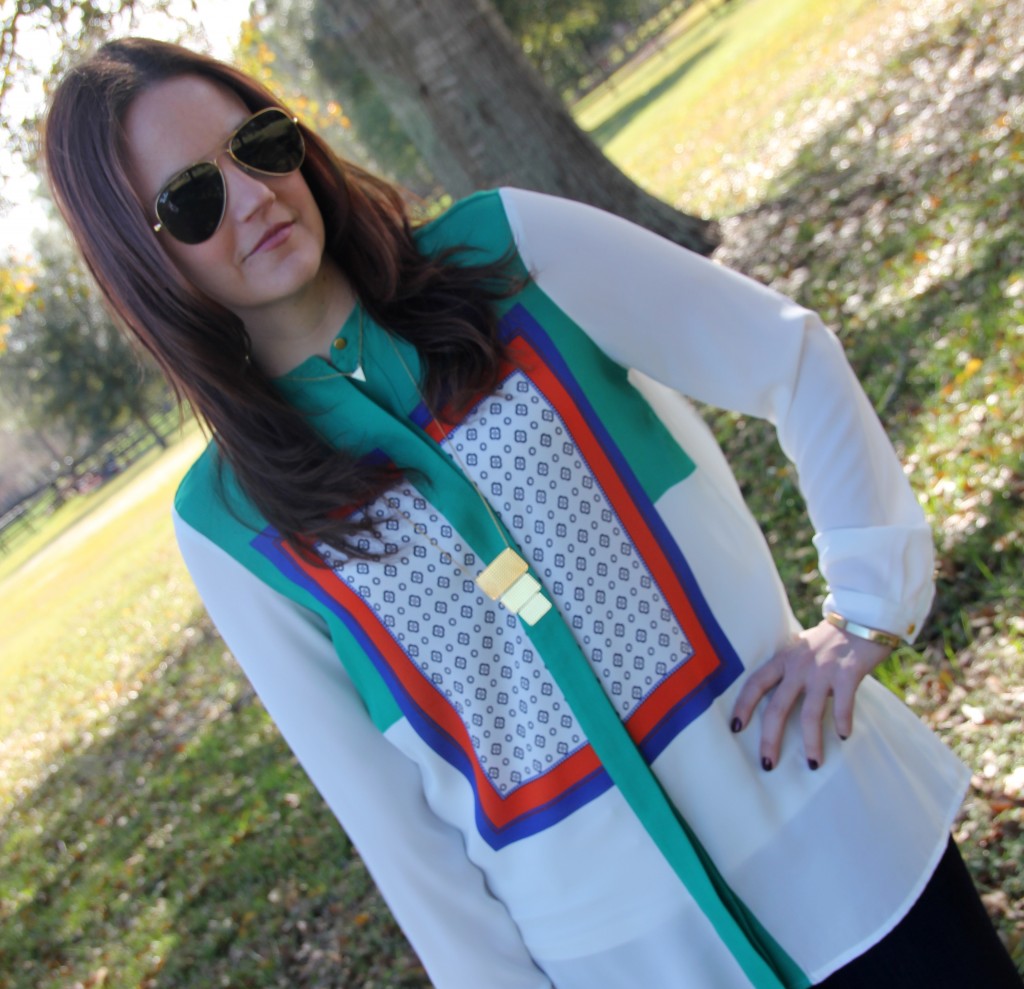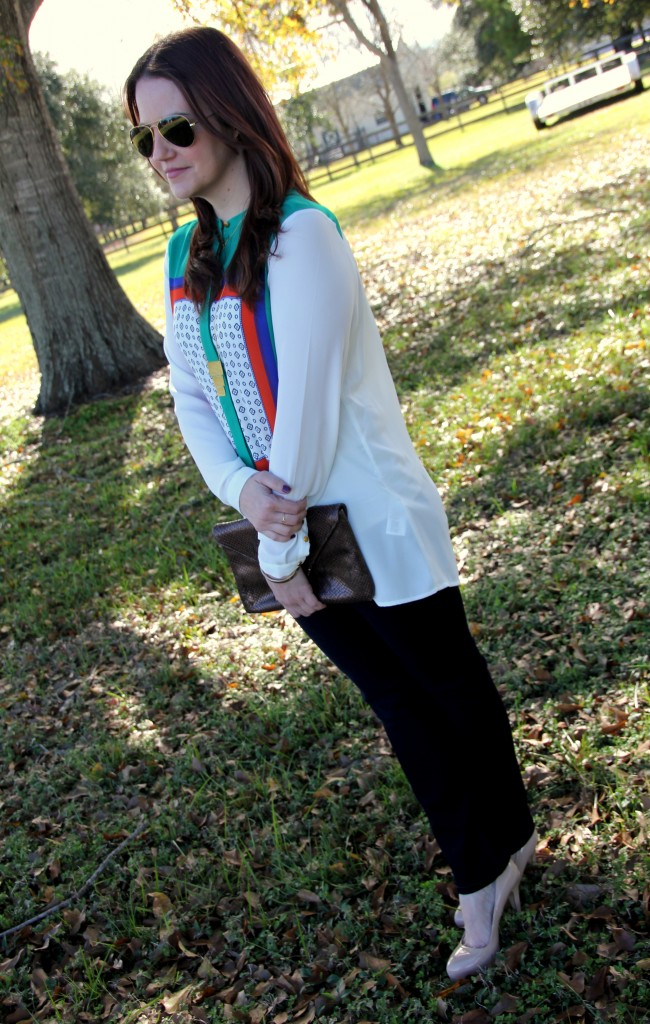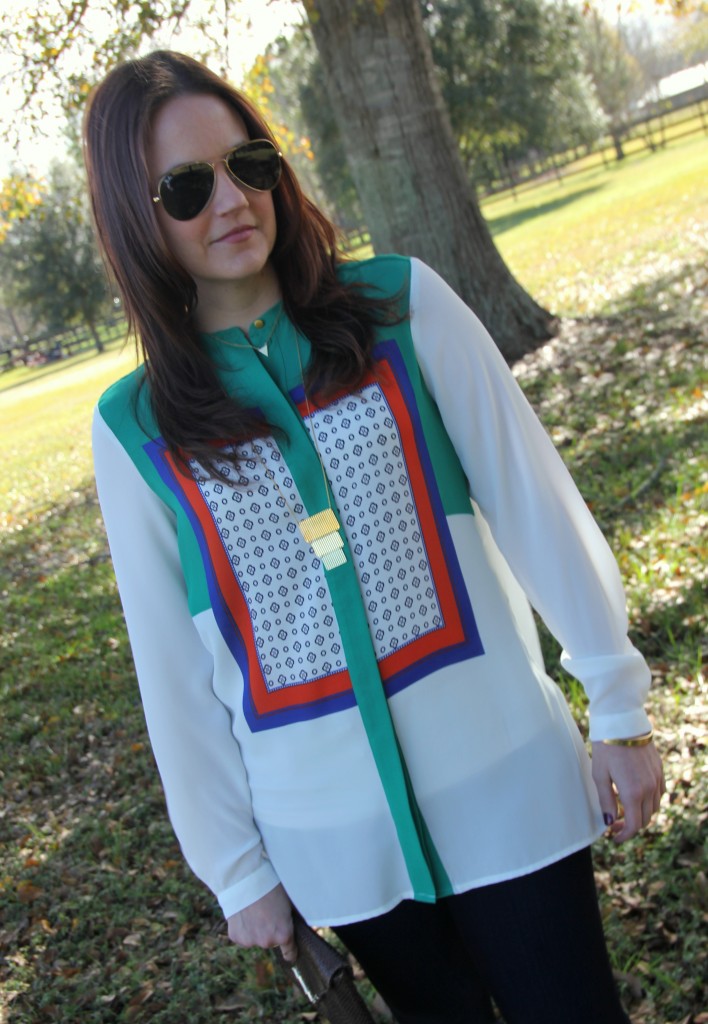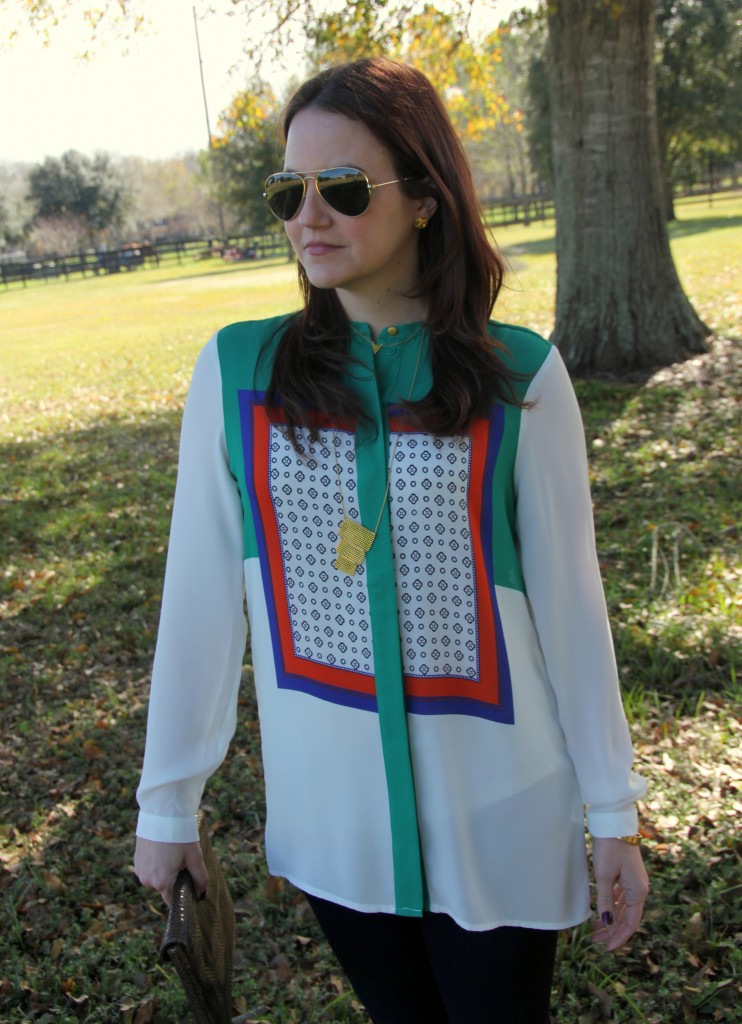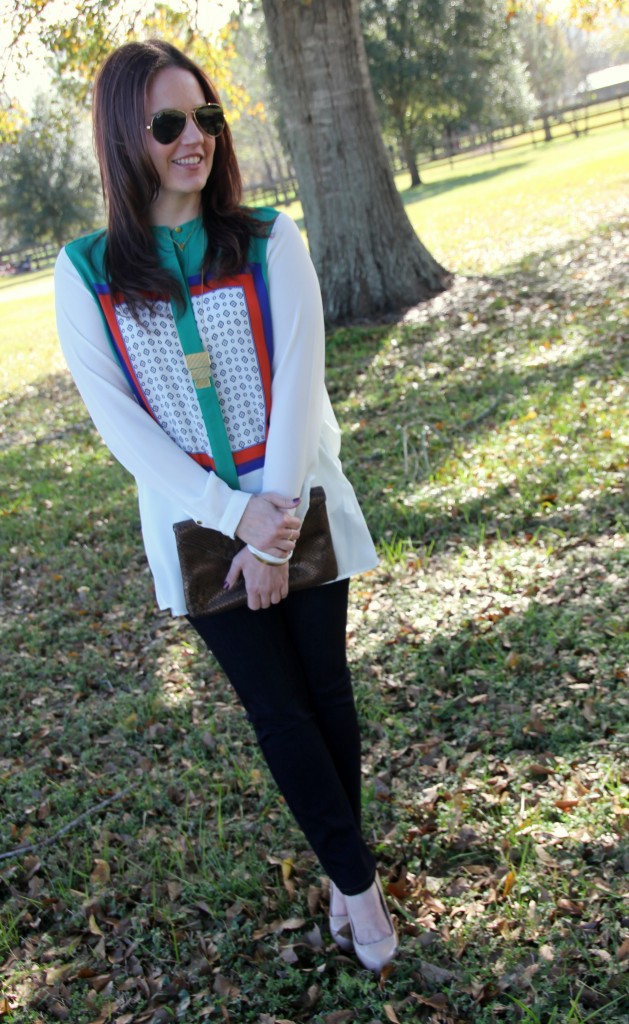 | DETAILS |
H&M Patterned Shirt | PAIGE Skyline Skinny Jeans | STEVE MADDEN Nala Platform Pumps | ELAINE TURNER Bella Chocolate Python Clutch | GORJANA Chloe Large Studs, Mika Necklace, Mia Tiered Necklace  | BAUBLEBAR Slim Hinge Bangle, Old [SIMILAR] | RAY BAN Original Aviator Sunglasses  | MAC Lipstick in 'Faux' | FORMULA X Infinite
I am a fan of solid colors and the occasional small print, but a bold graphic print that is a little out of my comfort zone. While shopping at H&M over the weekend, I saw this top and thought it was really cool and fun.  The design was not something I would normally wear, but I immediately knew this top would go great with my new Paige jeans.  So I decided to take a step out of my comfort zone and get it.  I'm not going to lie, I am still a little hesitant about this top.  It's not that I don't like this top because I absolutely adore it!  But this top definitely stands out among the other items in my closet. I think it is fun and pretty, but it is definitely different from what I might normally pick up.  Every so often, I love buying something that is a little out of my style comfort zone.  I have found some great clothes by doing this.   It pushes my style to a new and exciting level, and make me a little braver the next time I am out shopping.  I also love that I can pick up these pieces for reasonable prices at places like H&M. This top is under $30!
I have to mention my new Paige jeans for a minute.  I picked them up this weekend at Nordstrom.  I have to brag about the jeans department at Nordstrom.  I love how knowledgeable they are about their jeans.  I always have a slew of questions when buying a new brand of jeans.  Will they stretch? Will they fade?  Do these look OK or too tight?   They know it all!  I love that they wear the jeans and can tell you from their experience how they fit after you wear them for a bit.  Plus, they will hem them for you FOR FREE!  I am 5'3 so my jeans are almost always too long so I love the free hem!  If you ever are in the market for a new pair jeans, try the Nordstrom jeans department out!
Oh and one last thing, I am partnering with some amazing TEXAS bloggers and boutiques for a fun giveaway on Instagram this evening.  Be sure you are following me (@karen.rock) so you don't miss out!!
Happy Friday!!
Follow Lady in Violet INSTAGRAM | TWITTER | FACEBOOK | BLOGLOVIN
[jetpack_subscription_form title=" " subscribe_text="Enter email to subscribe and receive notification of new posts by email." subscribe_button="Submit"]