SHOP THE LOOK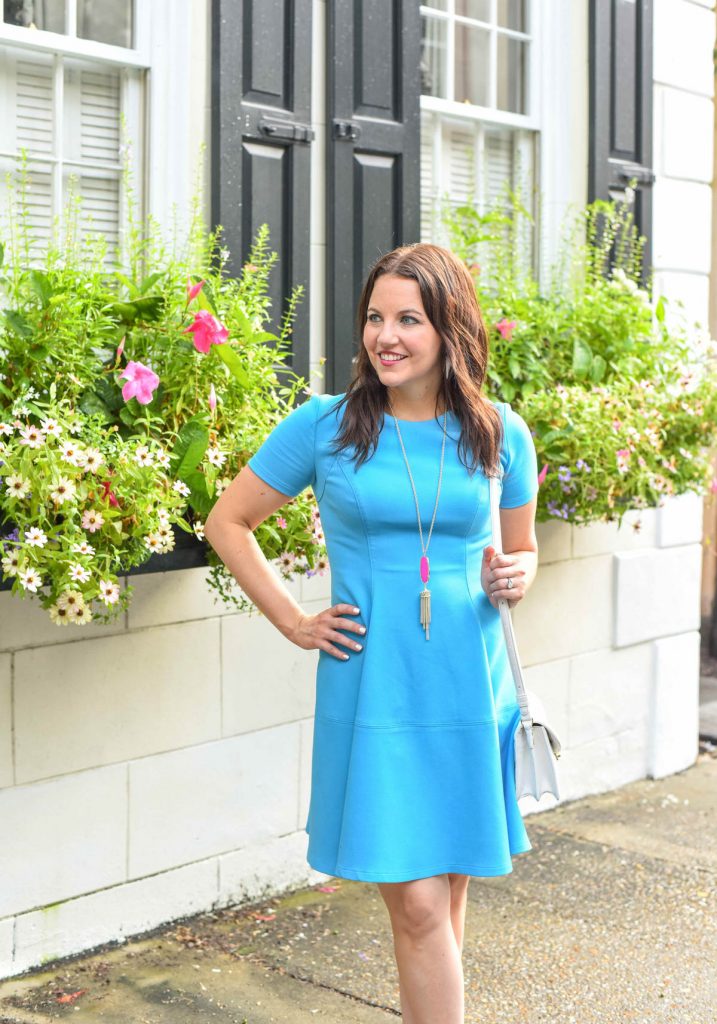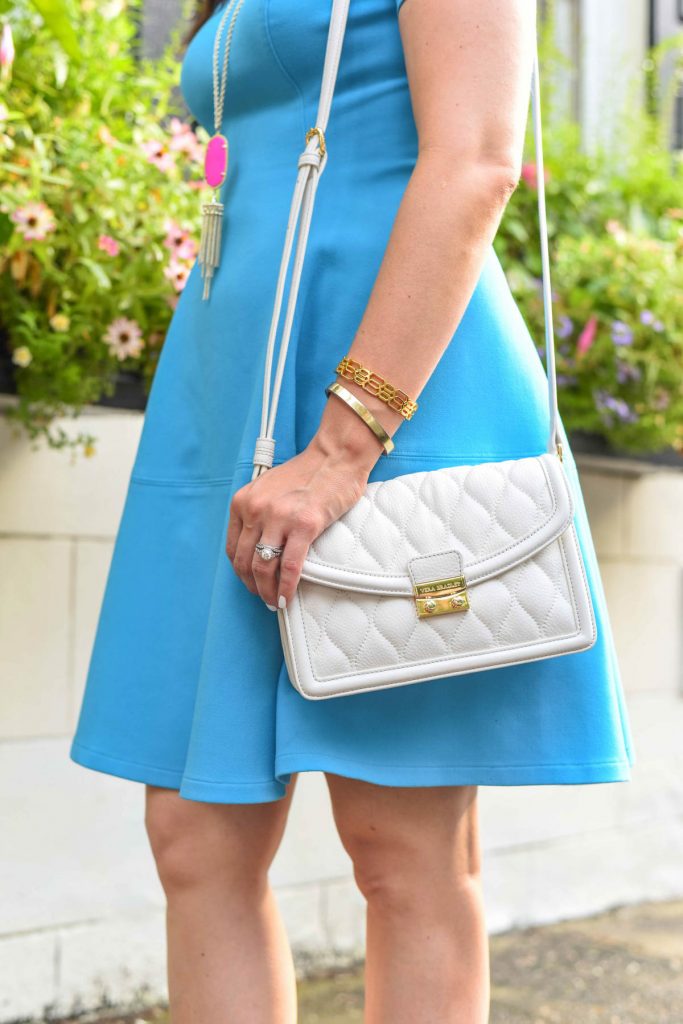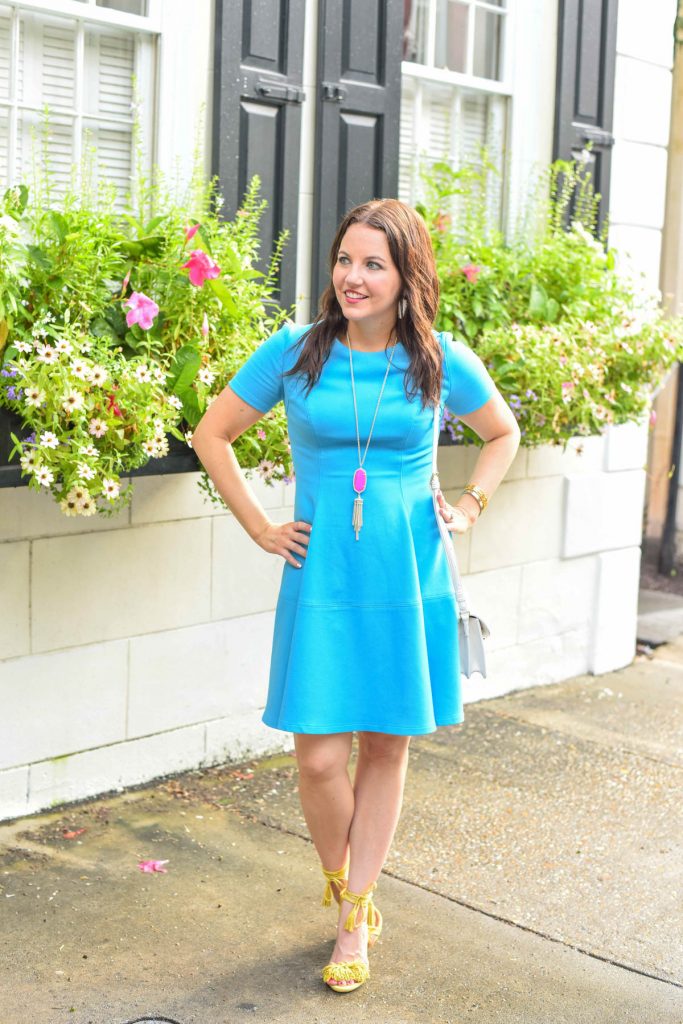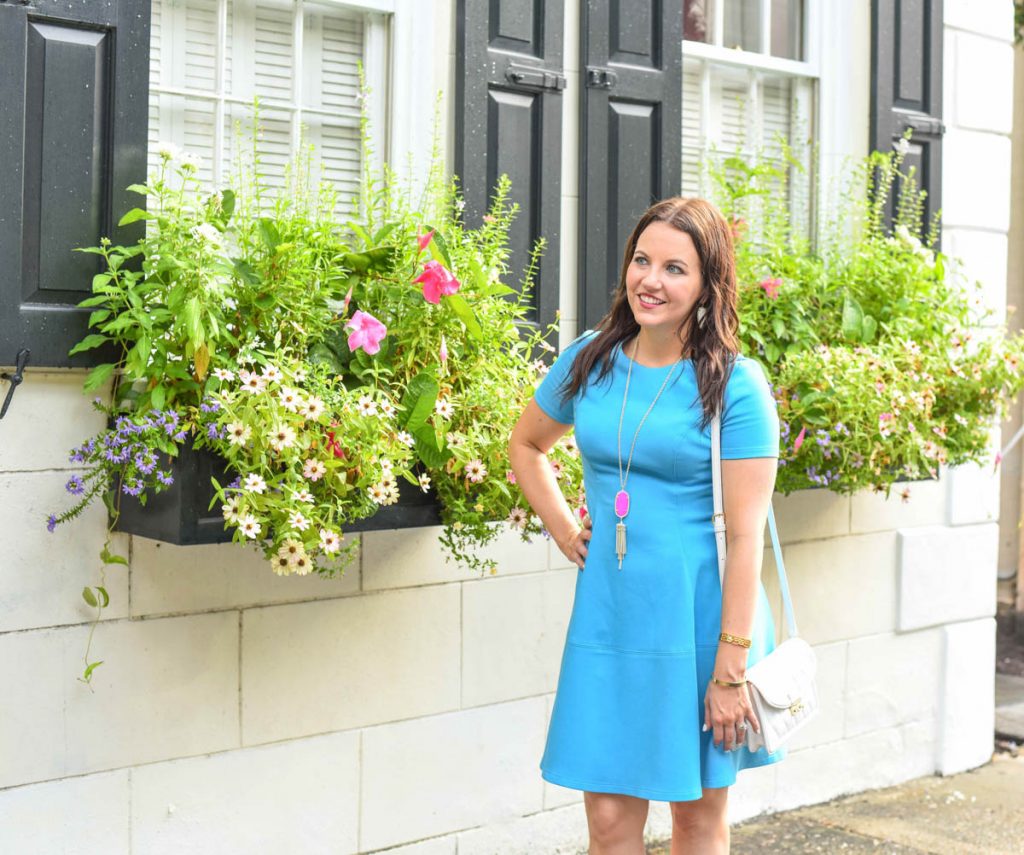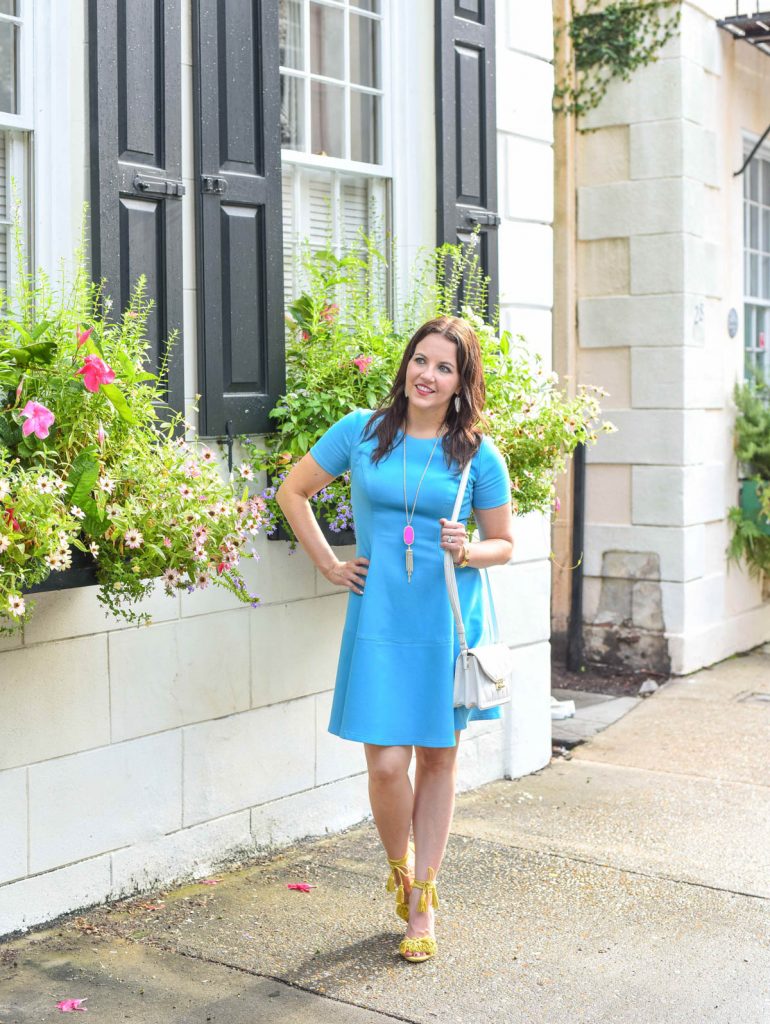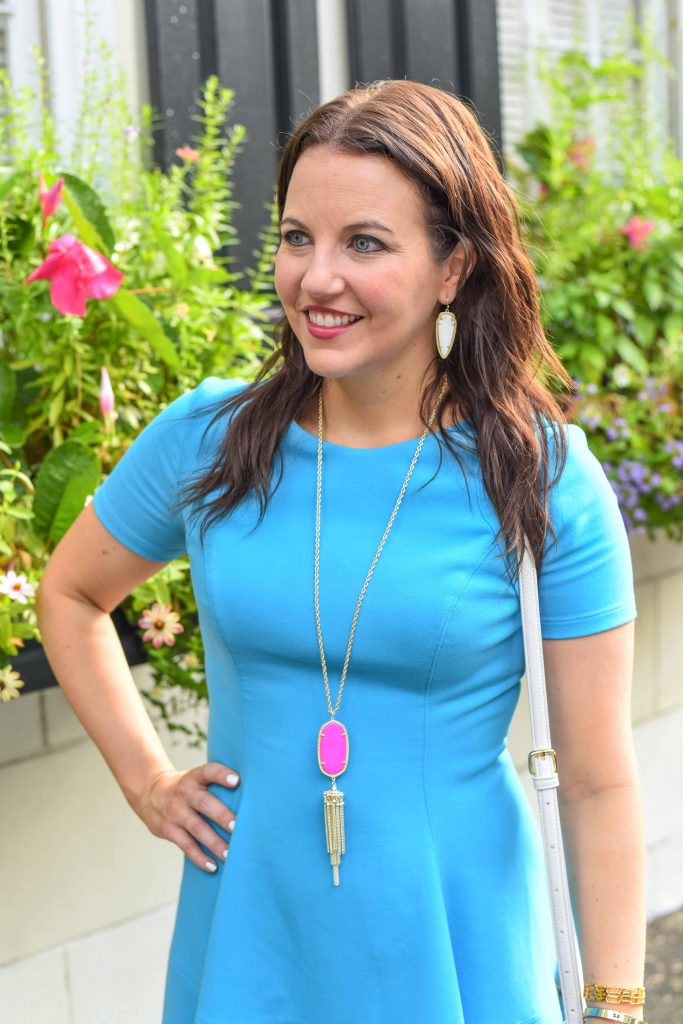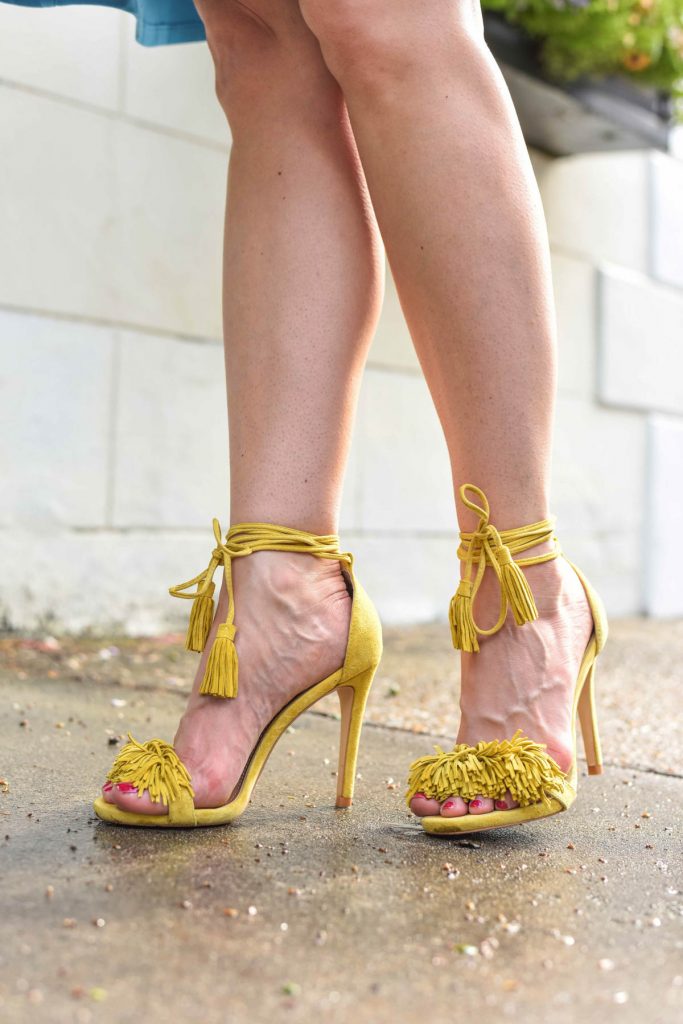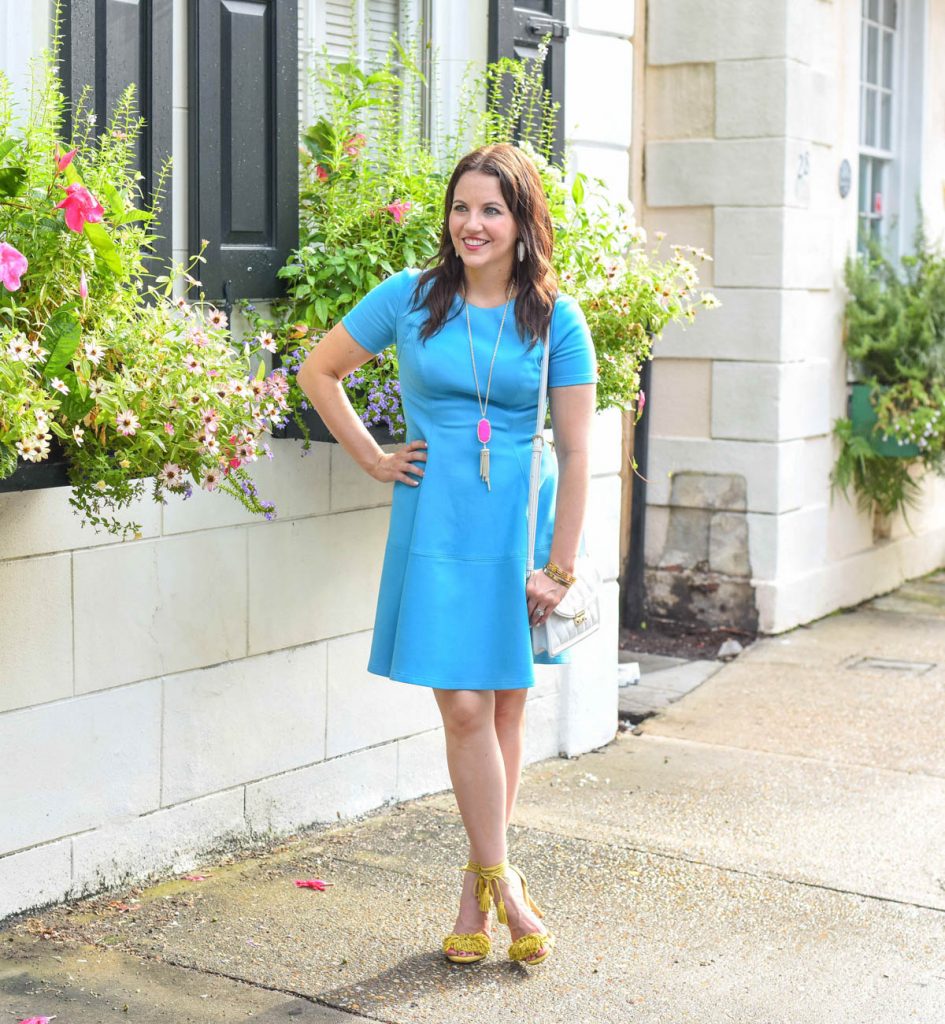 | DETAILS |
SHOSHANNA Blue Fit and Flare Dress  (RENT IT)  | STEVE MADDEN Yellow Fringe Heels  | VERA BRADLEY c/o Quilted Crossbody Bag  | KENDRA SCOTT Rayne Neclace,  Skylar Earrings  | GORJANA Cuff Bracelet  | BAUBLEBAR Slim Bangle  | Lips: MAC Craving  | Nails: ESSIE Blanc
I'm so excited to start sharing some of the outfits I wore while in Charleston!  You may remember me mentioning that I was in town for The Blog Societies Conference a few weeks ago.  I must start by saying the morning we shot all of our photos it was SUPER humid, hence my "beach waves" hair….   It rained like 15 minutes before we started, and if you live in a humid climate, then you know that right after the rain is the worst time for humidity.  I packed on all my anti-humidity hair products, but the humidity won.  But hey the outfit and background are cute, and in some shots it totally looks like on purpose beach waves. 🙂
This year for TBSCon, I decided to go about my outfits a little bit different.  Instead of spending over a month and lots of money planning three fabulous outfits, I went to Rent the Runway.  Originally I planned to rent 3 dresses for 4 days, but due to my scheduling I would actually need them for 5-6 days.  Rent the Runway offers an Unlimited subscription plan that allow you to rent 3 dresses for a monthly fee of $130 plus tax so $150.  You can also cancel at anytime which meant I could rent three dresses for one month for less than three for the 8 days.  I had always wanted to try out the program, so it was the perfect opportunity.
I really liked the Unlimited program.  My dresses took about 5 days to arrive at my front door.  I made sure to start my month about two weeks prior to leaving for my trip in case I needed to exchange anything.  With a few events the week after the conference, I was able to re-wear the dresses too.  I think it's great to use if you need a bunch of dresses in a short time span like vacation, wedding season, or holiday parties.  I went back and forth on whether to cancel or keep going at the end of my month.  In the end, I only did the unlimited for one month because I didn't really have anything cool coming up that needed a fun dress.  Also, you can't guarantee what day your dresses will arrive.  I primarily use Rent the Runway for specific events and I want to know they will be at my door when I need them.  One other thing about Unlimited, you don't have to return all three outfits at once.
Using Rent the Runway made outfit decisions SOOOOOOO much easier this year.  I picked everything in a matter of hours, and I cannot tell you how fabulous and stress free it was to have it all done.  I totally overthink my outfits for blog events, so I liked being able to peruse hundreds of dresses and pick three items without looking at prices.  That is another good thing about unlimited, you could be renting 3 dresses that might normally be $100 each all for $150!
I chose this blue fit and flare dress for the BIG conference and brand networking day.   It rained that day too, so I ended up wearing wedges because I didn't want to ruin my fringe suede shoes in the rain.  I like the fit and flare look.  It's fun and girly, but still classy and sophisticated.  The bright blue color was a great stand out summery color.  It paired perfect with all the colors in Charleston too.   The pink tassel necklace was a no brainer for the look.  I think dark pink and this blue were made for each other.
Stay tuned because more of What I Wore TBSCon will be coming to the blog Wednesday!!
PHOTO CREDIT: LA PHOTOGRAPHY
SHOP THE LOOK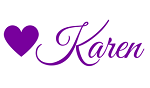 Love this post? You may also love: