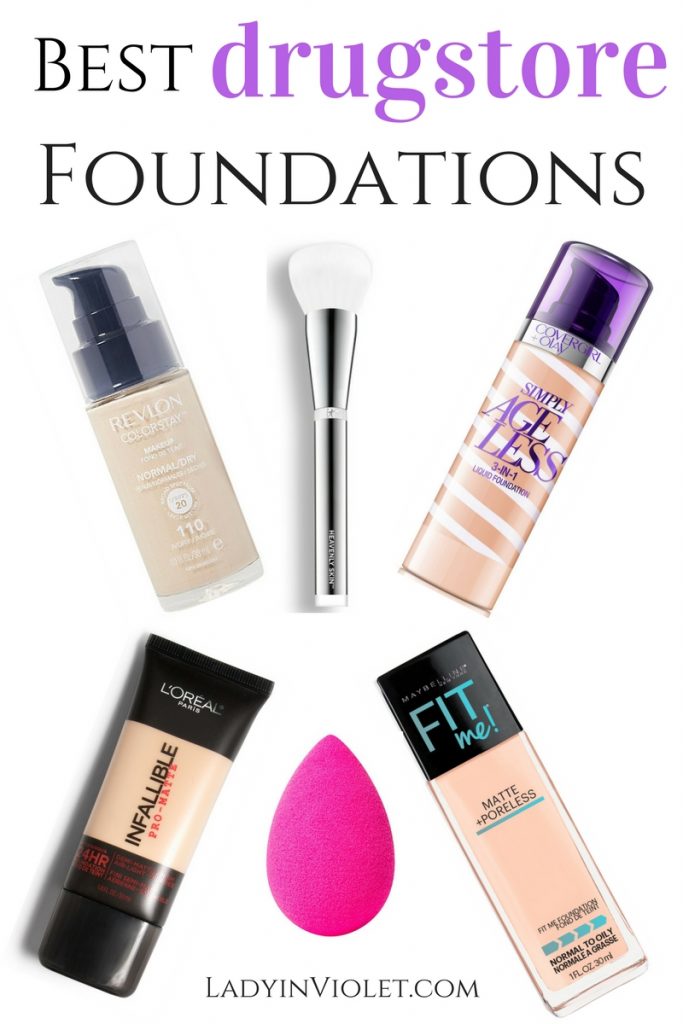 About a year ago, I decided to change up my makeup routine and switch over to liquid foundation.  I have spent the time since trying a variety of different brands and formulas.  Today, I am revealing the best drugstore foundations that I have come across over the past year and a review on why I recommend each one.  I based most of my rating on coverage, longevity, and pore blurring abilities.  In each review, I tried to find a drawback because let's be real no product is perfect.  I personally like hearing both the good and bad of products, so it was important to me to share that with you too.
MAYBELLINE FIT ME MATTE + PORELESS FOUNDATION
This was the first foundation I tried when I made the switch to liquid.  I started here because it had great reviews and the most affordable price tag.  It is the least expensive of all 4.  I prefer a matte no shine finish, and I love that about this one.  I found this one worked great for redness coverage, but I still needed a little concealer to fully cover the dark under eye area.  The coverage length is probably the worst of the four, and I noticed a little pore sinking by the end of the day.  If you pair this one with a primer, it greatly enhances the pore coverage and longevity!  It comes in 24 different shades.  I love foundations with lots of shade options, because it increases the odds of finding the perfect match to my skintone.
L'OREAL INFALLIBLE PRO-MATTE FOUNDATION
Of all 4, this one has the best coverage and lasts the longest.  This foundation covered everything from a little redness to a small undereye darkness.  It blurred my pores and didn't sink into them throughout the day.  By the end of the workday, my foundation coverage still looked much like it had after first applying.  Downside to this one, the number of shade options.  I could only find 12 different options online, and my store seemed to have less than that.
REVLON COLORSTAY FOUNDATION
This one gets a big boost for the shade options, 35 in all!  The coverage lasts a full work day and then some which is great when you have a happy hour planned after work.  This one was my favorite for surviving our hot humid weather.  It covered both redness and a darker under eye area.  Okay, I couldn't think of a negative on this one.  It's a pretty good foundation, probably why people love it so much.
COVERGIRL SIMPLY AGELESS 3IN1 FOUNDATION
The first time I applied this one, I did not think I was going to like it.  It combines a foundation and moisturizing with Olay.  This makes it go on to start with a dewy look, but it sets more matte after a minute.  The added moisture really makes my skin glow all day.  No pore sinking and all work day coverage plus happy hour.  This one was the best of not sinking into fine lines and forehead wrinkles.  It still does a bit, but the best drugstore foundation I have found for this.  The downside to this one, it is one of the more expensive drugstore foundations I have tried.  Also, I think the added moisture can sometimes make it hard to apply evenly if I don't let my spf morning moisturizer fully soak in before applying.
So which was my favorite?  If I had to buy again, I would probably go with the bottom two.  I loved all the color options and coverage of the Revlon one, and the Covergirl's added moisturizing helped keep my skin glowing and prevented pore and wrinkle settling.
SHOP THE FOUNDATIONS
Love this post? You may also love: