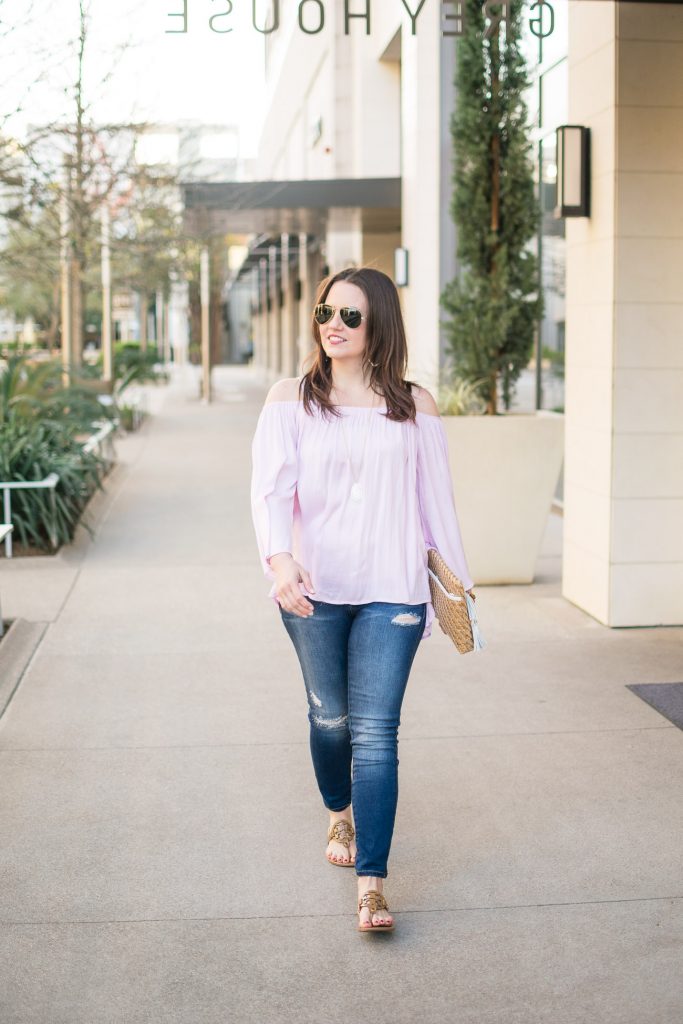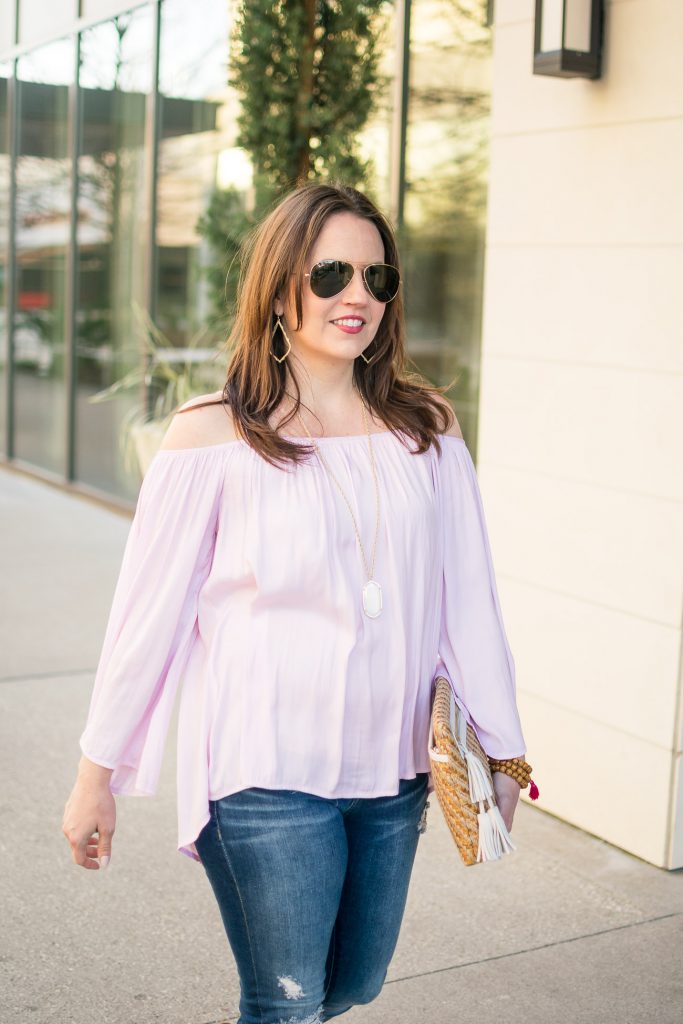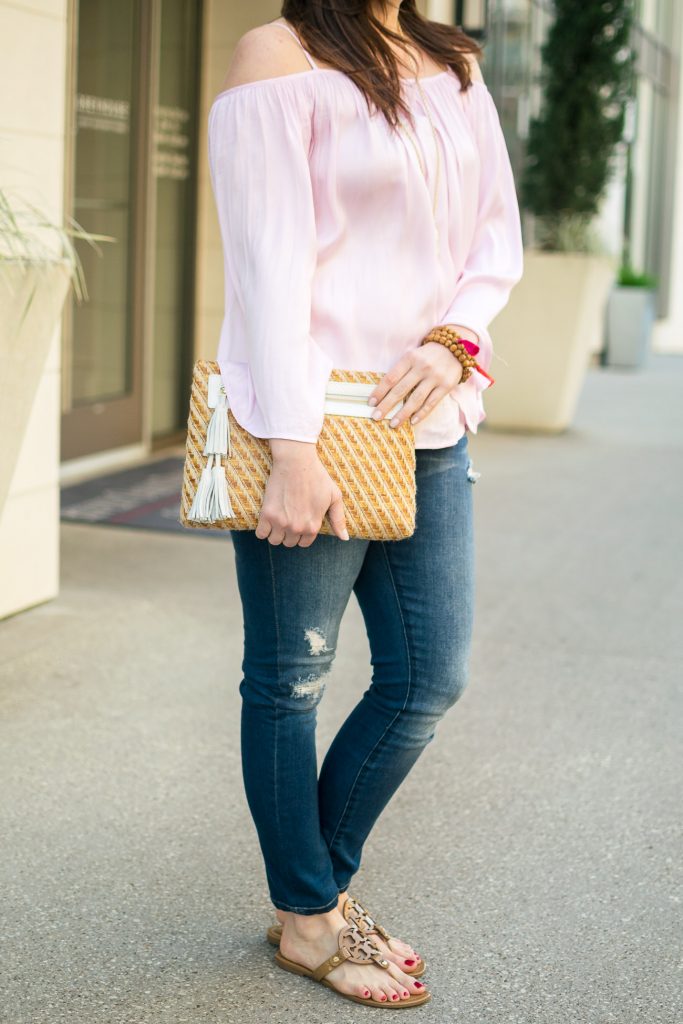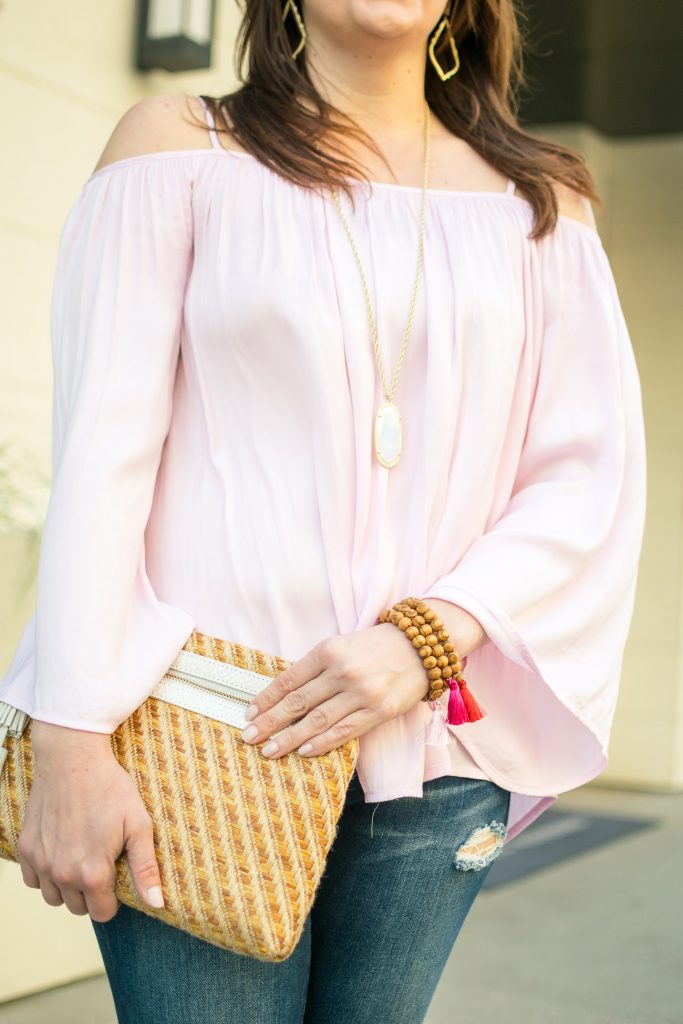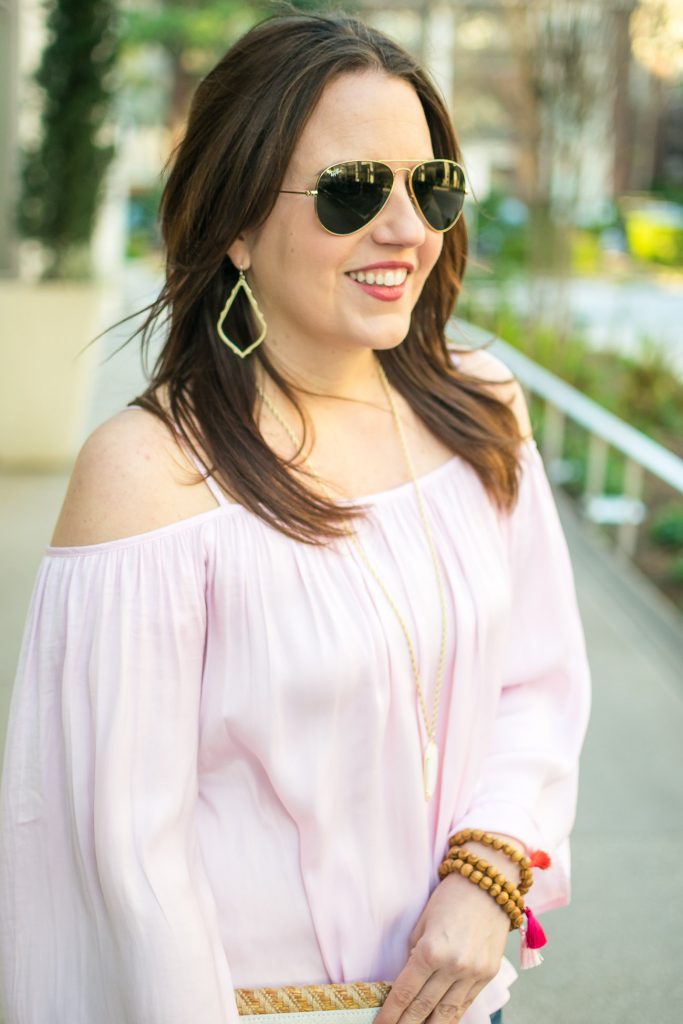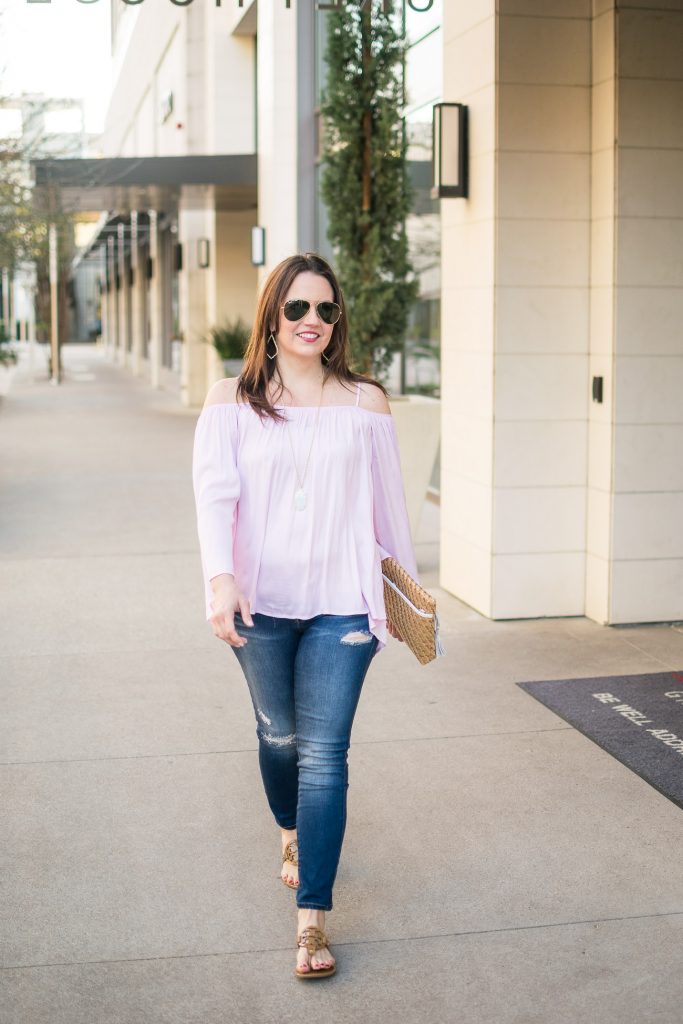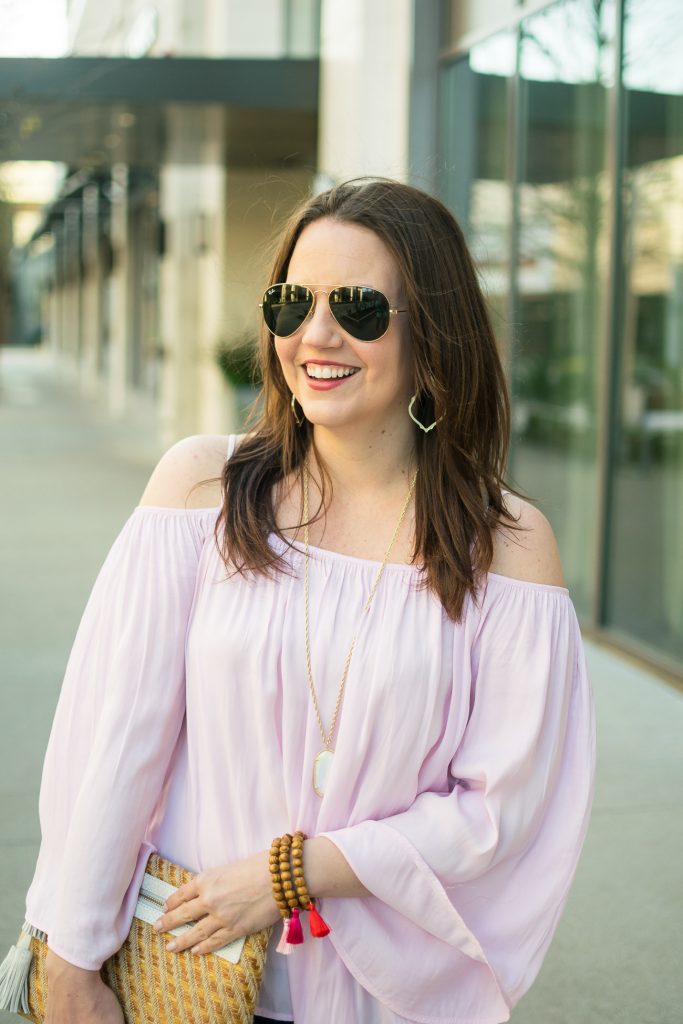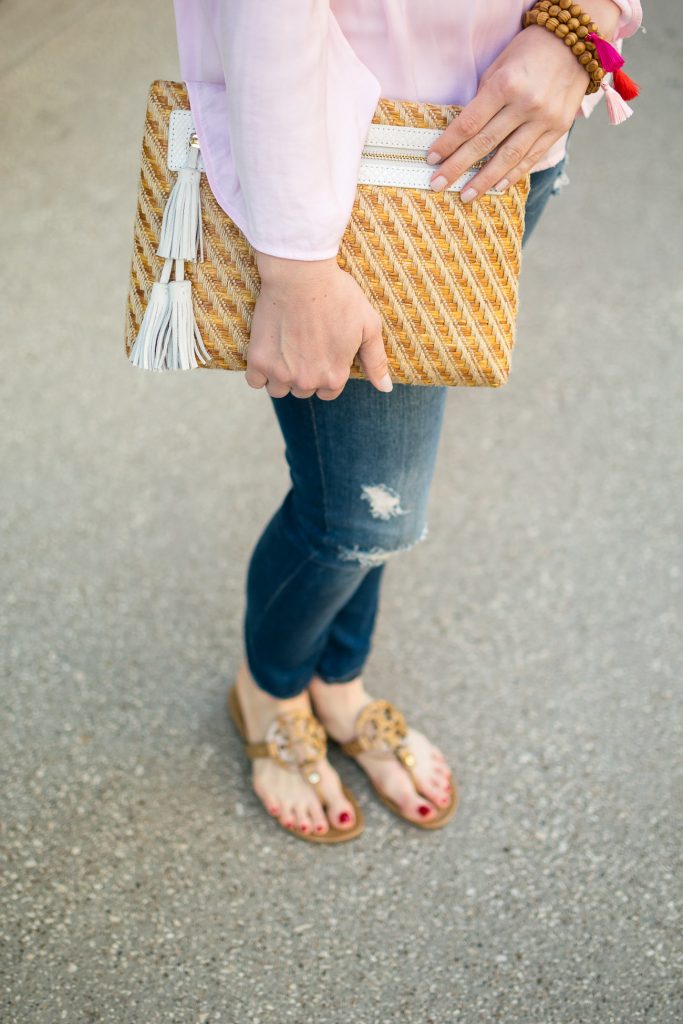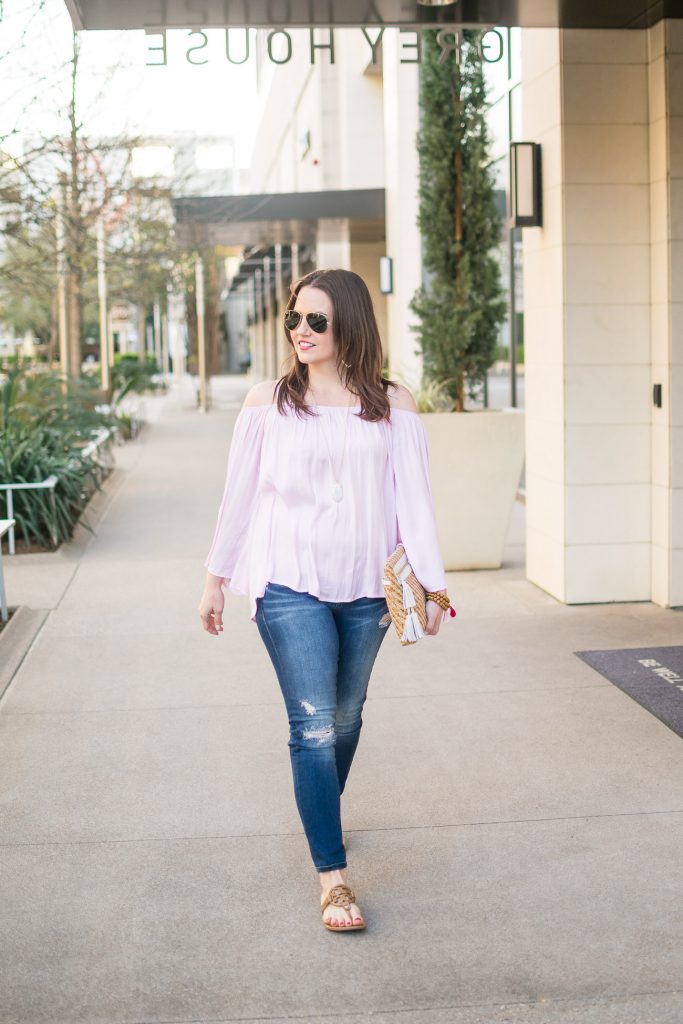 Hello friends!  Today I'm restyling my original cold shoulder top from last spring.   This pink cold shoulder top was what originally made me fall in love with the trend.  And good news, it's back in stock this season and in a few new colors! The straps help hold the top in place, so no dealing with the bands like often used in off the shoulder.  A few of cold shoulder tops have really thick bands, so you can wear a normal bra too!  Last time on the blog, I paired it with white jeans and wedges (you can check it out here), so this time I wanted to show a more dressed down look.
These Tory Burch sandals were my birthday present to me last year. 🙂 #treatyourself  Ya'll they are really comfy, and I don't normally find flip-flop type sandals comfortable at all.   I have another pair of Tory sandals that hurt my feet after a few hours, but these are slightly padded adding extra comfort and making it easier to walk in.  I also think the large logo design helps support the foot and hold it in place also helping in comfort.  They are pricey, and rarely go on sale, but since I am signed up for the exclusive emails on the Tory Burch website I received a $50 discount during my birthday month.  I went back and forth probably for most of the month, and finally bought them figuring I could always return them.  I wear these ALL the time.  If I'm not wearing wedges, I usually slip these on during the summer.  I like that they do still dress up an outfit a bit, but because they are a flat sandal they also dress it down.  Sizing note: I ordered a half size up.
Distressed jeans are also one of my go to pieces for creating a casual look, even though my dad comments on how he will put holes in my jeans for free.  Gotta love dads, right! 🙂  If you have a top that can come off a little dressy, a great pair of distressed jeans is an easy way to bring it down a notch into a more casual look.  Especially when paired with flat casual sandals.  The jeans linked are the same brand as mine just slightly different distressing.   I have had mine for close to a year and they are still in good shape, not too bad for under $100!
I found a few more super cute cold shoulder tops that would will be perfect paired with distressed jeans or white jeans like in the original post.  Happy Friday and have a fabulous weekend ya'll!
ONE  |  TWO  |  THREE  |  FOUR  |  FIVE
PHOTO CREDIT: This Lavender Life
SHOP THE LOOK