Happy Friday!!  I feel like this post has been awhile in the making.  It's no secret that I love cooking.  When I did Whole 30 a few years ago, it reminded me how I much I loved it and how much I loved coming up with my own healthy creations.
I have been wanting to share recipes here on the blog for over a year, but I always stopped myself because it's kinda scary.  Also when I'm creating things in the kitchen, I often don't pay attention to what I'm tossing in the pan.
I'm hoping to try and bring you more recipes that fit in with my healthy eating lifestyle.  If you try this recipe out, I would love your feedback so I can learn to write easy to follow recipes!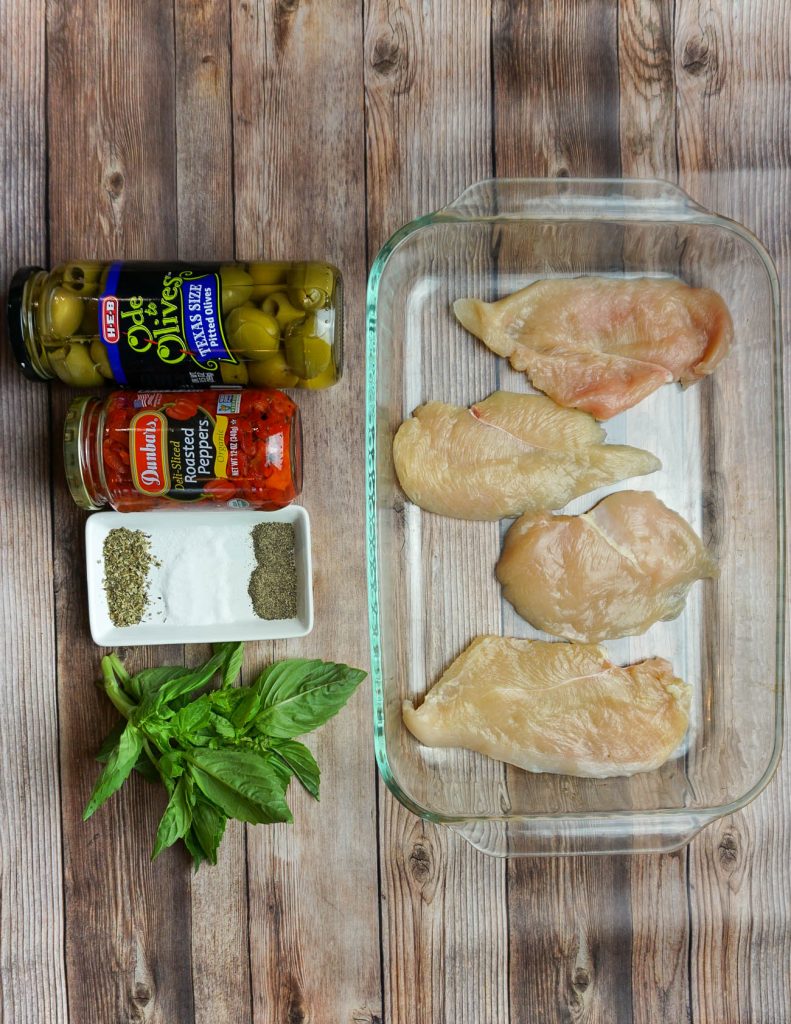 This Mediterranean Chicken recipe is one I came up with years ago when doing Whole 30.  I was trying to find meals that included healthy fats like olives and avocados.  I also wanted quick and easy recipes that I could put together in 30 minutes or less, use for meal prep, and freeze.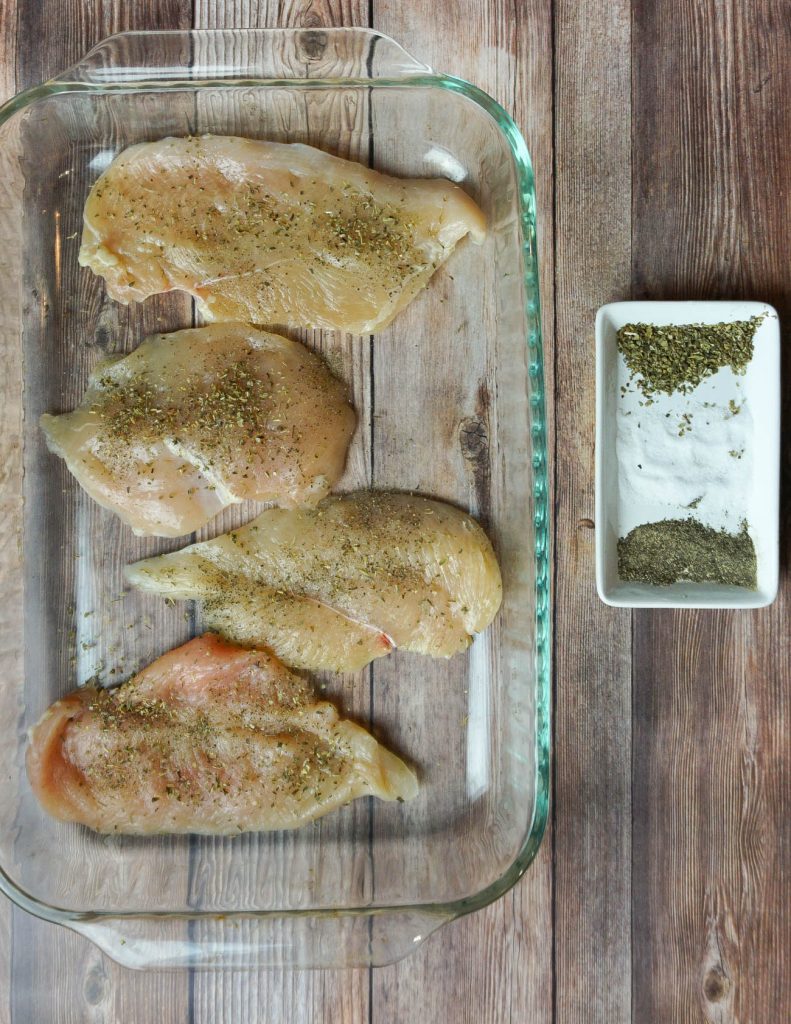 I start with thin sliced chicken breasts (although you can use regular chicken breasts too, just bake longer) lightly seasoned and baked, and then topped with a mix of roasted red peppers, green olives, and fresh basil.
Occasionally, I will roast my own red bell peppers in the oven with a little olive oil.  To make this recipe even easier, I buy the deli-sliced roasted red bell peppers, so it's as easy as just opening a jar.  Just make sure the ingredients are Whole 30 approved!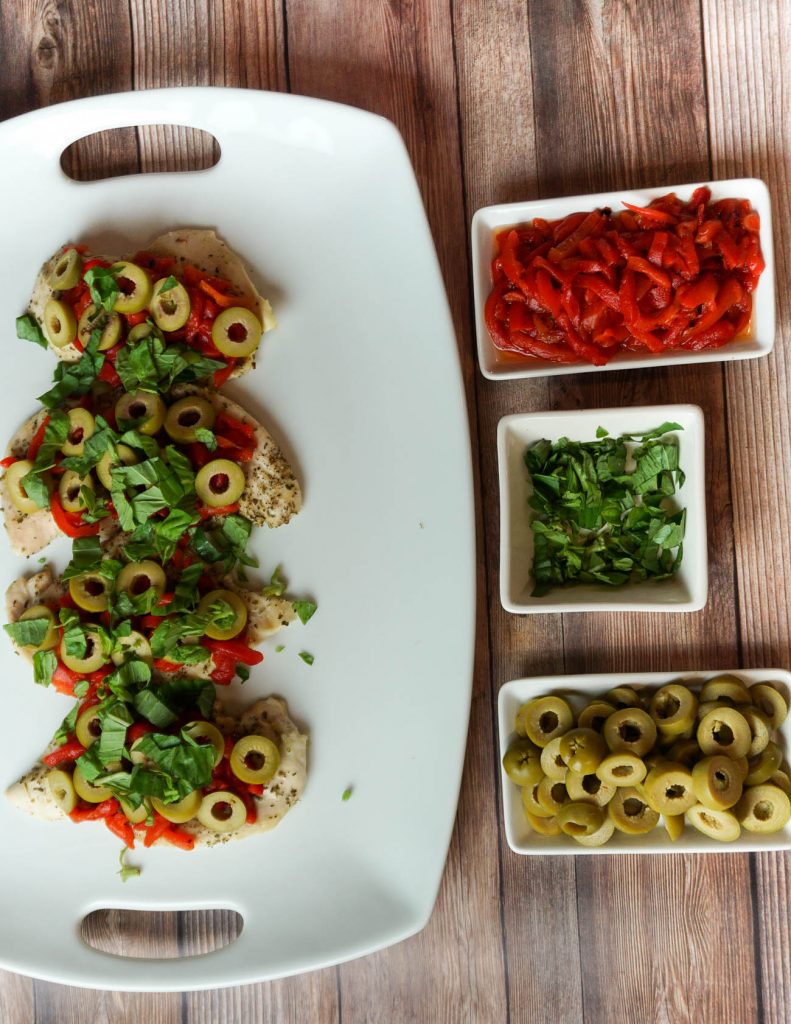 I hope you enjoy my first recipe, and I look forward to sharing many more with you!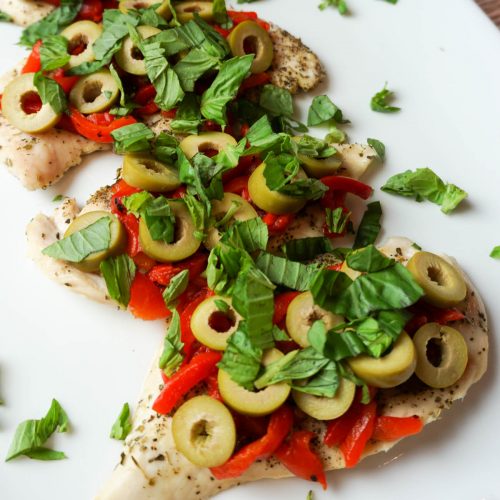 Mediterranean Chicken
Easy Mediterranean inspired chicken breast recipe with under 10 ingredients and ready in 30 minutes.
Ingredients
4

thin sliced chicken breasts

pinch

salt and pepper

1

tbsp

italian seasoning

12-16

pitted green olives

1

cup

roasted red bell peppers

1/2

cup

fresh basil
Instructions
Preheat oven to 350 degrees.

Add chicken to oven safe baking dish. Sprinkle each chicken breast with Italian seasoning, salt, and pepper.

Bake chicken for about 15-20 minutes.

While chicken bakes, chop basil and slice olives. (I make about 4 slices per olive.) If using whole roasted peppers, thinly slice each pepper. (You can also roast your own red bell peppers with olive oil too.)

Plate chicken breasts and top with 1/4 cup roasted red bell peppers, 10-12 olive slices, and a sprinkle of chopped basil per breast.
Notes
Serve alongside vegetable of choice. Great for Meal Prep!
Love this post? You may also love: