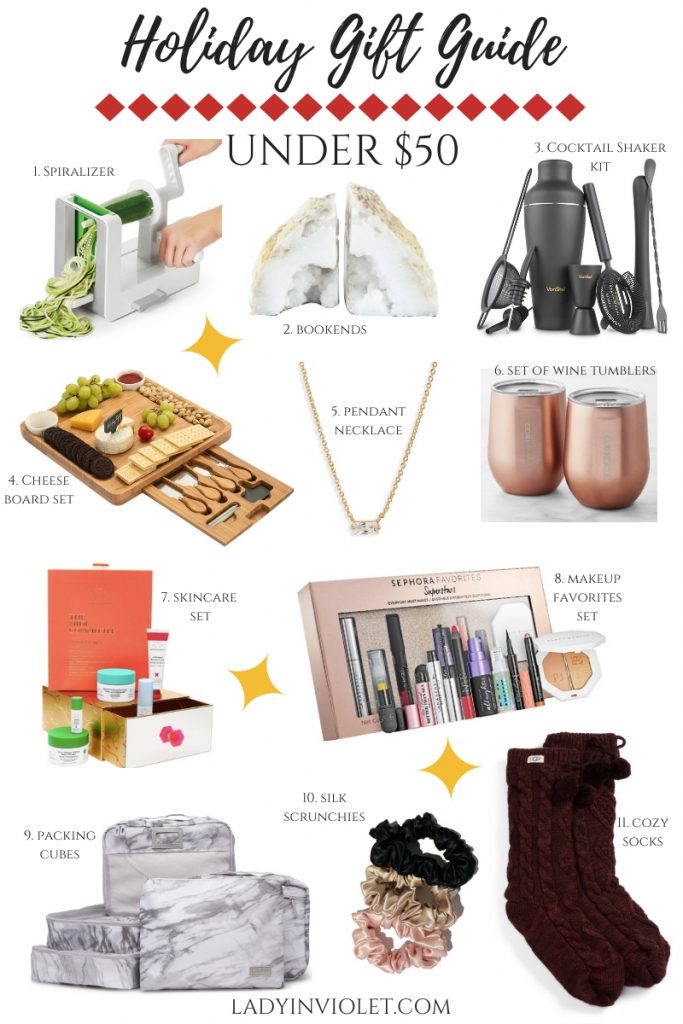 Let the Holiday Shopping Season begin! Has anyone started their Christmas shopping yet?  I have not, but I have started making a list of gift ideas for those I'm planning on shopping for this year.  My plan for this year is have a gift list ready to go and take advantage of the Black Friday and Cyber Monday sales.  We will see if I am able to score any deals, at the very least I should be able to get some free shipping.
For my first gift guide of the season, I went with ya'lls yearly favorite Christmas gift ideas under $50. I found a variety of ideas in hopes of hitting multiple people on your list from the beauty lover, the foodie and entertainer, the traveler, and the one who likes cozy nights in.
A few stand out items on the guide:
PACKING CUBES – OK, these are on my wish list.  These cubes are perfect for anyone on your list who travels whether it be for work or for fun.  You can put different items in each cube to make a more organized suitcase.  I love this idea because my suitcase always ends up looking like a hot mess while I am on vacation.  The idea of putting like items together in these little cubes makes my organization loving heart happy.
SKINCARE SET – Drunk Elephant is one of my top skincare brands that I tried this year.  I raved about some of their products in this post.  This little set give you some of their top products for a steal of price! This skincare set would be great for all the ladies in your life!
SET OF WINE TUMBLERS – I have the unicorn color of these and love them!  You can fill them with any beverage to keep it hot or cold.  I love to use them by the pool with a cold beverage and filled with hot chocolate for viewing Christmas lights.
PENDANT NECKLACE – If you have zero clue on what to get someone, a pendant necklace is always a great idea.  You can also find them in a variety of colors and price ranges to suit your needs.  This brand is a favorite of mine.  I've owned necklaces from them for years, and they still look great.
I will keep adding more ideas throughout the season below, so be sure to check back when you are ready to start shopping or need some fresh ideas.  I have a few more gift guides coming for you over the next few weeks too, so stay tuned!
CHRISTMAS GIFT IDEAS UNDER $50
Love this post? You may also love: