| DETAILS |
1) STEVE MADDEN Ohio Fringe Booties  2) JOIE Keaton Booties  3) XOXO Aldenson Western Ankle Booties  4) CARLOS BY CARLOS SANTANA Everett Ankle Booties  5) NINE WEST Kacey Peep Toe Booties  6) JESSICA SIMPSONCainn Foldover Booties  7) NINE WEST Sweetsent Booties  8) INC Jaydie Suede Booties
My favorite fall shoe is hands down taupe booties!  The hardest part of putting this little shop guide together was not buying all eight of these!  My biggest recommendation if you are wanting a pair of taupe booties is buy now!!  This shade sells out so quick and soon sizes and styles will start disappearing if they haven't already.   Fringe is hot right now, so I included a couple pairs with fringe on them. I like how it is on the side and kind of subtle.  The Joie are obviously the splurge shoe of the list, but I saw these in person and they are just so gorgeous!  I definitely want to get a peep toe bootie this fall, because in Texas fall is still warm enough for an open toe shoe.  I haven't decided if I want this color or black, so I haven't purchased one yet.  For all my petite ladies out there, look for booties that have a slight dip in the front to wear with dresses.  The dip helps to not create the strong cutoff line when you wear with a dress and gives a longer leg illusion.
SHOP MORE TAUPE BOOTIES!!
I'm also excited to announce that I am finally done with my blog re-design!  Okay, I will probably still move things around here and there, but overall everything is pretty set.  I was really excited to find an affordable pre-fab design from Leap Design.  Pre-fab means I picked from one of their pre-made designs and then installed myself.  I was a little nervous about the install myself part, but it was so easy!!  I seriously set aside a whole weekend to switch and was done in a few hours.  I spent all of August playing with my side bar and my new bottom bar.  I love having all the new spaces to work with.  I love that I was able to add a Current Cravings section to the bottom of my page, so you can see what items are on my shopping wish list.  It connects to a shop wish list I have online, how cool is that!  Leap Design also does custom work too.  Their blog resume list is quite impressive with Dallas Wardrobe, Devon Rachel, and What Courtney Wore to just name a few.  But if you aren't quite ready to spend hundreds on a design, you should definitely check out their pre-fab designs.  They have some really cute ones!
In addition to my blog re-design, my subscriber newsletter received a face-lift too.  In addition to receiving new posts straight to your inbox, I have also started to include giveaway reminders, special discounts including some that only will be in the newsletter, invites to Houston events, and eventually I hope to include sneak peeks of what will be coming soon to Lady in Violet.  The email only goes out on days when I do a blog post.  If you would like to receive the newsletter, you can subscribe HERE.
Follow Lady in Violet INSTAGRAM | TWITTER | FACEBOOK | BLOGLOVIN | SUBSCRIBE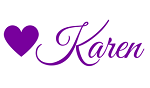 Love this post? You may also love: