Happy Friday!!!  I'm so excited for today's post ya'll!!  So way back in my first year of blogging, I did a styled 3 ways post with a striped dress.  I loved the idea of sharing different ways to wear the same thing in one easy post for you.  It's an idea that I've been wanting to bring back for probably about a year now.  Well I finally decided to just sit down and do it already!
I'm planning on making this a monthly series and to have the main item be a mix of closet basics and trendy pieces.  If you would love to see a specific item featured, leave it for me in the comments!
Let's talk about today's styling of a black dress multiple ways.  I think everyone needs a little black dress in their closet.  I own a shift dress, fit and flare, and this fitted body-con dress.  I would style all 3 designs similarly to the way I styled this fitted dress.
This dress is hands down one of my favorites! I own it in 2 colors in sleeveless and 1 color in long sleeve.  It's currently marked down 20% in multiple colors including black.
Black Dress (20% off)  |  Leopard Flats | Pink Clutch  | c/o Earrings  | Bracelet
This first look would be perfect for date night!  I know many of you love flats, so I paired it with my leopard flats for you.  You could also add a fun pop of color heel too.  I added in my color with my purse and statement earrings.  A long gold pendant necklace is a great way to dress up the crew neck dress a little.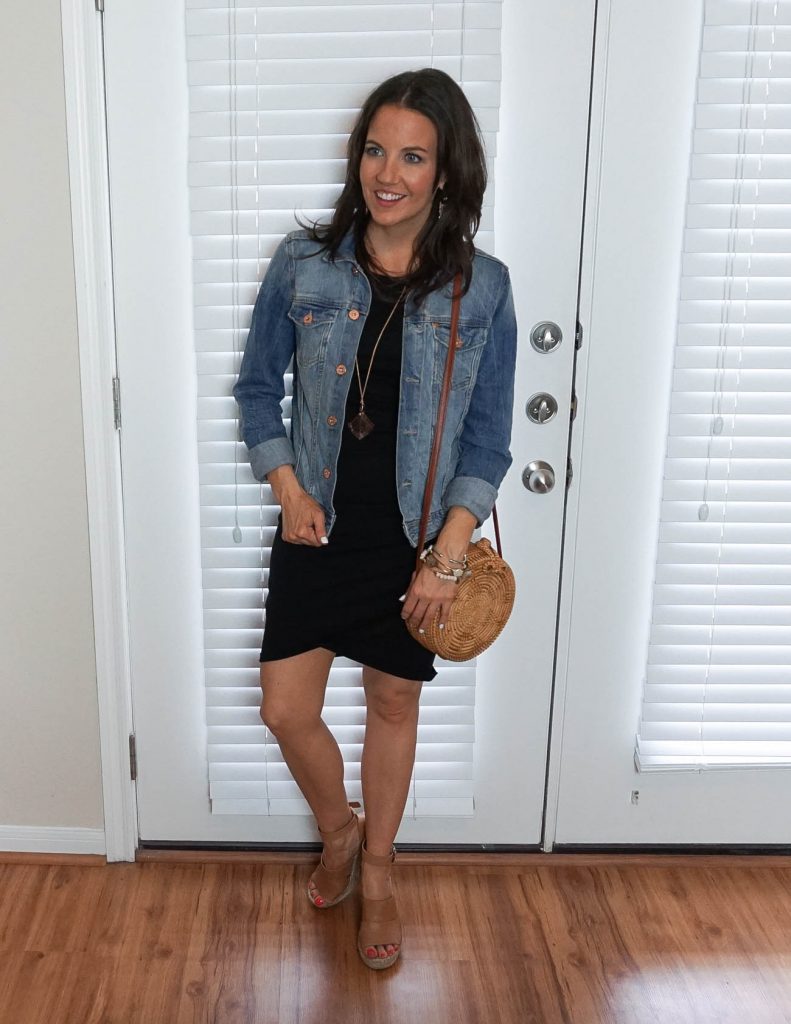 Black Dress | Wedge Sandals | Similar Denim Jacket | Circle Bag  |  Necklace | c/o Earrings
Next up, a casual outfit that would be perfect for grabbing lunch with friends.  I love a black outfit paired with a brown shoe.  It's taken awhile for me to embrace the black/brown combo, but I'm totally loving it now.  A denim jacket is a major closet staple and an easy way to change up a look and make a dress look more casual.
I again added a long pendant necklace and some fun rose gold statement earrings.  For a casual bag option, I went with my new straw circle bag.  I obsessed with this cute little bag, so be prepared to see it lots this spring and summer!
Black Dress | Cardigan | Sandals | c/o Necklace | c/o Earrings | Bracelet
This last look is perfect for a day of running errands.  You could also slip on a neutral flat or heel for the office.  I tossed on my beige cardigan to create a laid back look with the sandals, and I kept my jewelry pretty simple with a short gold necklace and small colored earring.
Which outfit is your favorite? 1, 2, or 3?  And for a bonus 4th way to wear this dress, this post is how I originally styled this dress on the blog.
SHOP THE LOOKS

Love this post? You may also love: