Monthly Archives:
July 2019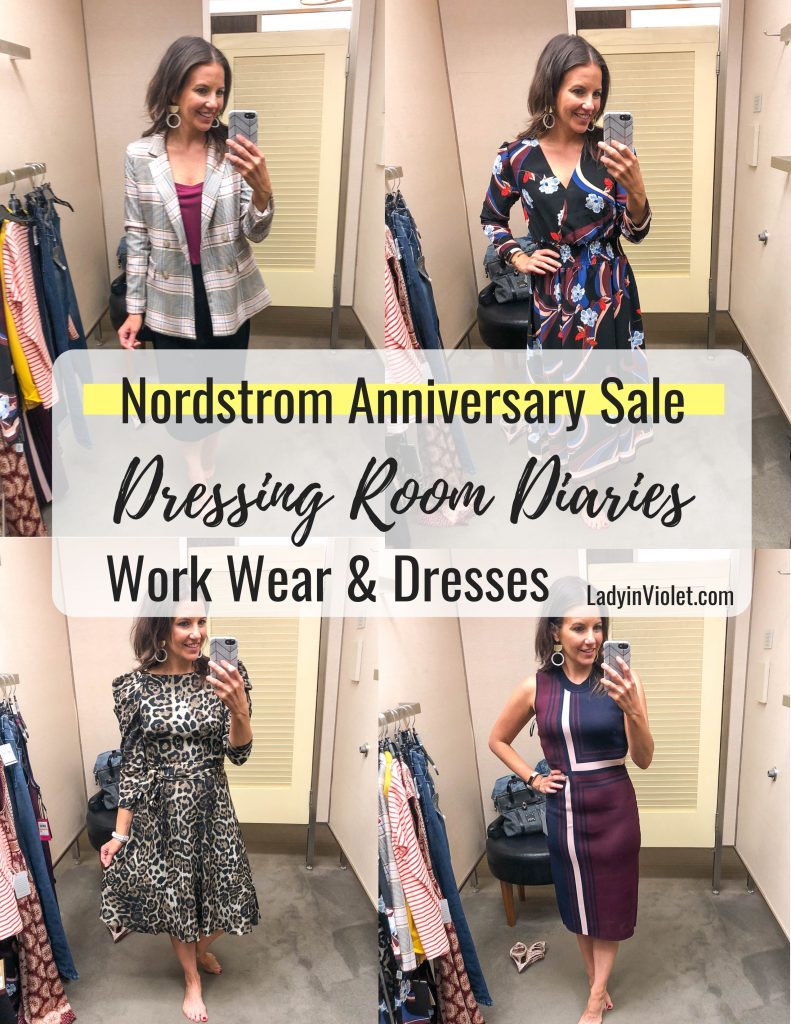 Hello Hello! How is your Nordstrom Sale shopping going?  All of my packages are set to arrive this week, so expect a little try on post on Friday featuring what I purchased.  I always think the Nordstrom Anniversary Sale has an amazing dress selection!  You can purchase these dresses for some pretty good prices during the sale.  I hit up my local store to try some on, and while I loved the selection, I was disappointed in the lack of petite sizes available.  Only the leopard print dress had my size in petite.
So ignore the fact that many of these are too long for me.  After I get my order and decide on my keep/return picks, I'm planning to go back in and order a few dresses online in petite since in store was kind of a bust. Midi dresses continue to be a hot item going into fall.  You can pair these with black or taupe boots. I try to make sure the bottom of the dress covers the top of the boot.  A pointy to leather bootie or classic heel will also work.  To add a little bit of edge to your look, add a fitted leather jacket.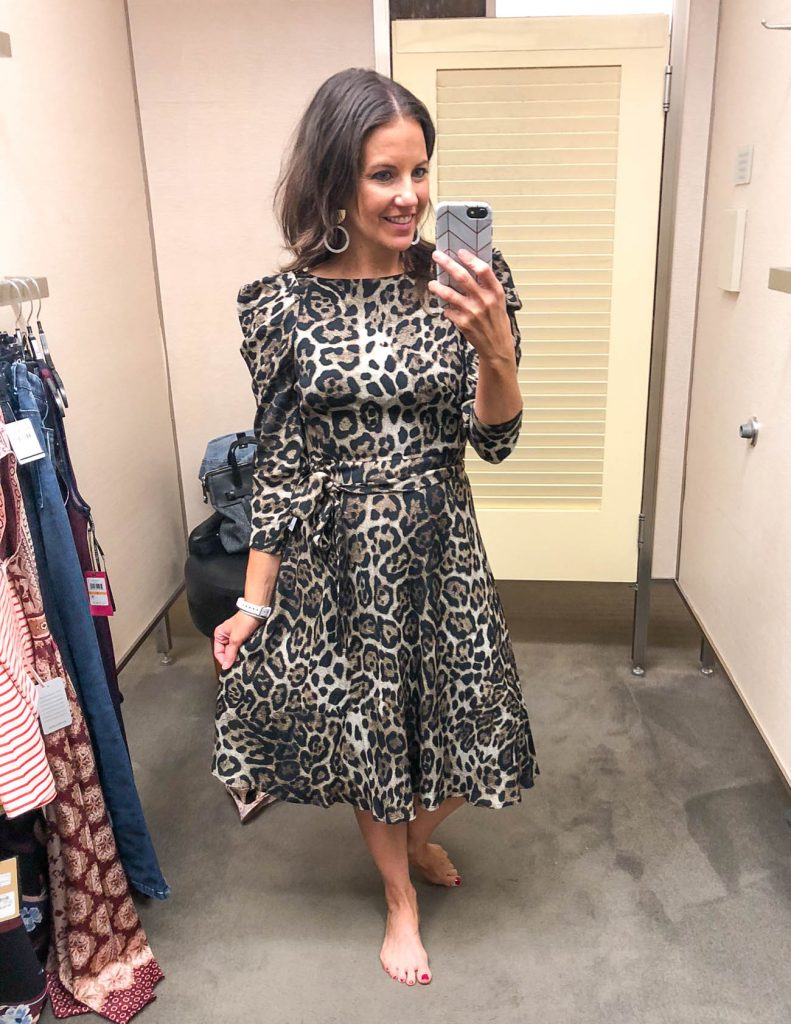 I didn't think I would like a full leopard print dress, but this one is cut so well.  I love the shoulder and sleeve details and belting at the waist.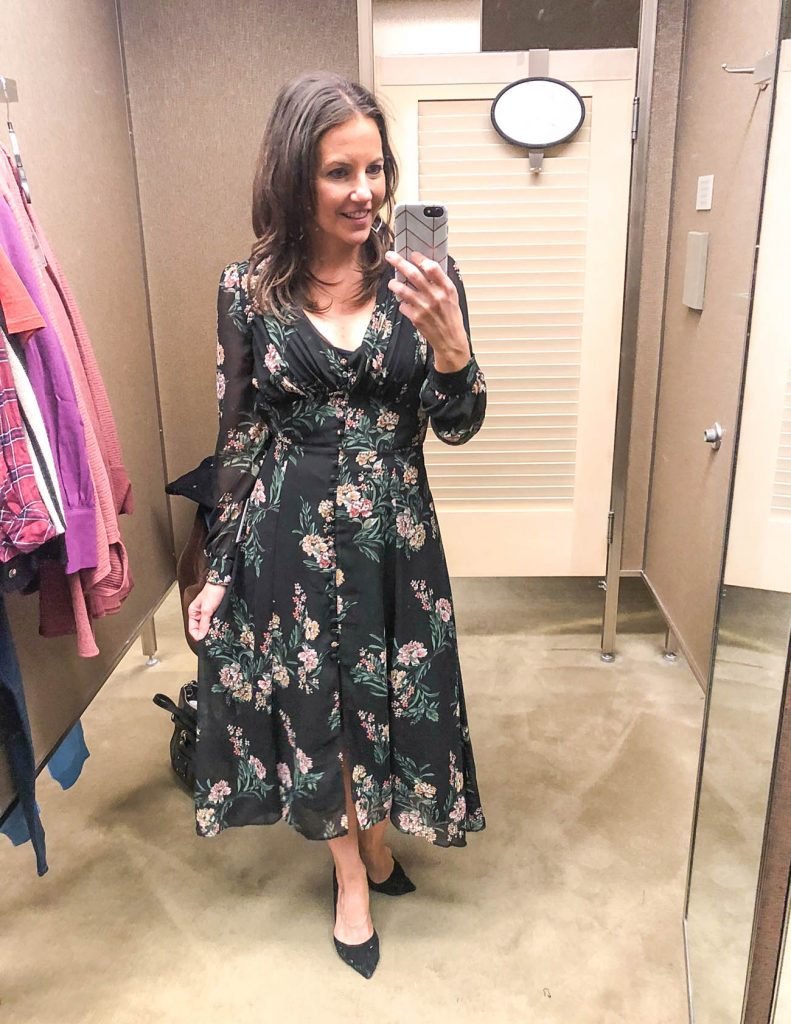 Pair this dress with black heels or light brown suede tall boots for a work or church outfit.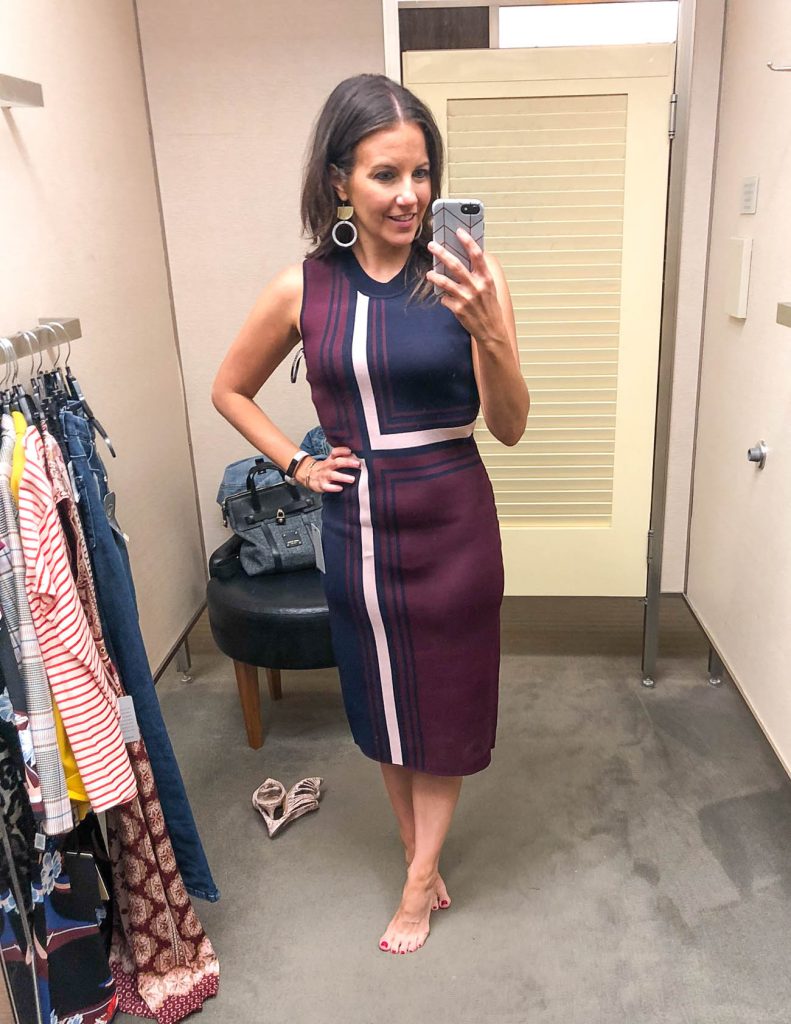 Love this dress!! It would be perfect with heels or boots.  You can add a brown leather jacket for colder days.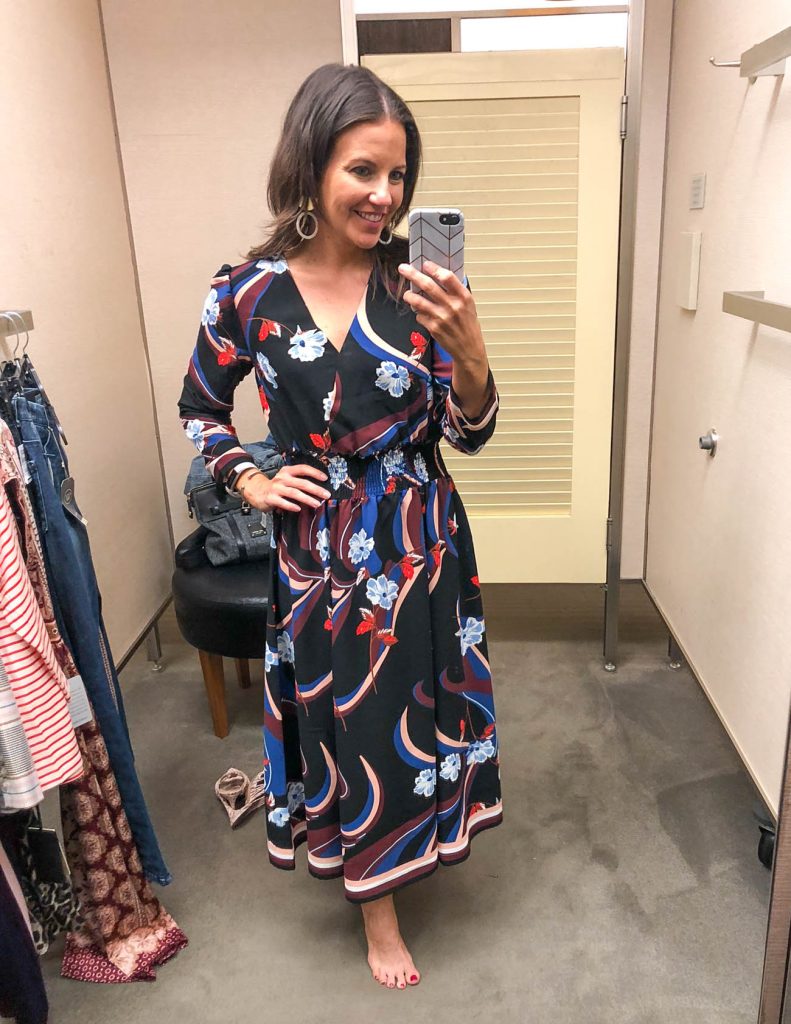 The smocking at the waist was a fun detail and made this dress like 10x more comfortable!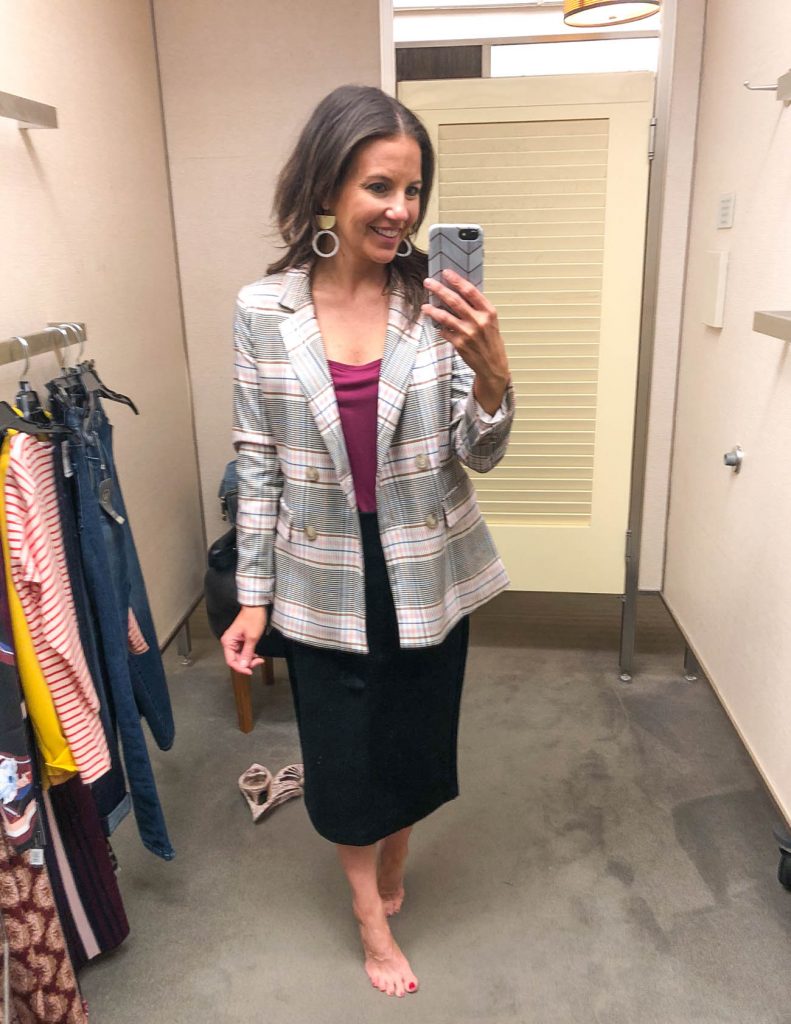 This brand always runs big for me in jackets. I'm wearing an XS and it's still so big!  The skirt was a pull on midi skirt.  It was really comfy, just wish they had a petite available.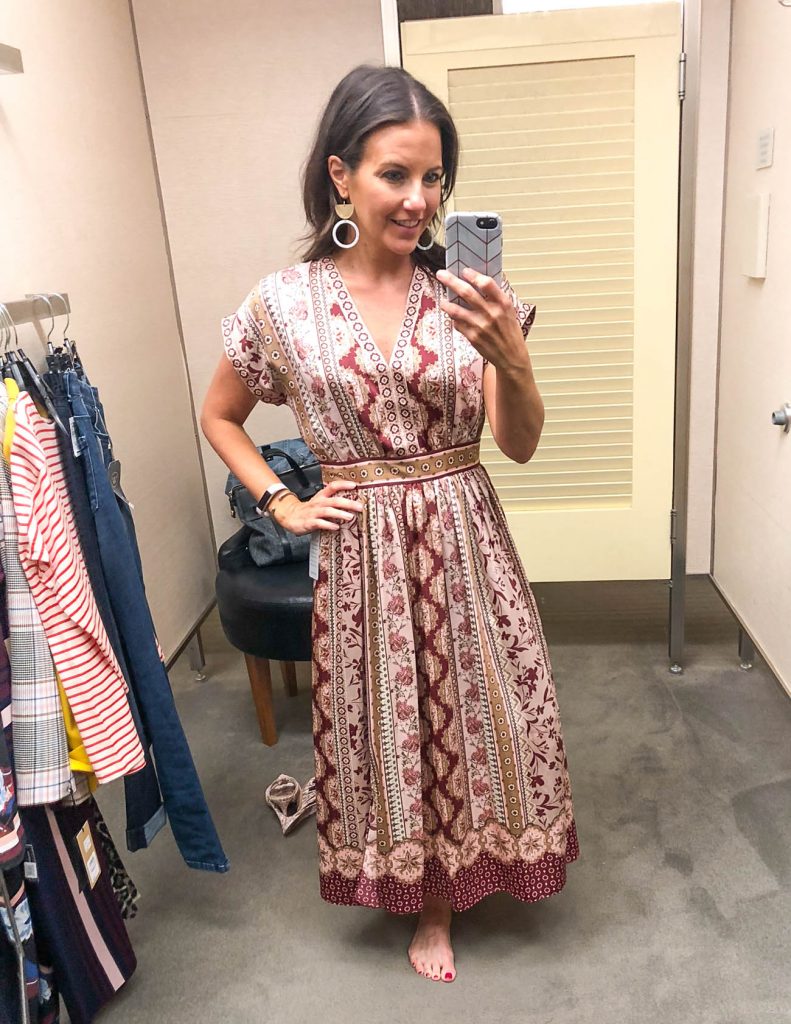 This is my first time trying on a Gal Meets Glam dress.  I love the print on this one. It will work for fall with brown suede boots or a brown leather jacket, and also work in spring with nude colored heels or sandals.
Thanks for stopping by for part 2 of my dressing room diaries,  Nordstrom Anniversary Sale Work Dresses.  We are heading back to summer on Wednesday with a cute summer look, and then on Friday my Nsale Buys including a couple items you can start wearing now!