Monthly Archives:
November 2015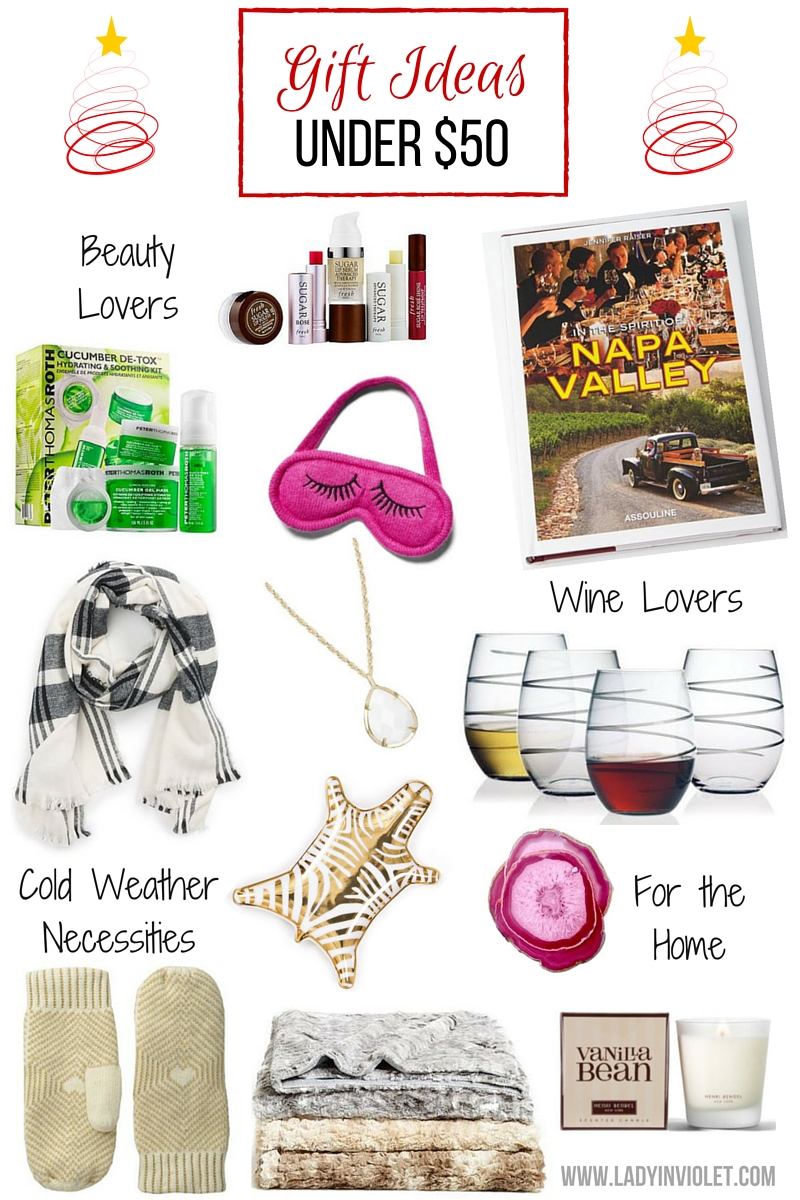 | DETAILS |
PETER THOMAS ROTH Cucumber Spa Kit  | FRESH Sugar Lip Lovers  | PORTOLANO Eyelash Eyemask  | ASSOULINE BOOKS In The Spirit of Napa Book  | SHIRALEAH Scarf  | KENDRA SCOTT Kiri Necklace  | SUSQUEHANNA Spiral Wine Glasses  | PISTIL Crush Mitten Gloves  | JONATHAN ADLER Zebra Dish  | WEST ELM Agate Coasters  | NORDSTROM AT HOME Plush Throw  | HENRI BENDEL Signature Candle
I know when I Christmas shop I tend to have a price range in mind, so I wanted to create a couple gift guides with that in mind.  I'm starting with some fabulous gift ideas under 50.  I'm kind of in love with everything on this list.  I definitely have a few of these items on my personal wish list like the scarf and cute little sleep mask.  All these gifts would be great for gift exchanges and Secret Santa parties.  I love gifting beauty kits for the holidays.  For starters, they are usually a good value with 3-5 products in each kit.  I always love getting to sample new products, and this gives you that opportunity.  Lots of beauty brands make these just for the holidays, so you can also pick up one for yourself if you have a brand you want to try out.   If you want more gift ideas, check out my Gift Guide Under $50 page.  I'm constantly updating it with new ideas I come across.
I figured I would add a little holiday shopping tip to these posts, because I am an online shopping addict who has learned a little along the way!  Today's Tip – Check the returns policy!  I primarily shop at stores with free shipping and returns. If you are shopping now for Christmas, check the returns guidelines to make sure the gift can still be returned in January if needed.  Most stores extend their return policy during the holidays from the normal 30 days to 60 or even 90 days.

STOCKING STUFFERS!


Follow Lady in Violet INSTAGRAM | TWITTER | FACEBOOK | BLOGLOVIN | SUBSCRIBE