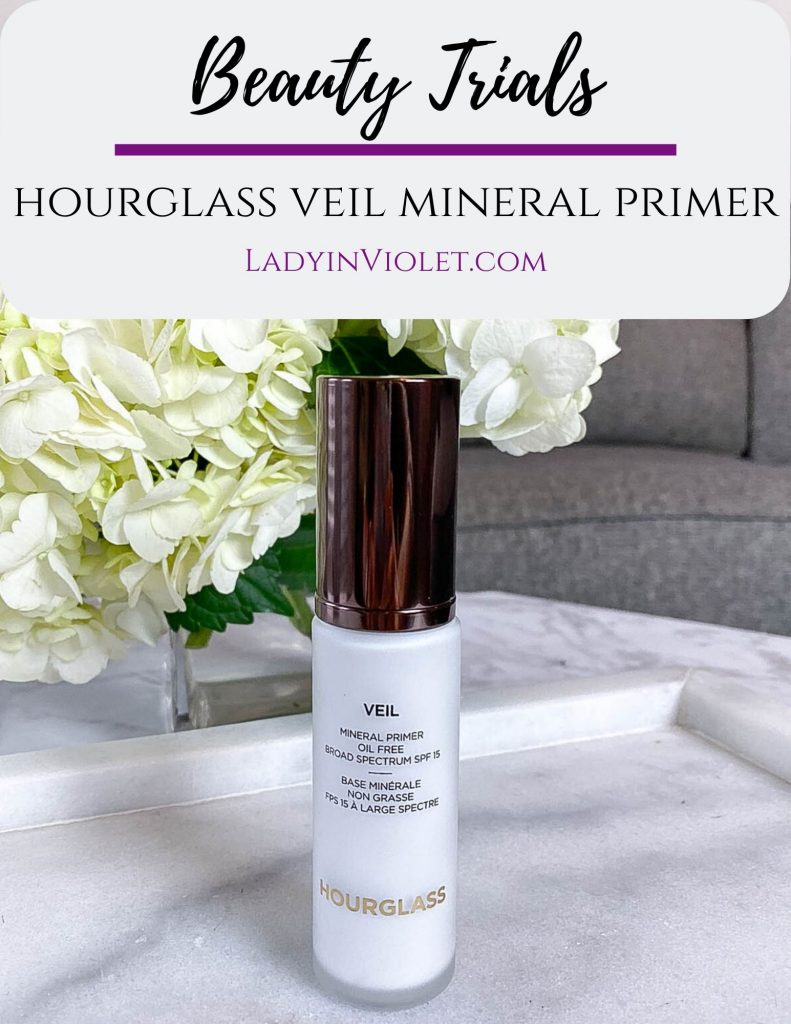 (gifted by Hourglass, the decision to review and opinions shared are my own)
So many of my friends have raved about the Hourglass Veil Mineral Primer, and it's always making the lists of top primers.  I was super excited to finally get my hands on it to try it out.  Before I jump into my review, let's talk a little about what primer is used for in a makeup routine.
WHAT IS PRIMER?
Face primer is applied prior to applying your foundation.  It helps smooth and even out your skin allowing foundation to apply smoother and last longer.  It can reduce the appearance of fine lines, wrinkles, and large pores, and prevents makeup from settling in these areas.
HOW DO I USE THE VEIL MINERAL PRIMER?
I apply my skincare moisturizer and let soak in for about 5 or more minutes.  Then, I use 1 pump of the primer and apply over my entire face.  I pump into my hand and then dot the primer over my face with a focus on areas like forehead, around eyes, and cheeks, pretty much any areas with fine lines and redness.  A little of this product goes a long way, so pump just a small amount out.  I then let the product settle and work its magic for a couple minutes before starting my makeup routine.  I then start applying my foundation and continue through my normal makeup routine.
HOURGLASS VEIL MINERAL PRIMER REVIEW
This product definitely lives up to the hype.  It smooths out the skin and fills in areas of fine lines.  I noticed needing less foundation while using this primer.   My foundation went on much smoother and quicker.  Throughout the day, I noticed my makeup was not settling as much in lines on the forehead and around the eyes.  I also felt my makeup still looked fresh at the end of the day.
A few other things I liked about this product –
The primer is soft and feels smooth as it glides on to your skin.  It's super lightweight, and it didn't feel heavy at all.
It contains SPF 15.  I try to use one SPF product in my morning routine, so I always love finding products with it.
Overall, I plan to keep this product as part of my makeup routine.  It helped my makeup look fresh all day including from work day to date night.  I used less foundation which will help that product last longer between buys.
Have you tried the Hourglass Veil Mineral Primer?  What were your thoughts on it?
SHOP THE PRODUCT


Love this post? You may also love: