At the beginning of Spring, I added quite a few shoes to my closet.  Now that I have had time to break them in, I wanted to give you all a little review of what I loved and disliked about each pair.  Overall I am really happy with all the purchases I made, some a little more than others. Read on for more of my great spring shoe review!!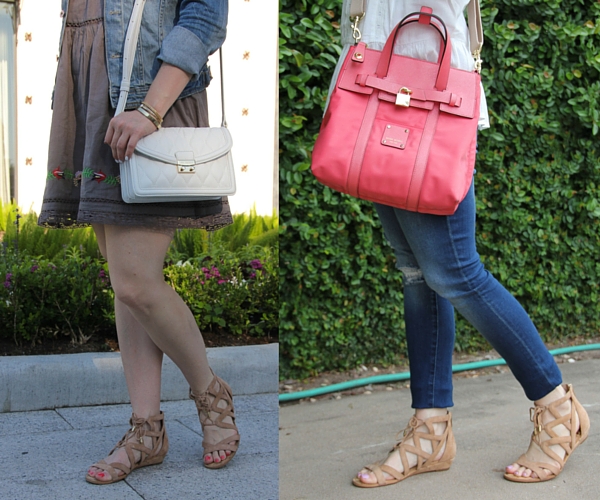 SHOP THE SANDALS
I love these sandals!  I love how they look, and that they work with dresses, shorts, and jeans.  The back of these have a zipper which makes them easy to get on and off without needing to untie them each time.  I wore these for three days of walking in Charleston with minimal issues.  The back has the ever so slightest wedge raise which I love! A long day of walking in a super flat shoe leaves my arches aching, so I appreciate the small wedge.  I wore these out a few times prior to my trip and had no issues with breaking them in.  On the first day in Charleston after they were soaked in the rain, the right one started rubbing my heel a little.  The left one never bothered me.  I pulled the zipper down about halfway and put on a bandaid and was fine to continue walking in these.  The only real annoyance I have with these it that sometimes the front ties get stuck in between your foot and the caged part.  The ends have a teeny little metal end, and it kinda hurts a little.  Every so often I have to stop to fix it.  I would highly recommend these shoes, and would 100% buy them again!!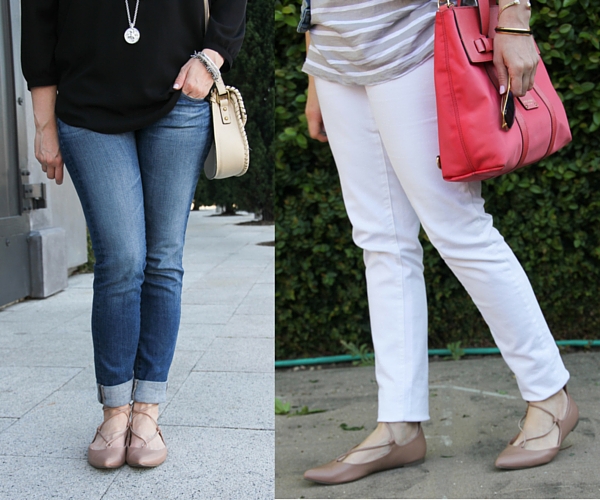 SHOP THE FLATS
I searched forever for the perfect pair of lace-up flats.  For me, these are them! They are super comfortable to walk in and needed no breaking in time.  I love wearing these to run errands or to work.  I do a basic tie around my ankle.  With all lace-ups, I find it takes a time or two to learn how tight to tie them.  If you tie them too tight, your ankle will hurt and you will leave a pretty little line around your ankle.  I double knot mine in the back, and they don't come untied too often, but every now and again they will.  I would buy these again in a heartbeat!!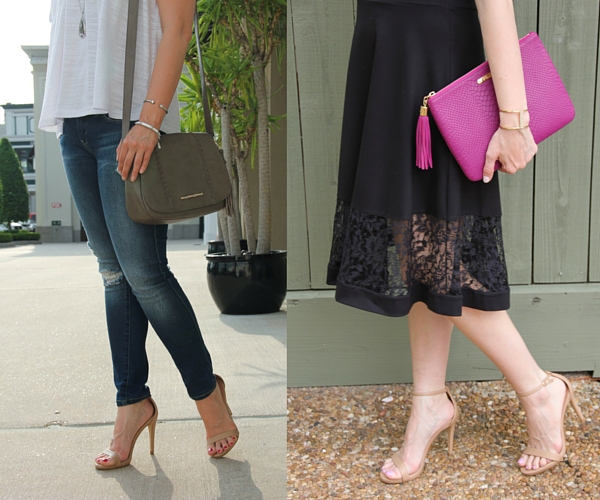 SHOP THE HEELS
Of all the shoes I bought this Spring, these were the ones I was the most on the fence about.  I love the look of them, but I didn't know if they would be comfortable or not.  After wearing several times, I find them to be comfortable.  They needed no breaking in time.  I have worn them to events with tons of standing and done a good amount of walking in these.  I love that they work great with dresses and help dress up jeans or shorts.  My only con to these so far is the initial finding that perfect strap spot.  If these are too tight, they will be sooo uncomfortable and harder to walk up and down stairs.  I would definitely buy these again, and I'm already considering purchasing in another color for summer!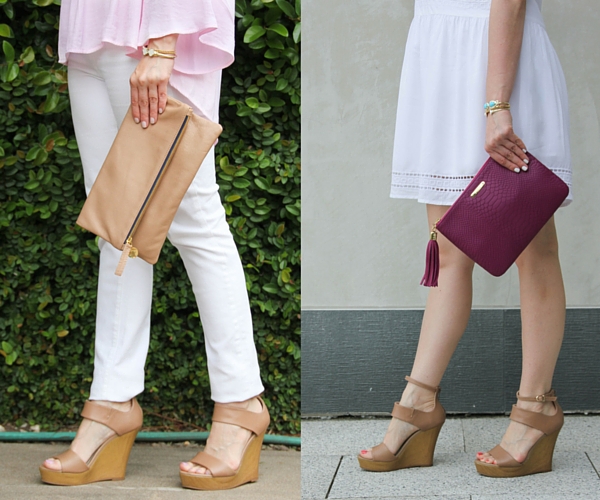 SHOP THE WEDGES
I fell in love with these wedges at first sight.  I was seriously on my lunch break with zero intention of buying these.  I left empty-handed and came back after work because I had to have them!!  I liked their price point and the simple look of the straps. I had been eyeing a similar much higher priced pair, so for me these were a bit of a dupe.  I already own another pair of sandals from this brand, and they are so comfy.  I can say these did not disappoint.  I didn't really need a breaking in period.  These unzip from the back so they go on and off pretty easy.  I wore these out in Charleston a couple nights, and had no problems walking for long periods of time.  I prefer these mainly styled with jeans.  I do wear them with dresses, but I think the top thin strap sometimes make me look a little shorter.  I for sure would buy these again!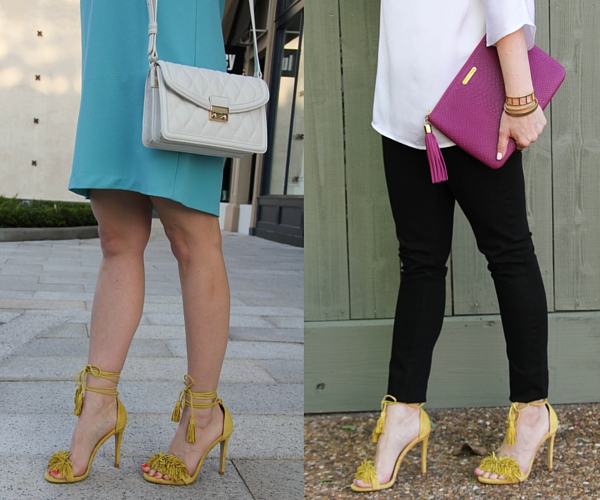 SHOP THE FRINGE
Oh the oh so popular fringe heels.  I debated on these shoes for quite sometime before finally pulling the trigger and buying.  I didn't like the price tag because I think they are a bit trendy.  I waited for them to go on sale, so it was a little bit better.   I love the look of these and always receive tons of compliments!!  I like that I bought them in yellow, because it makes them a little different than all the other fringe sandals out there.  I can walk in heels for days, but I do find these sometimes a bit hard to walk in.  The laces have to be tied just right or you will have zero support and your heel will move around too much.  If you tie them too tight however they hurt your ankle, so you have to find that happy medium.  I usually have to retie them a few times before I find that sweet spot.  If you are wearing these with a dress, the laces don't stay up very easily and usually end up bunched together after a few hours. I love the statement factor of these, but the comfort and ease of walking is a huge downside.  I really don't know if I would buy these again.  I might try to find something with a bit more hold around the ankle.  If I'm going somewhere with minimal walking, I will grab these because they are really cute.  If I know I'm going to be walking more than to the car and back, I usually opt for another pair.
If you have been contemplating any of these shoes, I hope these reviews helped you out.   I find shoes are that one item that in the store can fit amazingly and then after two hour of wearing them you can't feel your feet. 🙂  And after you wear them you can't return them either.  I wanted to give ya'll my honest opinion on these shoes now that I have really had a chance to break them in.  If you have any other questions about these shoes, feel free to shoot me an email or drop me a comment below.  Thanks for swinging by today, and I hope you all have a fabulous weekend!!
SHOP THE SHOES
Follow Lady in Violet INSTAGRAM | TWITTER | FACEBOOK | BLOGLOVIN | SUBSCRIBE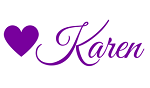 Love this post? You may also love: