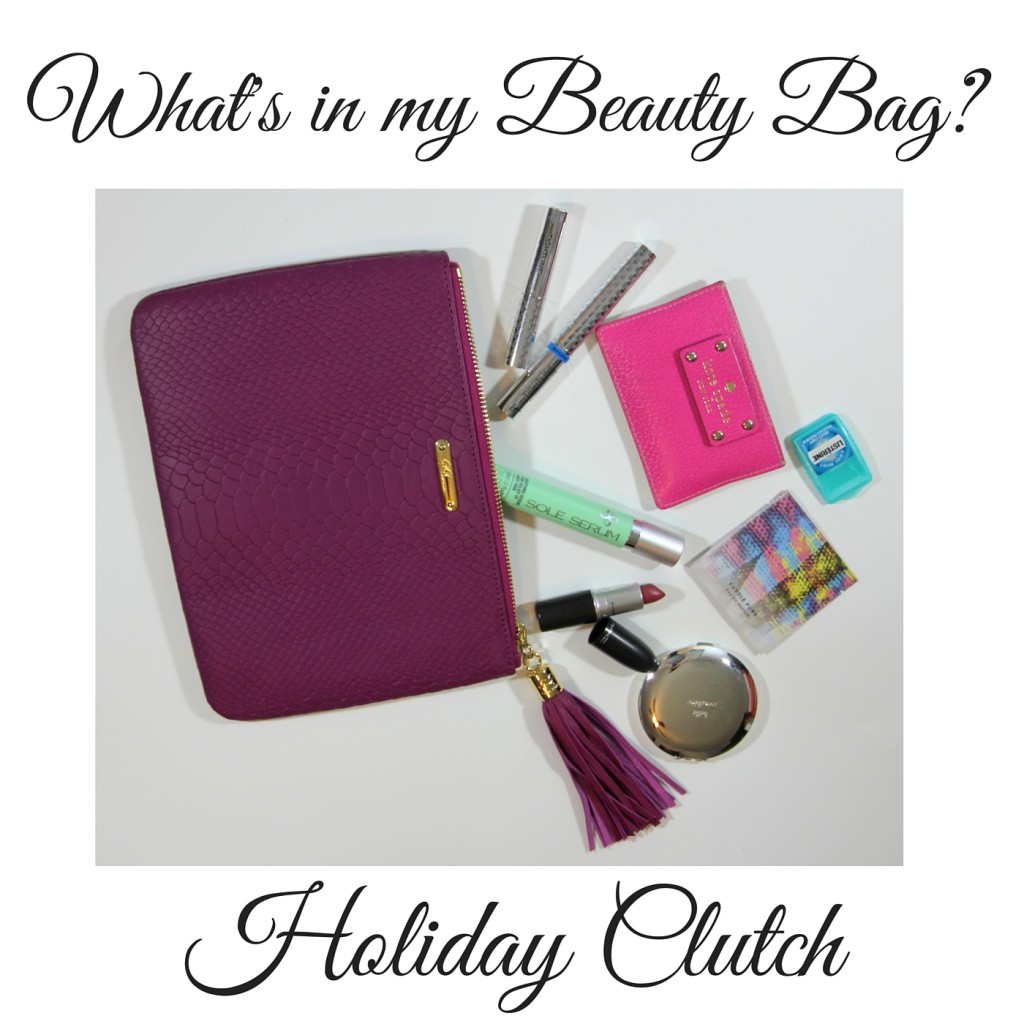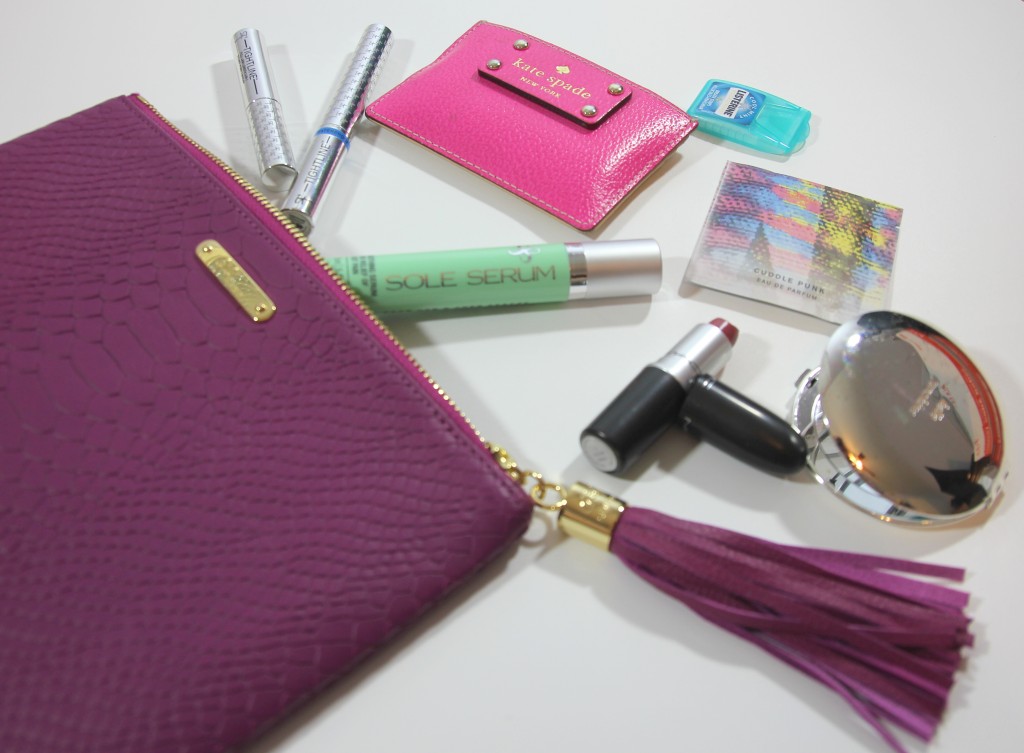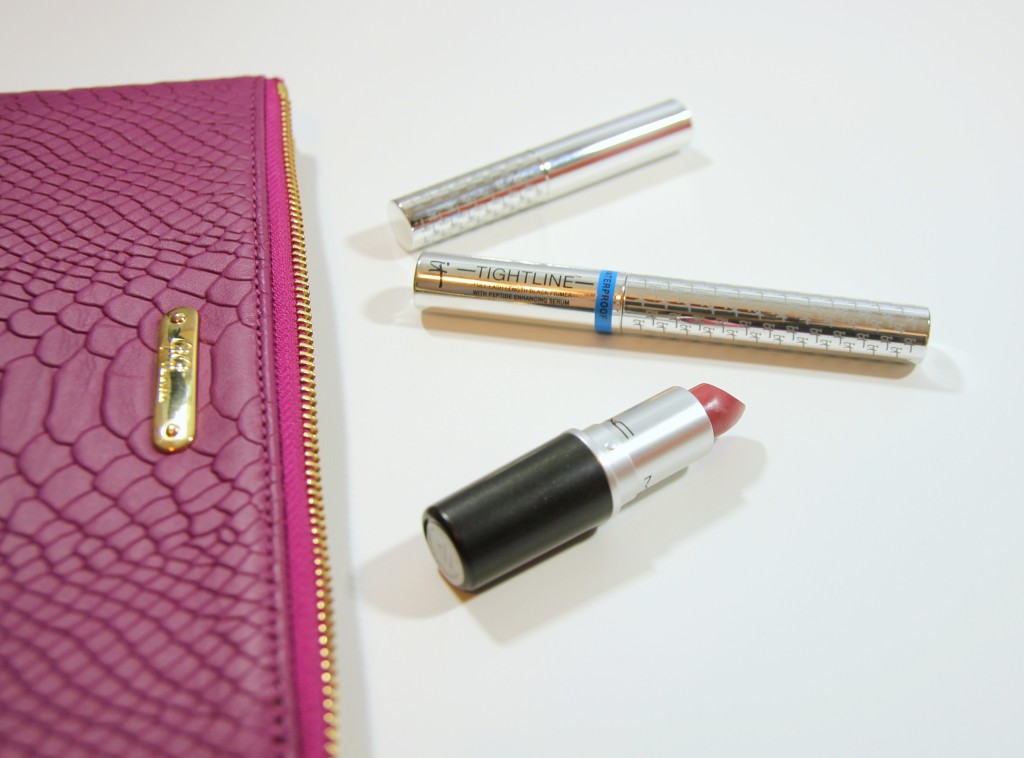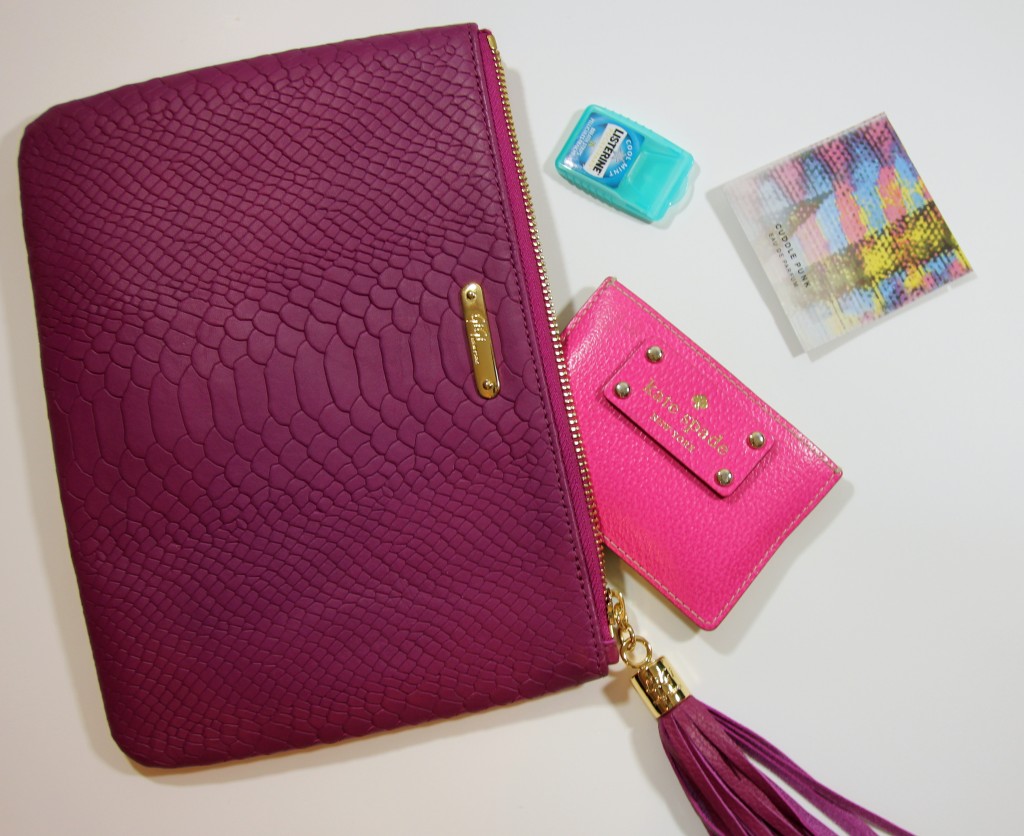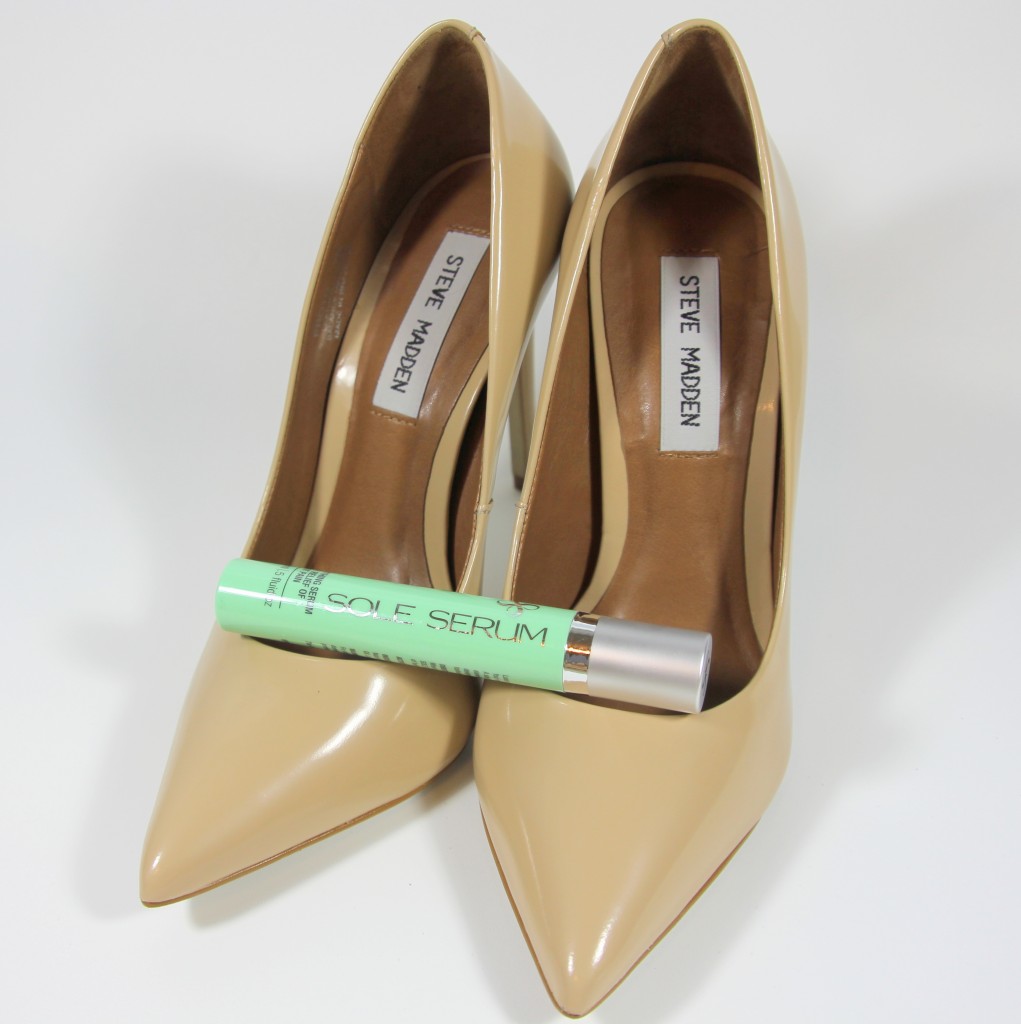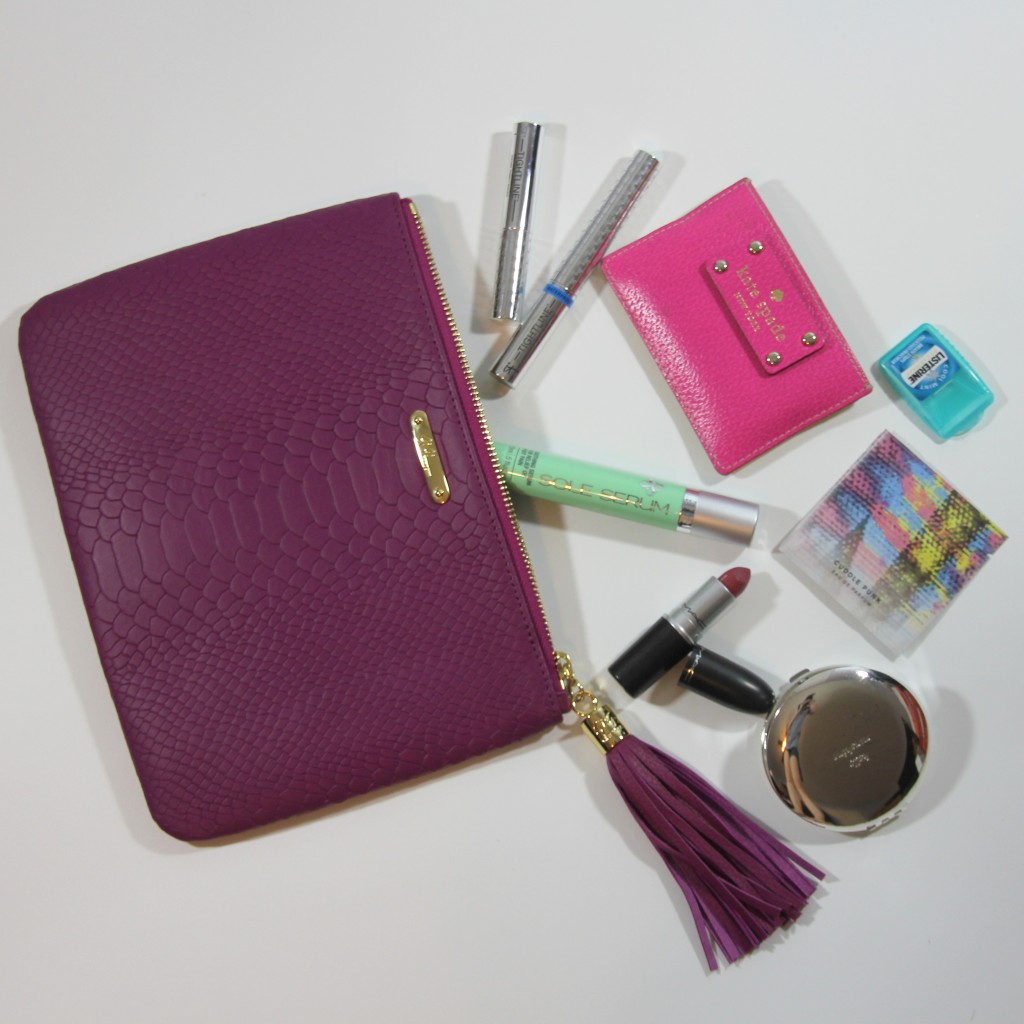 | DETAILS |
IT COSMETICS c/o Tightline 3in1 Mascara [Travel/Mini Size] | SOLE SERUM c/o Foot Pain Relief  | MAC Lipstick in Craving  | KATE SPADE Hello Sunshine Mirror  | KATE SPADE Card Holder [SIMILAR | GLITTER VERSION]  | LISTERINE Pocket Packs  | PINROSE c/o Travel Perfume  | GIGI NY All in One Bag | STEVE MADDEN Proto Heels
I'm doing a small twist to this month's What's in my Beauty Bag and sharing some of my holiday clutch essentials.  Some of these items are beauty and some are just perfect items to pack in your purse for a party.  I am obsessed with the It Cosmetics Tightline.  I keep the mini in my purse at all times and the full size in my makeup drawer.  This little product is a 3 in 1 product.  You can use this as a primer before mascara, an eyeliner, or as mascara.  Before I found this product I would often skip wearing mascara 1 or 2 days a week because I hated the build-up and damaged eyelashes.  Now I use this product which is lighter and contains ingredients that improve the health of your eyelashes.  It doesn't provide a huge full lash like with a regular mascara, but it does do a pretty good job.  I use it as my regular mascara about three times a week now.  I also use this product before events to touch up my mascara and eyeliner after a long work day.  The wand is super thin, so it works well as a backup eyeliner.  This is probably one of my favorite makeup products right now!  Another clutch must have is a good lipstick.  I love this Craving color from Mac.  It's a little red and a little pink, perfect for when you want some color but not a strong red.  Of course, a mirror is also a necessity to help you apply makeup touch ups.
I am also a fan of carrying Listerine Pocket Packs around with me.  I keep a pack in my makeup bag that I carry in my everyday bag, and packs in my clutches.  These are great for a fresh breath kick after eating or to use before heading into a party.  A new product I just started using is Sole Serum.  It is a lotion that helps relieve aches and pains in your feet after standing for long periods of time.  I usually apply it to the balls of my feet and sides of my toes before I head out to an event or party.  It also helps relieve existing soreness too.  After a day full of walking around the Nutcracker market last Friday, my feet were still sore the next day.  I put this stuff on before heading to a fashion show.  I had no issues standing for the hour long cocktail party in my heels.  This is a great product to bring with you to parties, because aching feet are never fun!
I also included my card wallet because this little baby is a total purse game changer.  I keep all my main wallet needs in here from my id, credit cards, store loyalty cards, and some cash.  I change purses all the time, so keeping my basics in here makes changing purses so much easier.  Before I switched to using this permanently, I occasionally would head out with my wallet in two different places.  I would show up without the right credit card, even without my id a few times.  This wallet is thin so it fits in all my clutches, and easily slides into the pocket of my big wallet.  Do you have any must-haves for your holiday clutch or game-changing products to help free up some space in your purse?  I'd love to hear about them in the comments below!

Follow Lady in Violet INSTAGRAM | TWITTER | FACEBOOK | BLOGLOVIN | SUBSCRIBE