SHOP THE LOOK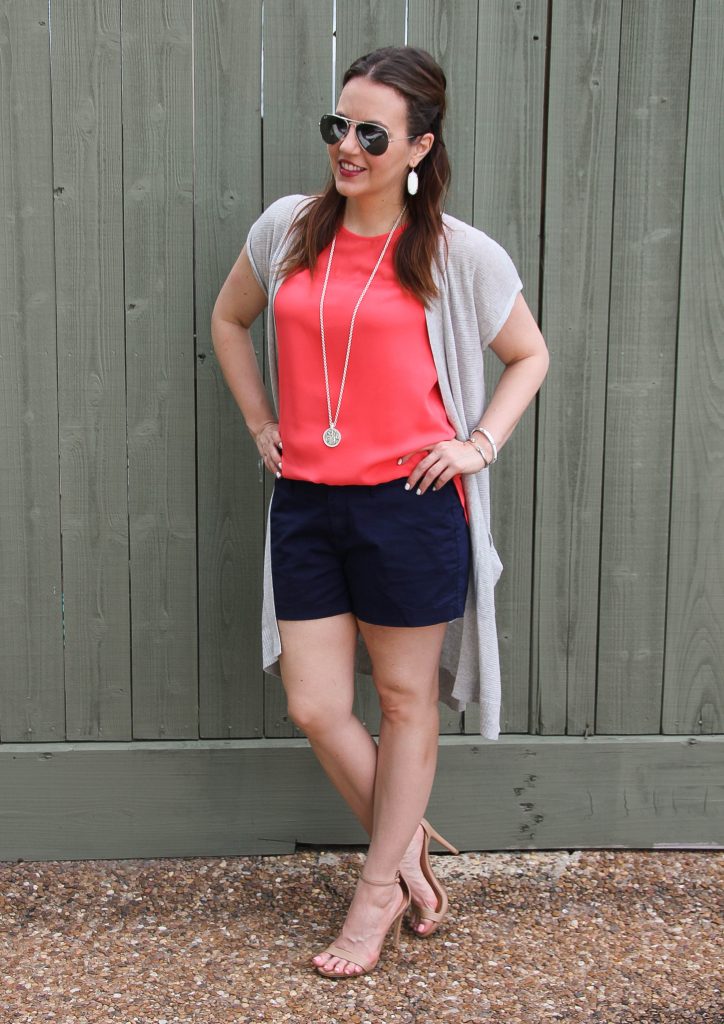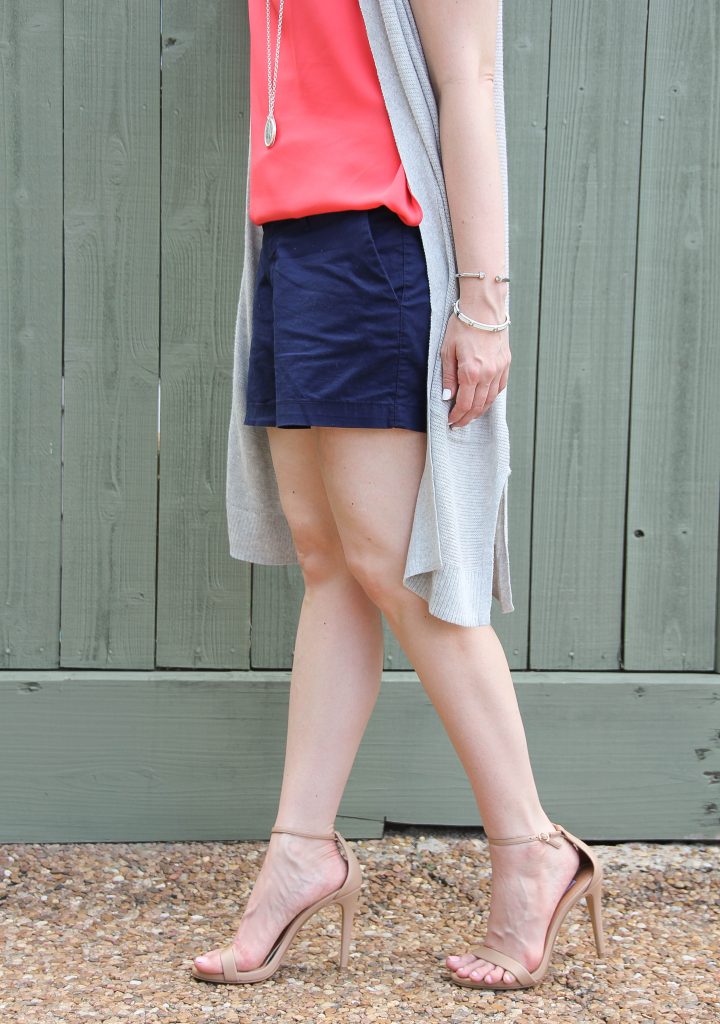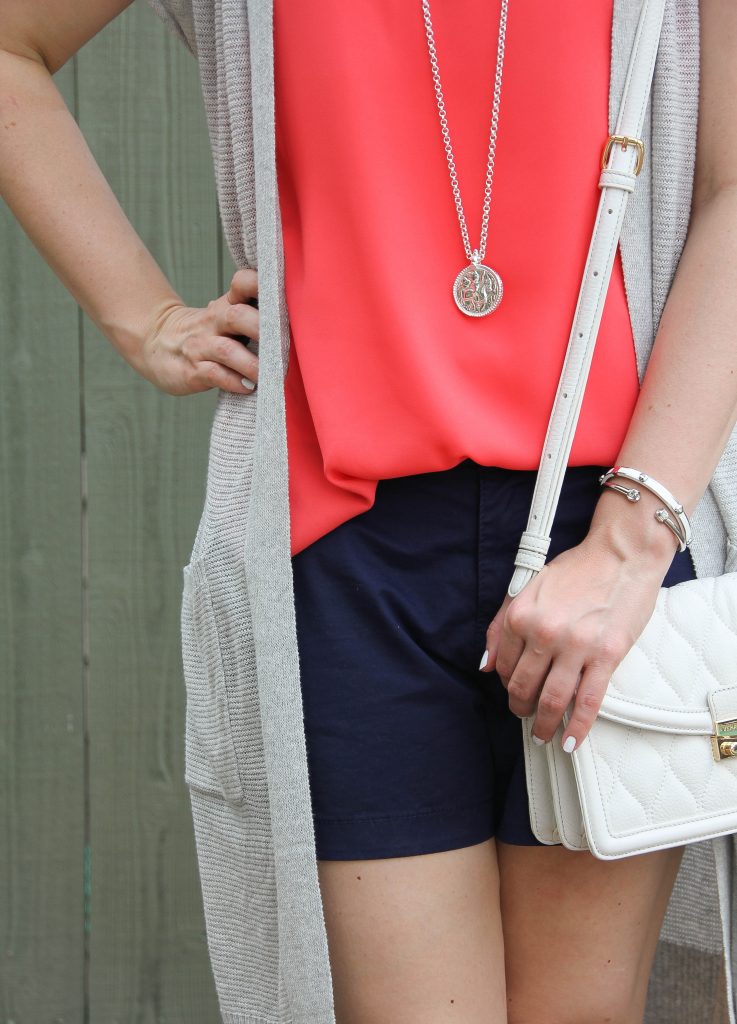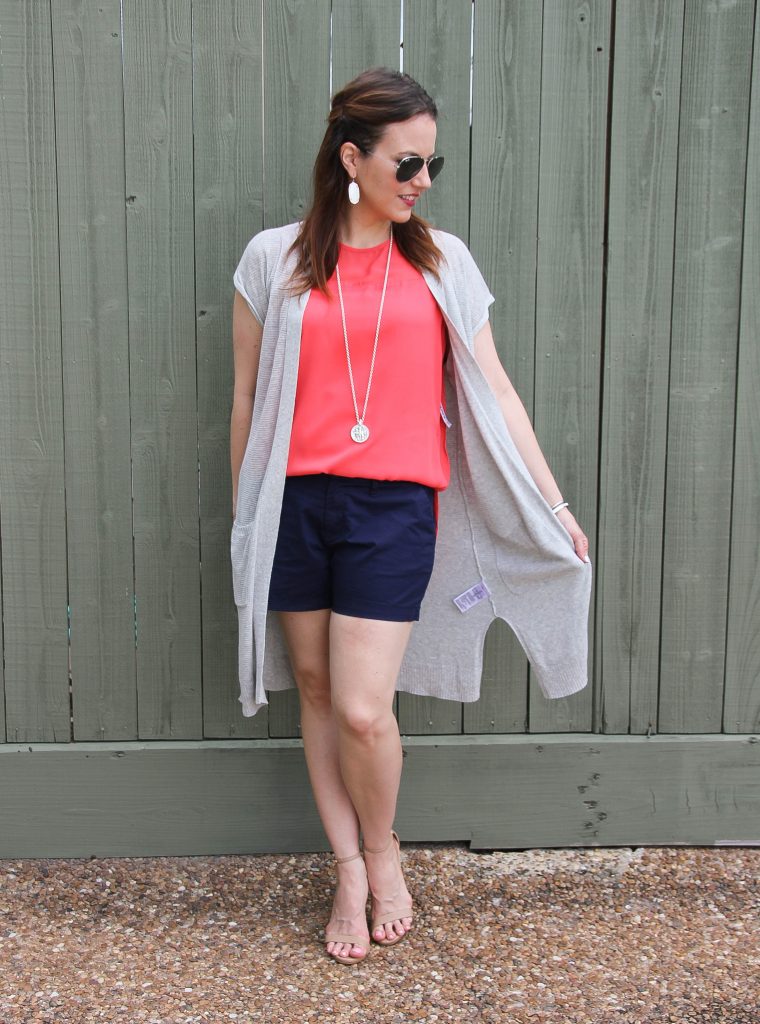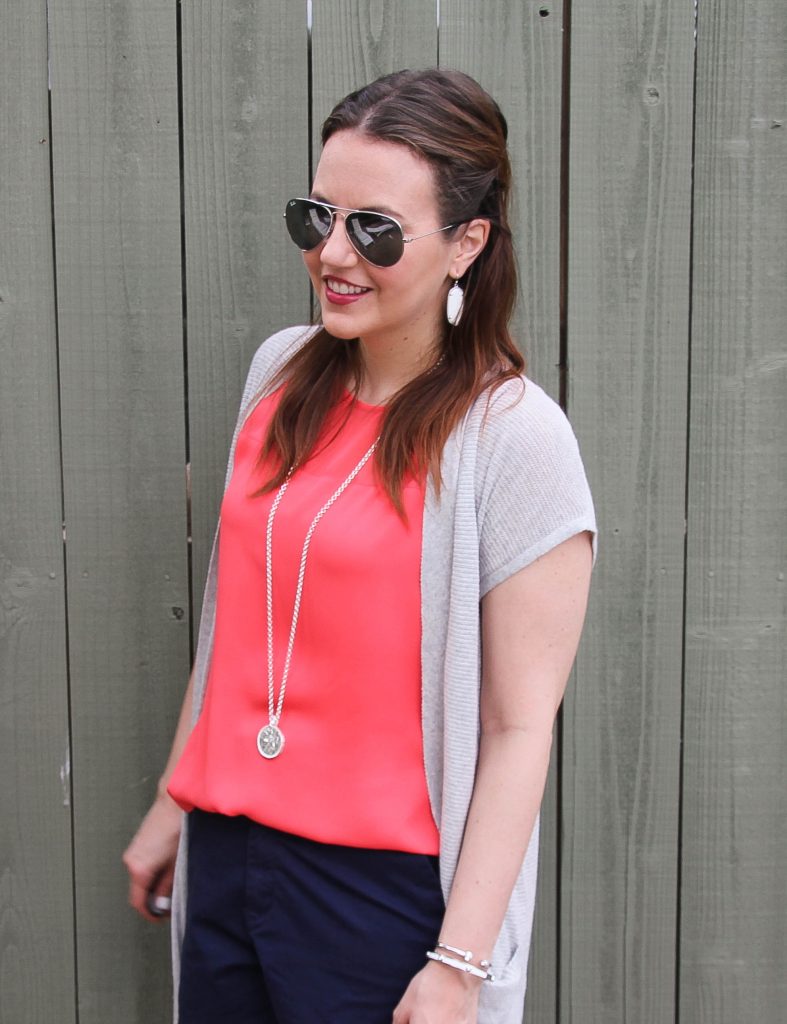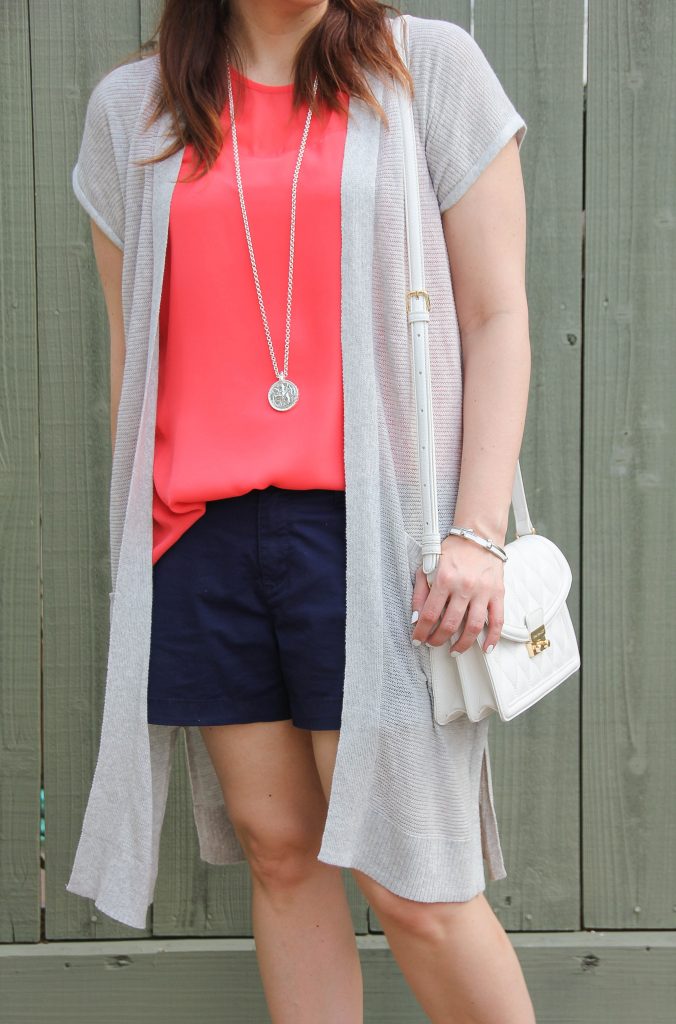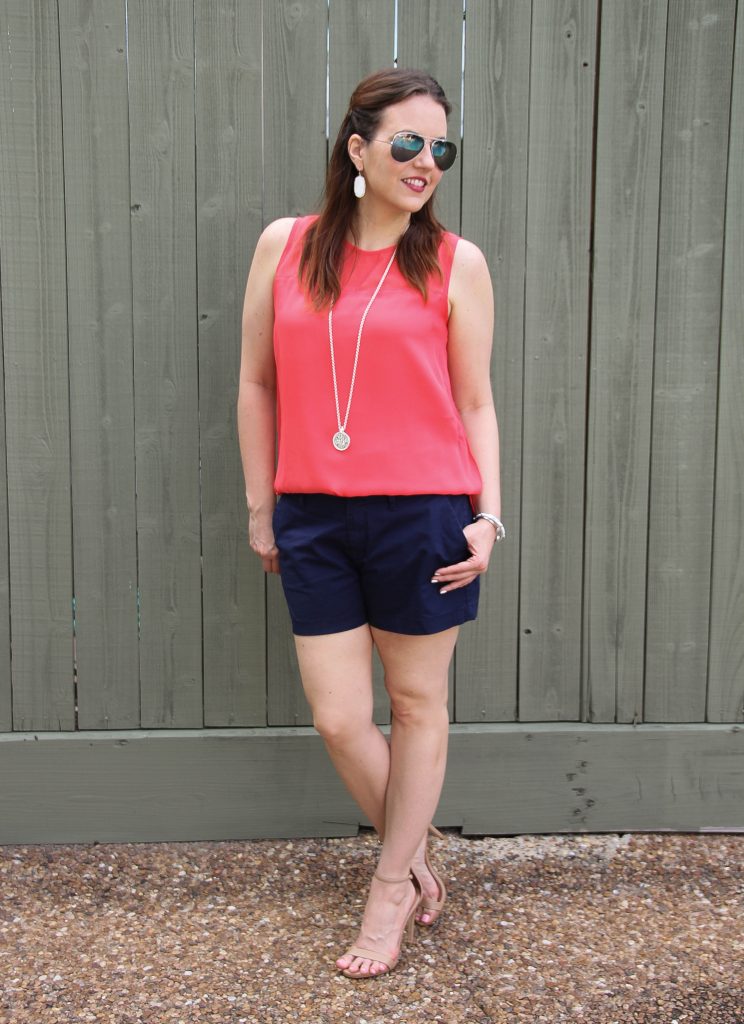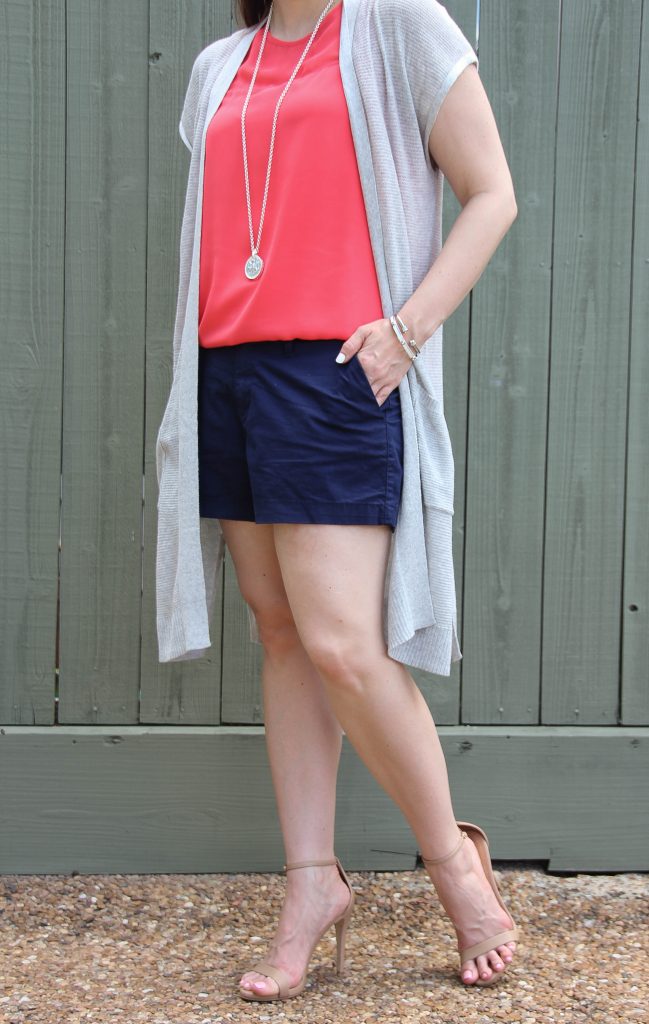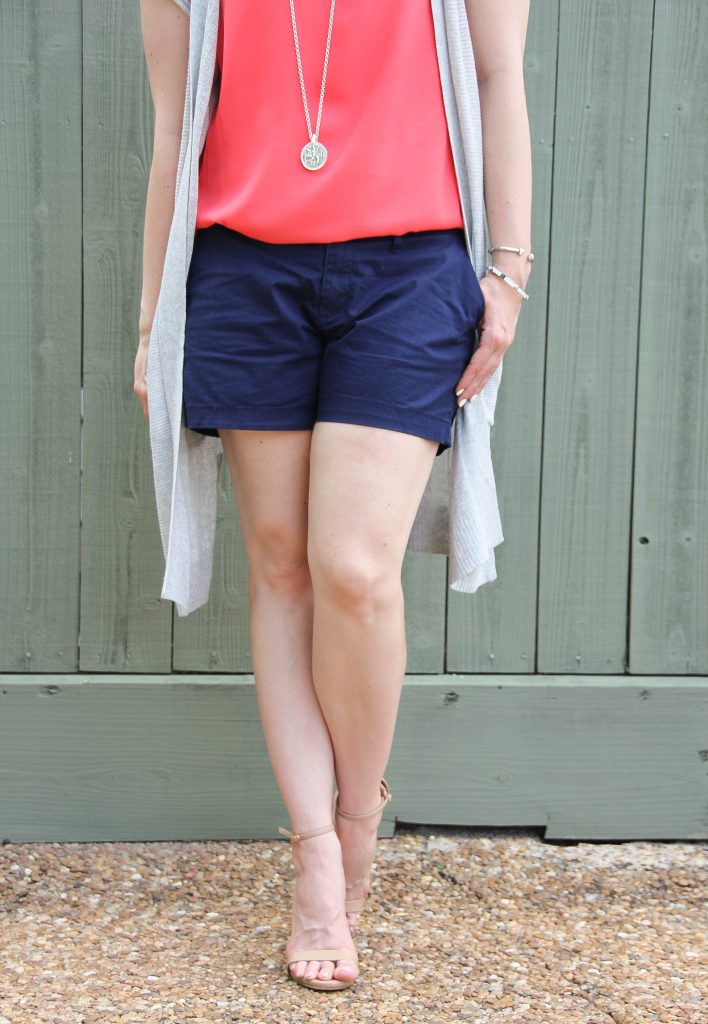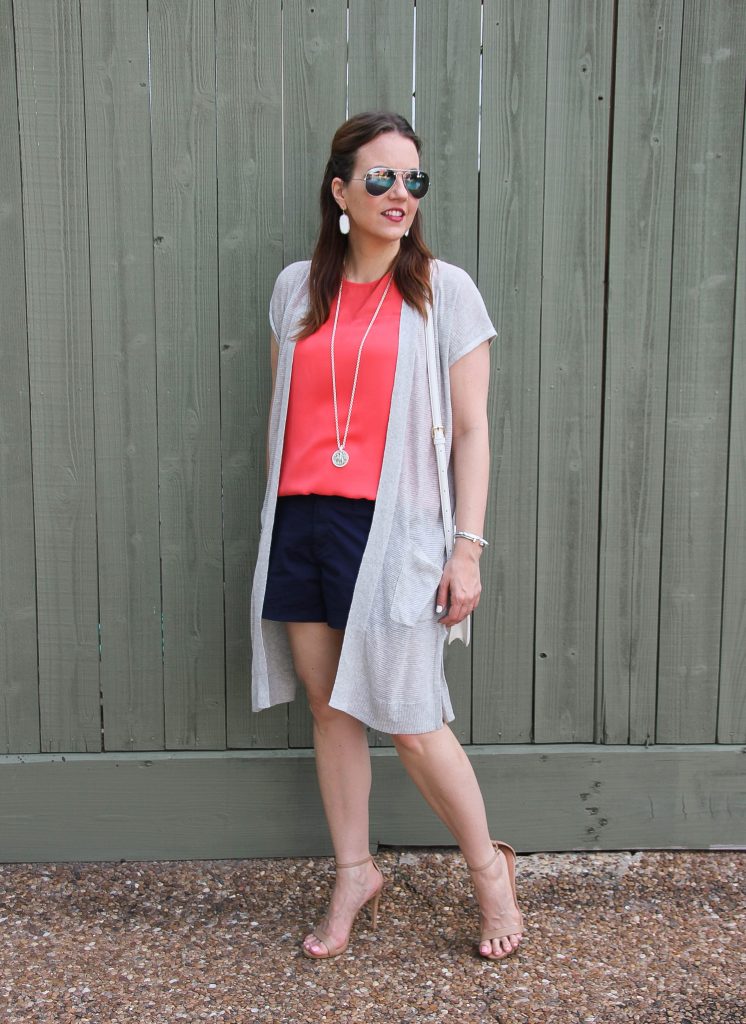 | DETAILS |
VINCE CAMUTO Sleeveless Blouse (similar)  |  OLD NAVY Sweater Vest  | OLD NAVY Cotton Twill Shorts (same but longer)  | STEVE MADDEN Stecy Sandal  | VERA BRADLEY c/o Quilted Crossbody Bag  | JULIE VOS Coin Pendant  | KENDRA SCOTT Elle Earrings  | HENRI BENDEL White Bangle, Deco Cuff  | RAYBAN Mirrored Aviators  | Lips: MAC Craving  | Nails: ESSIE Blanc
Hey Friends!! I had such a fun weekend celebrating my mom's birthday.  We had a small family dinner on Saturday night, and last night went out for a fancy dinner and to see the musical Wicked.  It was my second time to see this show, and it was still AMAZING!  If you have a chance to see this show, I highly recommend it.  It was such a late night staying up way past my bedtime, two cups of coffee please.
On to my outfit, I wanted to share some of my tips for how to dress up cotton shorts.   We are forecasted to break 100 degrees this week….  On pool days, it's great because you can just jump in the pool.  BUT when you are headed to a party, it's all about looking cute and trying to stay cool.  I often opt for dresses, but I recently fell in love with these shorts from Old Navy so I'm mixing them in too.  First off, these shorts are anywhere from $8-13 depending on the color.  I bought them in navy and white.  I want to get a couple more pairs but my size is out of the colors I want. Although I noticed they get restocked online a bunch, so fingers crossed!  The ones I am wearing are the 3.5 length, but they also come in a 5 inch length too.
The easiest way to dress up a pair of shoes is to add a cute heeled sandal.   These Steve Madden ones are quickly becoming my favorite dress up sandal for summer.   I'm only 5'3, so I love the illusion of longer legs especially when wearing shorts.  I also think heels make your legs look a little more slender than just a flat shoe.  Another add on is some cute jewelry.  I love long pendant necklaces.  This Julie Vos one is extra long.   I didn't know if I would like it at first, but the extra length gives such a different look then my other necklaces.
I paired the dark shorts with a fun bright color to add some summer fun to the look.  I like the addition of the sweater vest to add a little sophistication to the look.  This one is super lightweight, so it's not going to make you overly hot.   It's also a great add on if you don't want to worry about people staring at your butt in shorts. 🙂  Since I am short, I would only wear a long vest like these with heels.  If I was wearing flat sandals, the long vest would only make me look shorter.
I hope ya'll have a great week, and be sure to check back Wednesday when I am sharing how to style white shorts!
SHOP THE LOOK