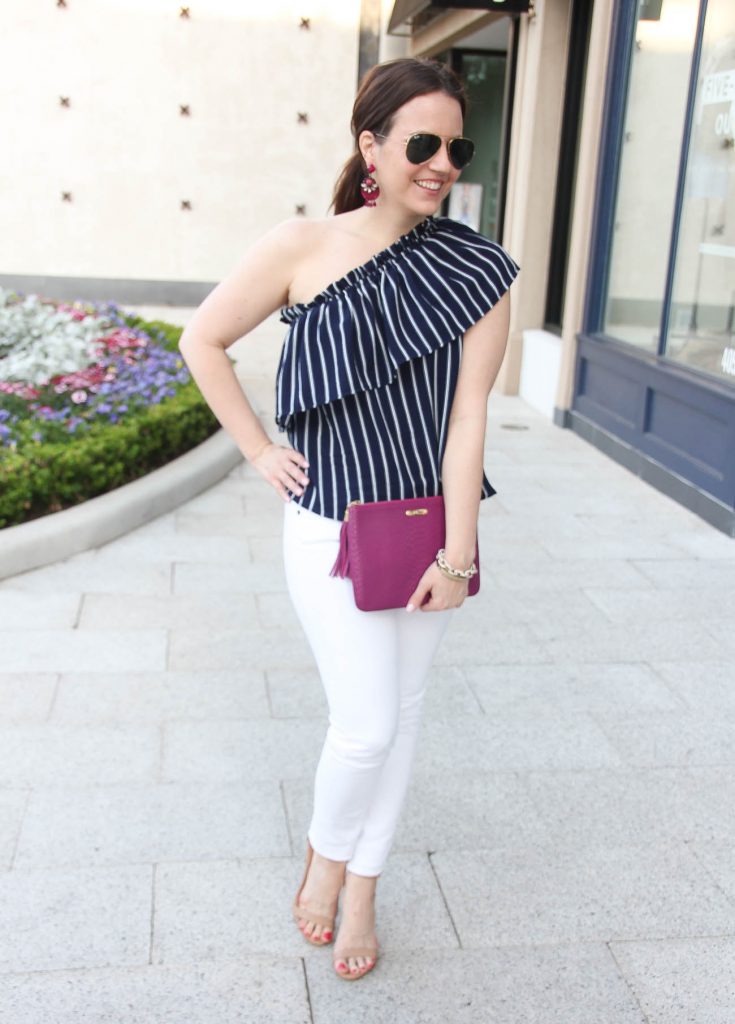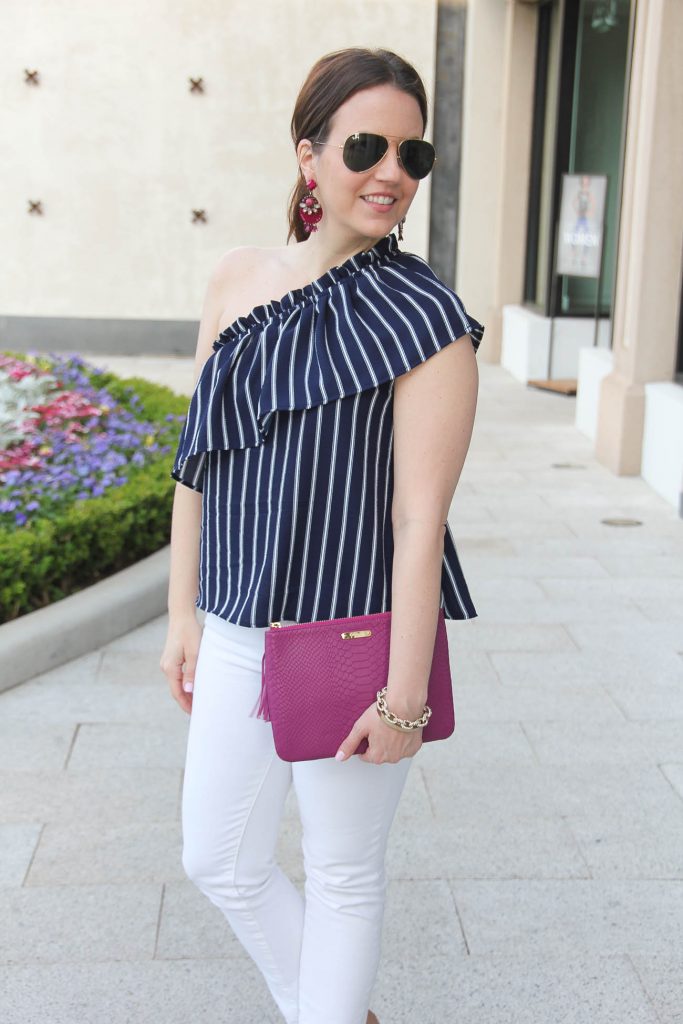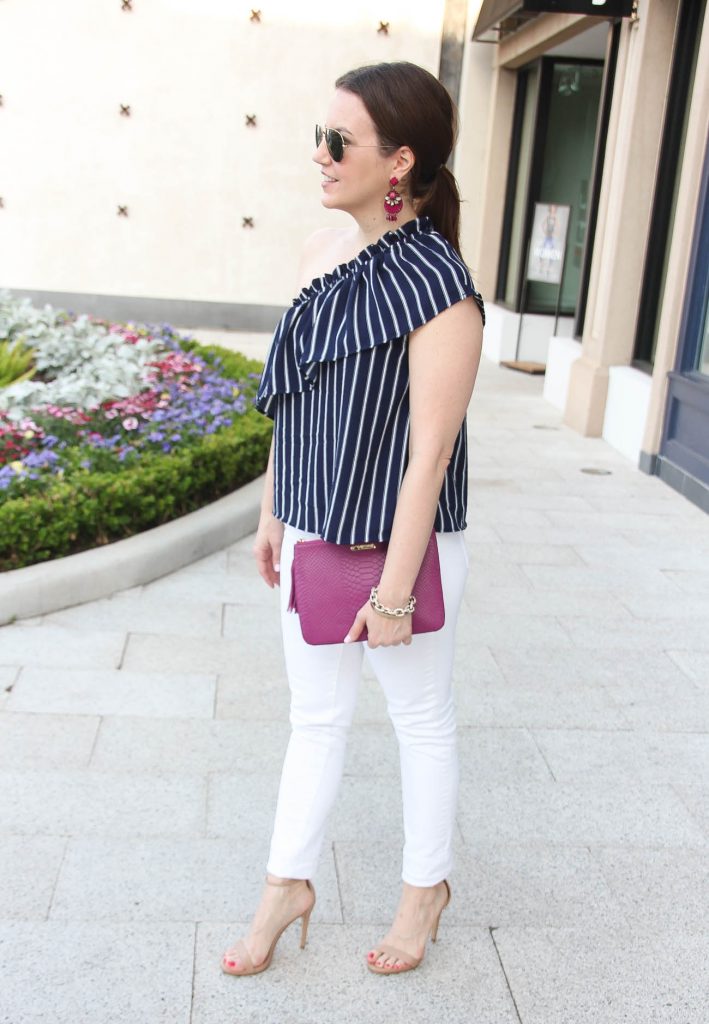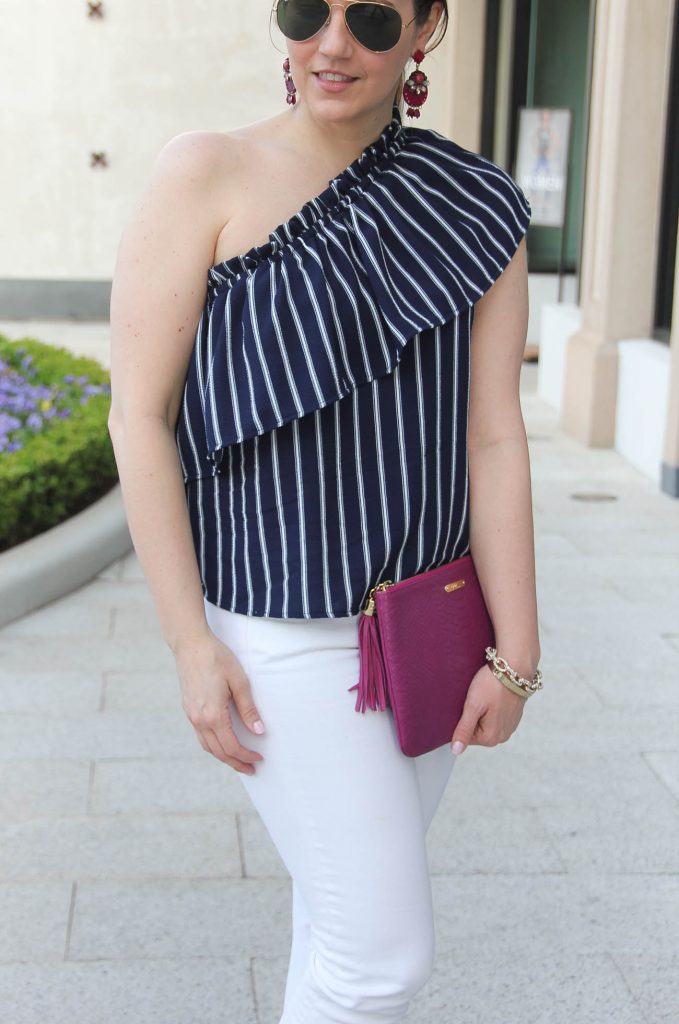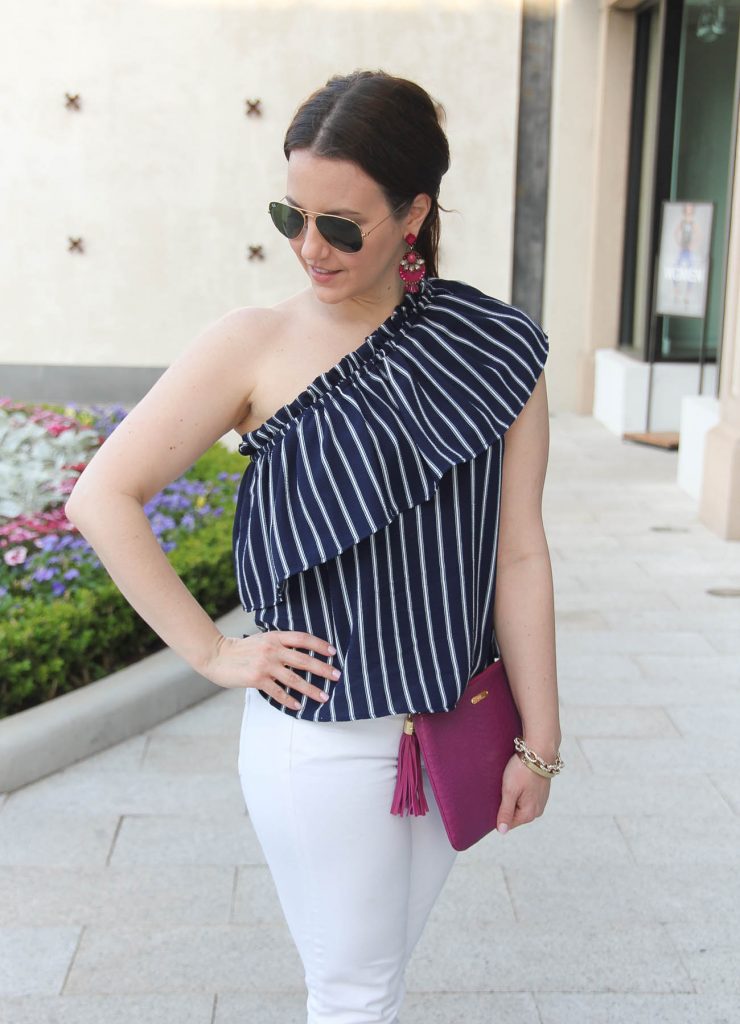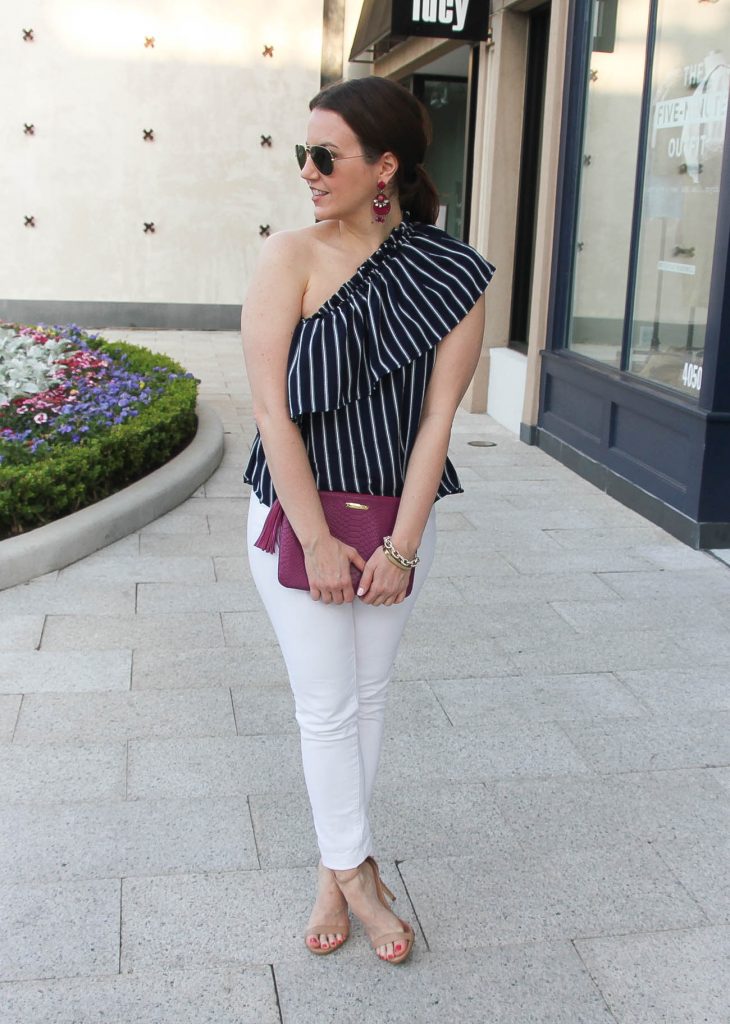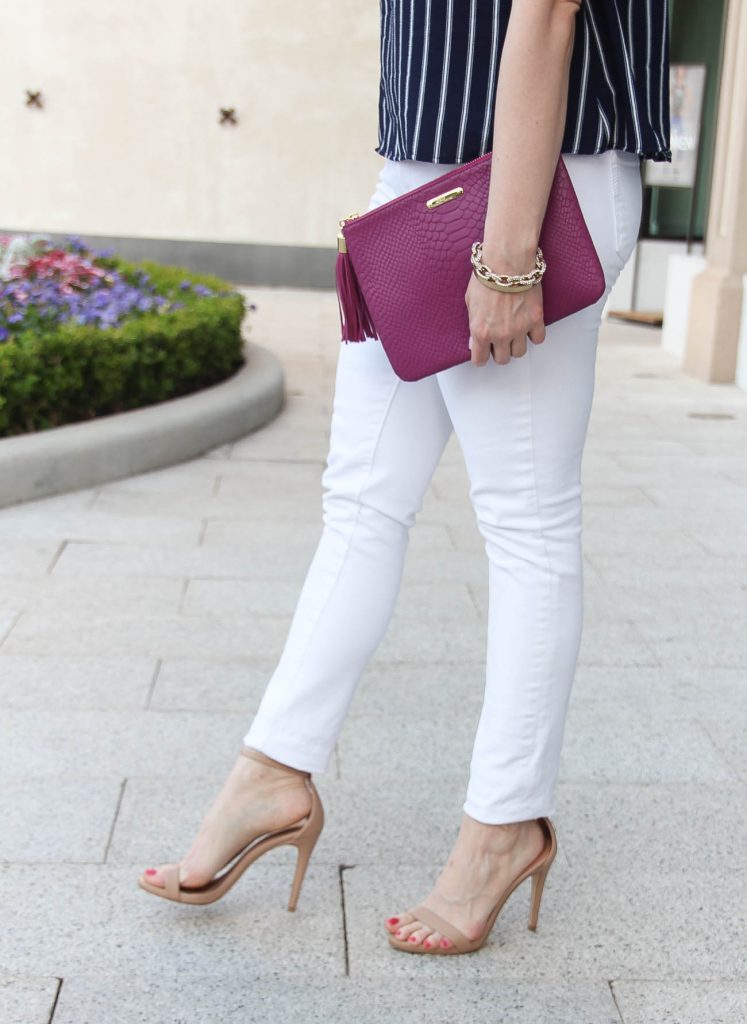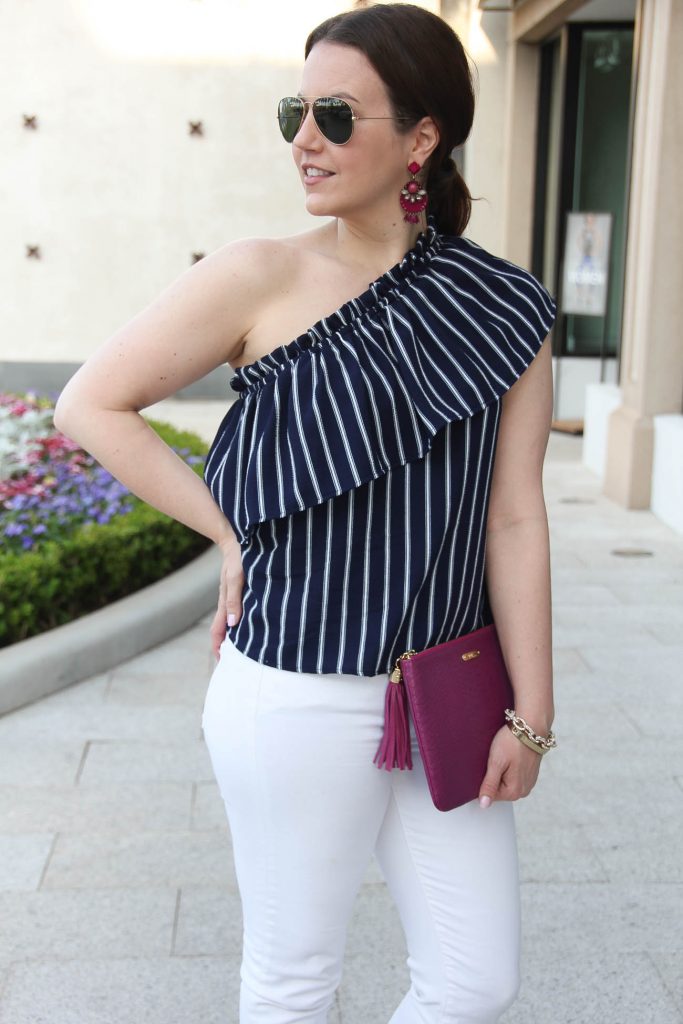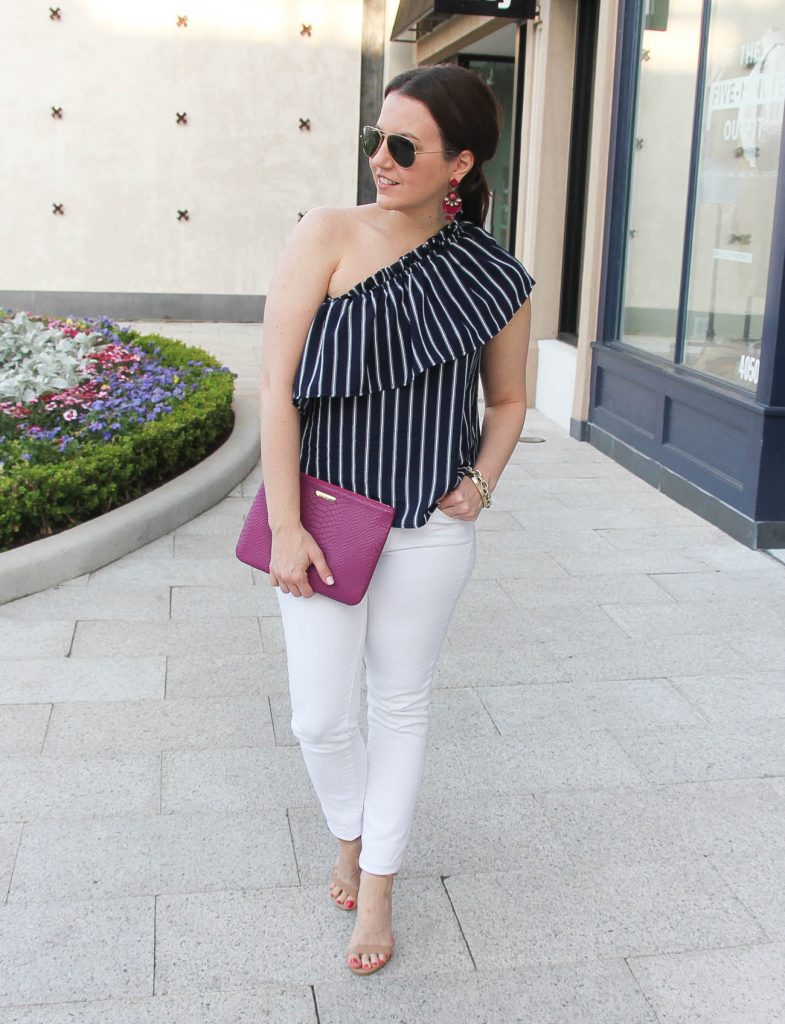 Happy Friday!  This week kind of flew by for me, and I am not complaining.  I am very ready for Easter this weekend and a little family time.  Ok and my grandma's desserts too. 😉  Do ya'll have any big plans this weekend?
Spring in Texas is some of our best weather.  It's warm with a breeze, sunny, and not too hot yet.  Most weekends are spent outdoors, so I wanted to share a chic Spring outfit idea that could be worn to an outdoor affair.  I think it would be cute to wear to Easter lunch or an evening wine night with your girlfriends, maybe on a patio with twinkle lights. Navy and white is such a classic and chic color combo, and one I love wearing.  The stripes on this one give it a sophisticated feel, but it stays chic and trendy with the one shoulder ruffle detail.
These Stecy sandals are a popular shoe for warmer months.  They pair perfectly with both pants and dresses.   I love the barely their look and the nude shoe illusion of longer legs.  They perfectly dress up any outfit.  Before I bought these, I always worried they would be uncomfortable and my foot wouldn't be supported enough.  But I wore them so much last season including to my cousin's wedding, and I didn't have any big issues.
I wanted to close out today's post to share about a slight shift in my posting schedule that will take place for a few weeks.  I have been putting off doing some behind the scenes maintenance on my blog, mostly because it's time consuming and not as fun a creating new posts.  BUT I really do want be able to cross it off my to do list.  So for a few weeks, I'm only going to be sharing posts twice a week on Tuesdays and Fridays.  I'm hoping this will free up some time to work on all my behind the scenes fun without having to completely give up my social life. 🙂  Hopefully all the fingers crossed it will not take me too long, and I will be back to my regular posting schedule soon!
So I will see you Tuesday with another fabulous Spring look.  Ya'll enjoy this wonderful Easter weekend!
SHOP THE LOOK