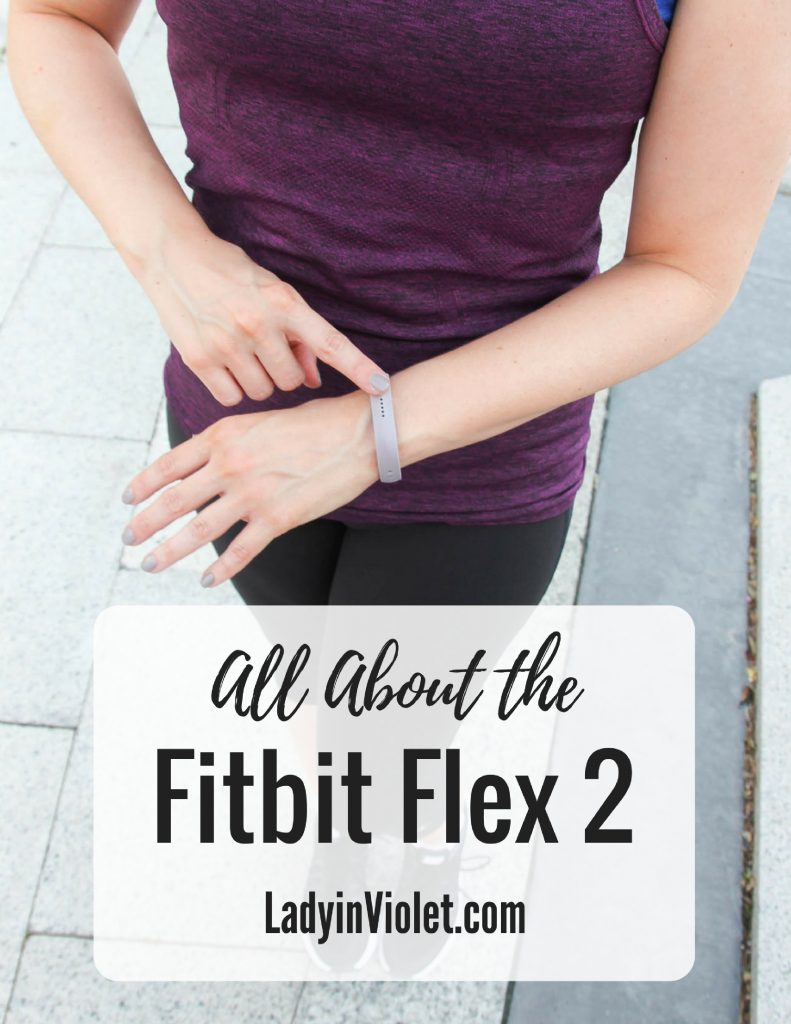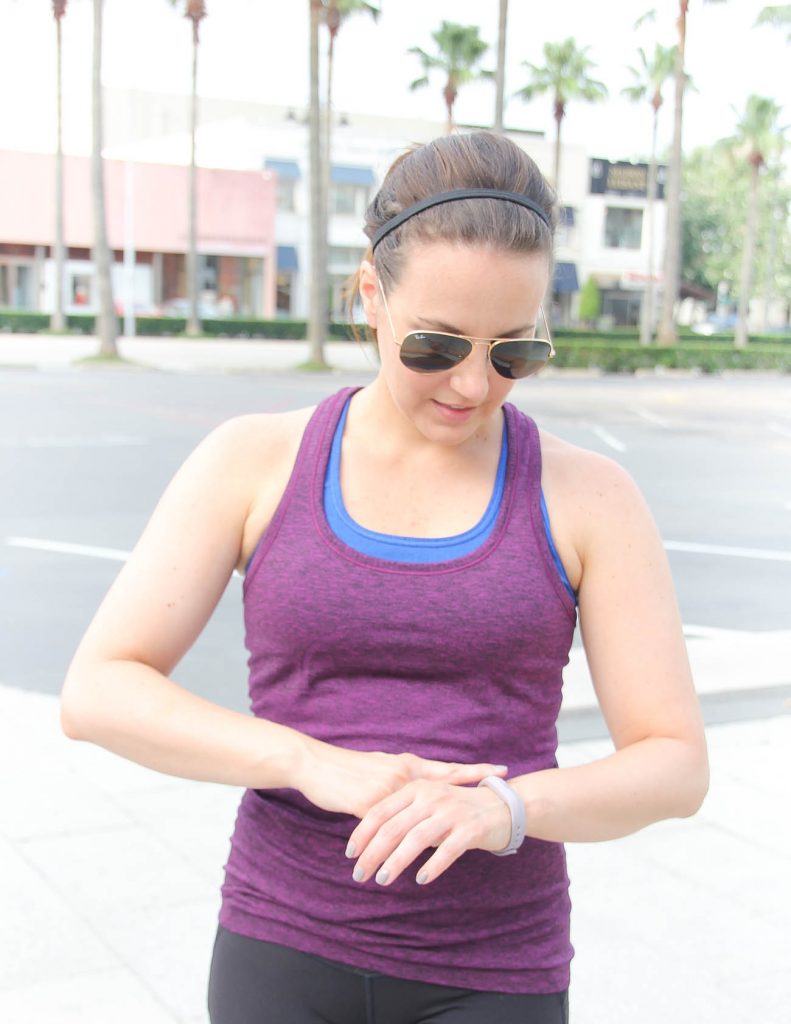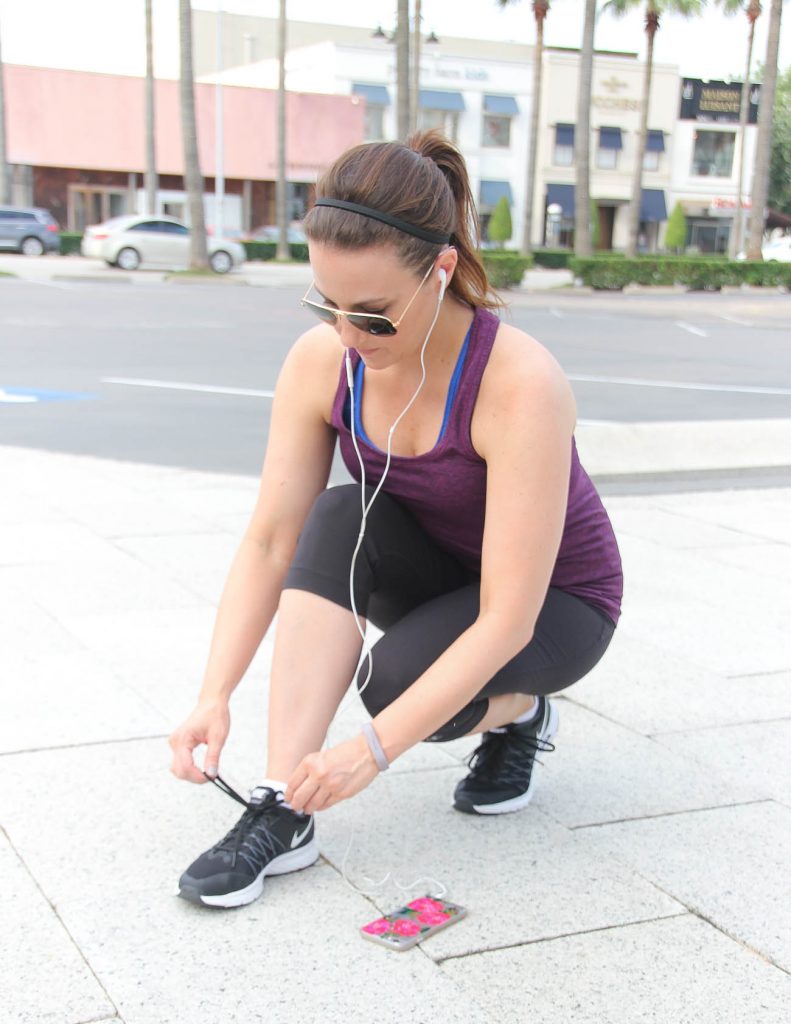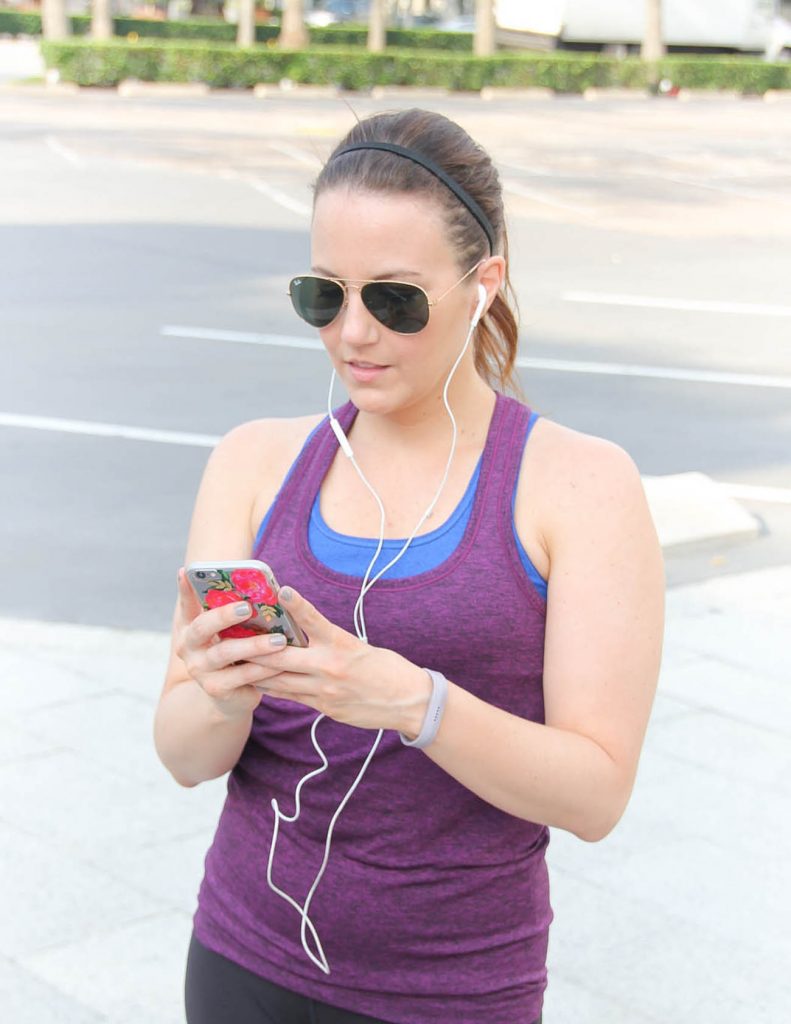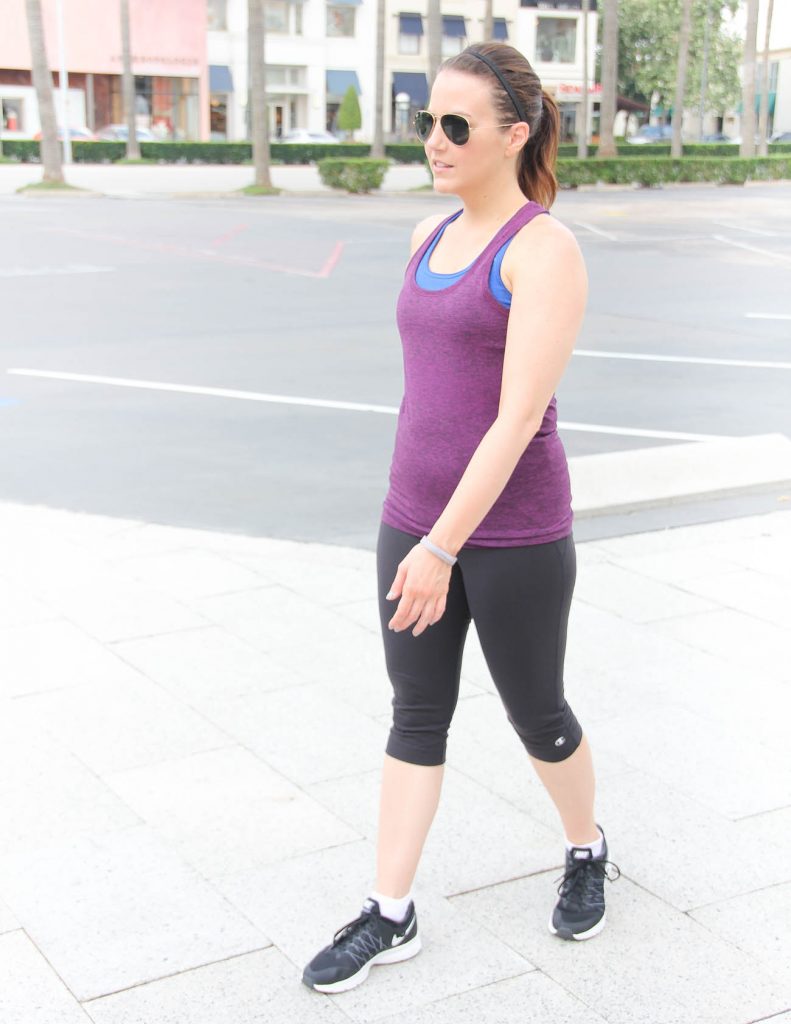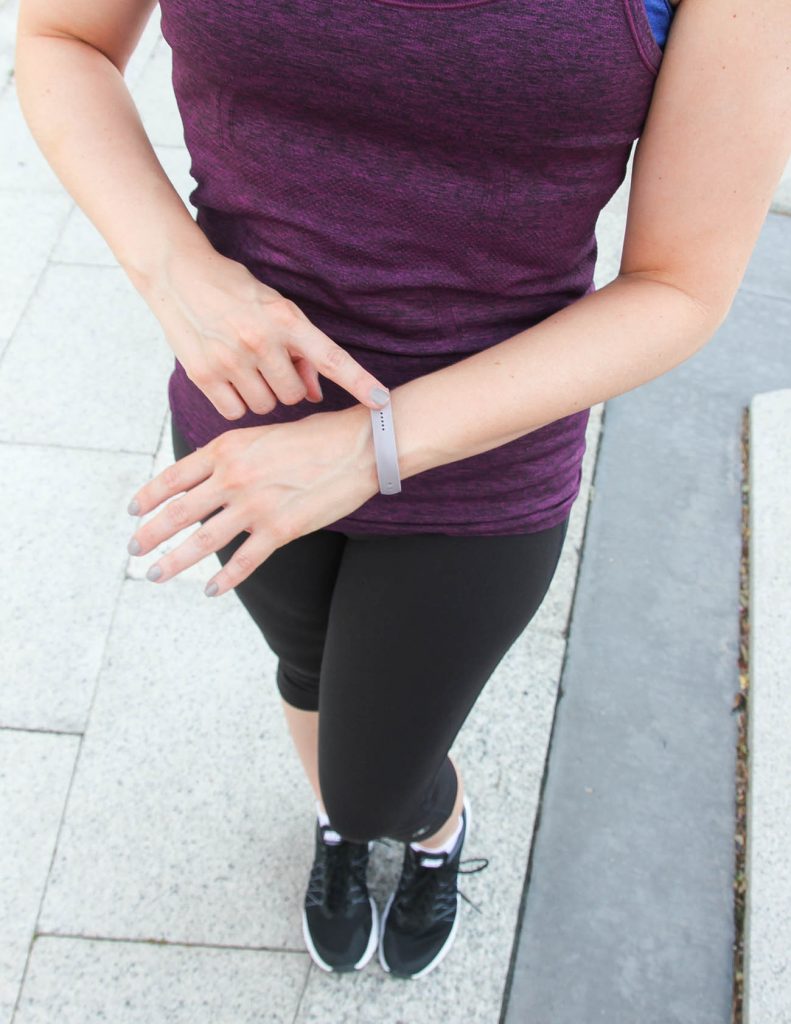 Hello ladies and Happy Friday!! I have a little something special for today.  I'm sharing all about my most worn piece of jewelry, my Fitbit! I have owned my little arm candy for almost 6 months, and I wanted to share my Fitbit Flex 2 review in case any of you are considering this one or any Fitbit.
I resisted buying a Fitbit for a long time, because it looked bulky and I didn't want to wear a bracelet ALL the time.  Plus, some of them are pricey.  I didn't want this to be one of the fitness trends that I wore for 3 months and then it ended up in the bottom of a dresser drawer.
Late last year just before Christmas, I saw that Fitbit had released their thinnest Fitbit yet, and the retail price was only $100.  My desire to try one out had been growing, so I added it to my Christmas list.  To my excitement, my parents gifted me this lavender beauty.  (and they scored it on a holiday sale too, bonus!)
I charged my bracelet that night, and I have been wearing and loving it ever since then.  I want to break down some of the pros and cons of the Fitbit Flex 2 and Fitbit life in general.  First a few beginner things on how a Fitbit works and what exactly it is.  It's basically a fancy pedometer.  You wear the device in a bracelet on your wrist, and it counts your steps.  Every so often, you use bluetooth and the app on your phone to sync your step count to the Fitbit App.  This data tracks so you can see your daily and weekly steps. It also can track your sleep and certain workouts.
You set a daily step goal (mine is 10,000) and when you reach it the bracelet will light up and vibrate.  It also has 4 white indicator dots to show your progress towards your step goal.
One thing that I didn't realize when I first started looking at Fitbits, the bracelet is just a holder for the Fitbit device.  You can buy multiple bracelets and change them out to your hearts desire, but the bracelet must be size compatible with your Fitbit.
PROS OF FITBIT FLEX 2
I love the slender design.  It mixes in well with other bracelets and doesn't bother me when I am at work on a computer all day.  The bracelet is lightweight, and I often forget I have it on.  I sleep in it too without any issues.
It stays charged for about 4 days and only takes about 2 hours to charge.  When I remember I charge mine while I sleep, but it charges pretty quick so I can also charge while at work sitting at my desk.  You can charge it by connecting it to a USB adapter and plugging into a wall plug or plug into your computer USB.  It comes with a small black cord to put the actual Fitbit into.
CONS OF FITBIT FLEX 2
My main con is that I don't know my exact step count without syncing to my phone.  I can see my progress to my 10,000 step goal with the little dots, but I wish I could quickly see the exact number.  The bigger fitbits do show this information.
Since this is a new design, the bracelet options are limited.  I went to buy me a fancy Tory Burch Fitbit band when they were on sale, and no dice because they were not compatible with my Fitbit Flex 2.
PROS OF A FITBIT IN GENERAL
The Fitbit does help motivate you to move. I have a competitive spirit, so I like trying to beat my daily and weekly step counts.  You can also add other Fitbit friends and compete with them each week for taking the most steps or send little motivational messages.
Goals, Goals, Goals – I love having a step goal and trying to achieve it everyday.  FYI – I totally don't hit 10,000 everyday.  The only way I can is by going to the gym, so my Fitbit step goal is a small way to hold me accountable to crawl out of bed every morning and hit the gym.
The sleep tracker gives you some good insight into your sleeping habits.  You can see over time how much sleep you get on average and how restless you are in your sleep.  I like to look at this data and compare it to what's going on in my life.  For example, when I miss gym time and eat too much junk I sleep more and I'm more restless.
The Fitbit App is pretty cool.  In addition to step count, sleep tracking, and creeping on your friends 🙂 , you can see your calories burned, how many miles you walked, and your active minutes for the day.  You can also track water, weight, and calories all in the app.
(FYI – Your friends can only see your 7 day step total and average daily steps, not any of this other info.)
CONS OF FITBIT IN GENERAL
The one feature I don't use on mine is the various notifications. These notifications are big pros for many including some of my friends.  You can set the Fitbit to sync to your phone and vibrate when you receive calls and texts.  I make a point everyday to have phone-free time because I think it's good to put it away every so often, so this feature was one I never even enabled.
Two notifications I tried out and didn't like were reminders to move and the alarm.  Reminders to move will let you set an hourly step goal and vibrate twice 10 minutes before the end of the hour if you have not moved enough.  This feature was cool for about 3 days. but eventually work life meant I often was ignoring the vibrations.  I ended up turning this feature off.  You can also set it to only go off during certain hours.  If you really want to move more, I think this is a good feature of the Fitbit.
The other notification was the alarm.  It's described as vibrations to help gently wake you up.  I found it annoying.  I'm also not the happiest person in the morning, and the vibrations just irritated me.  I really think this is a personal preference thing.
It's not 100% accurate. I feel like it's pretty darn close, but if you are standing still and moving your arms a bunch you may register extra steps.
WOULD I BUY A FITBIT AGAIN?
Absolutely!!  I'm considering upgrading later this year to a different Fitbit that will show my step count on the device.  I thought it would be annoying to wear all day, but I quickly adjusted and forget I have it on.  I think I would be okay to go with a slightly bigger Fitbit.  I really love having a fitbit, and the motivation it has given me.  If you have been considering one, do it!!!  I have not once regretted joining the Fitbit club.  If you have any questions I didn't answer, please leave me a comment or shoot me an email and I will get back to you.
Thanks for sticking through my long post today, and I hope ya'll have a great weekend!
SHOP THE LOOK