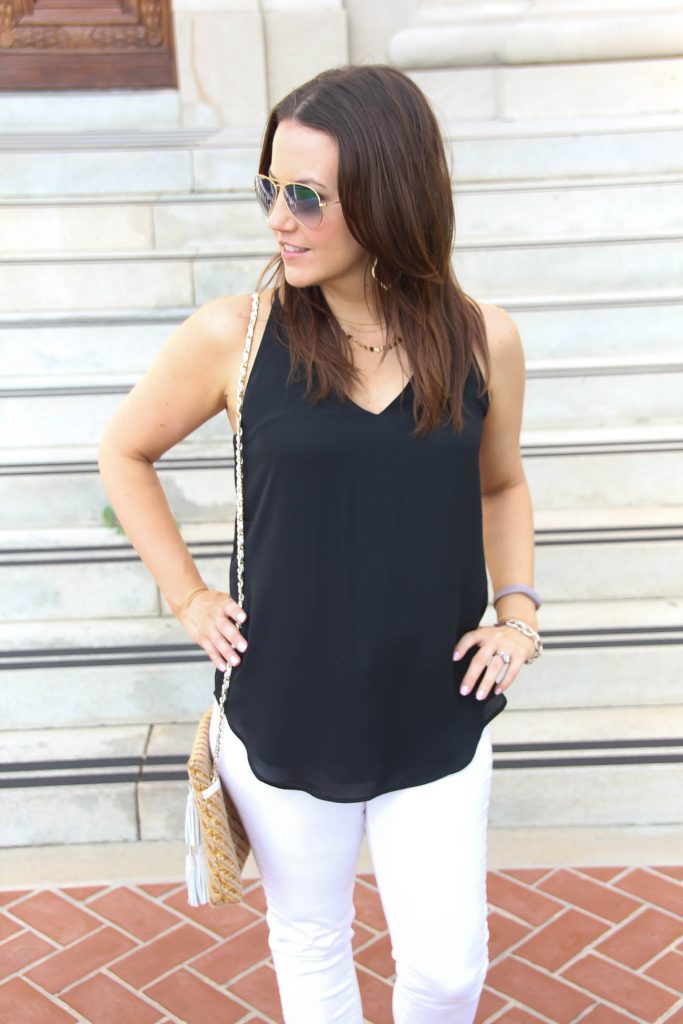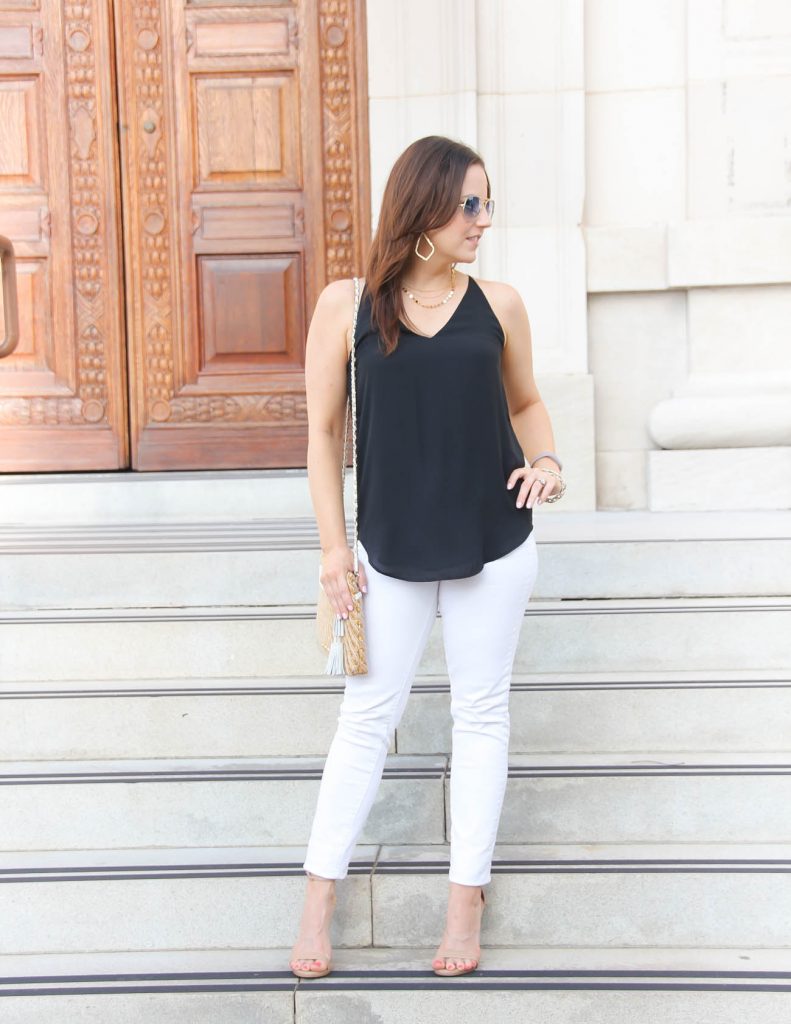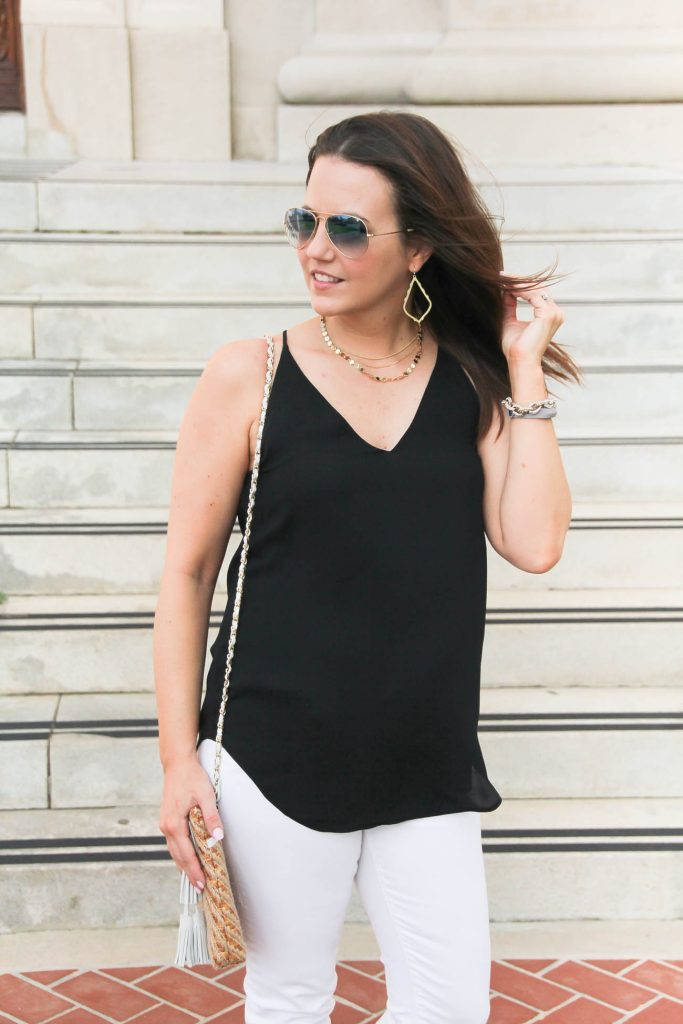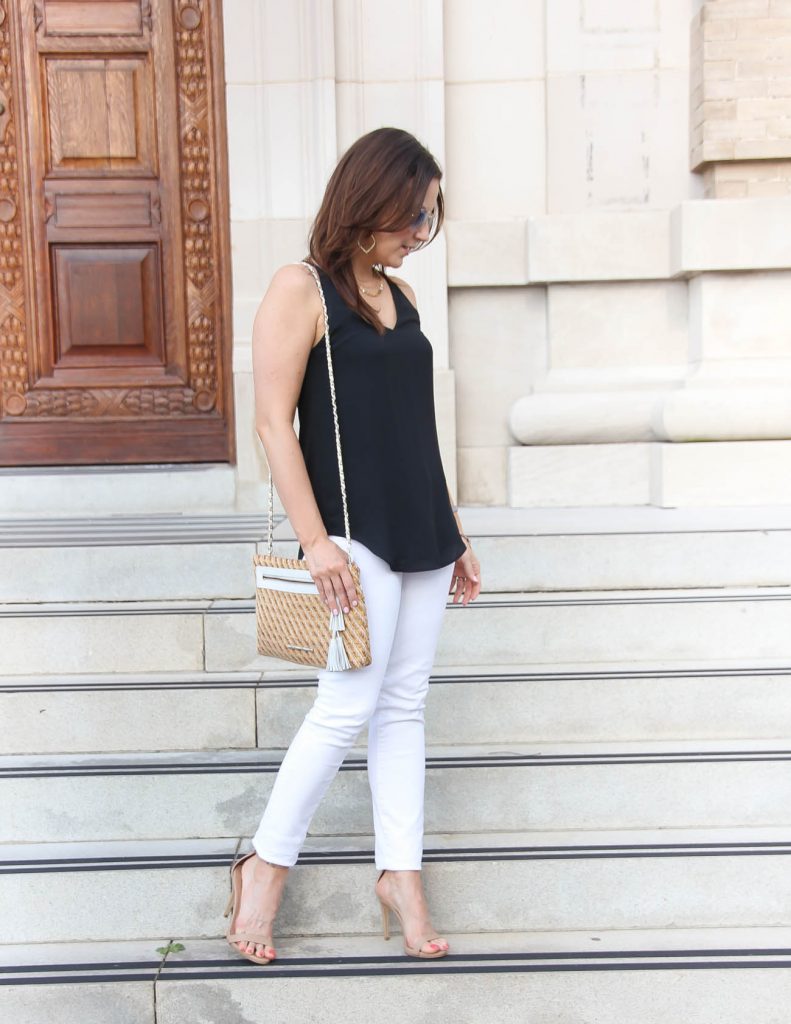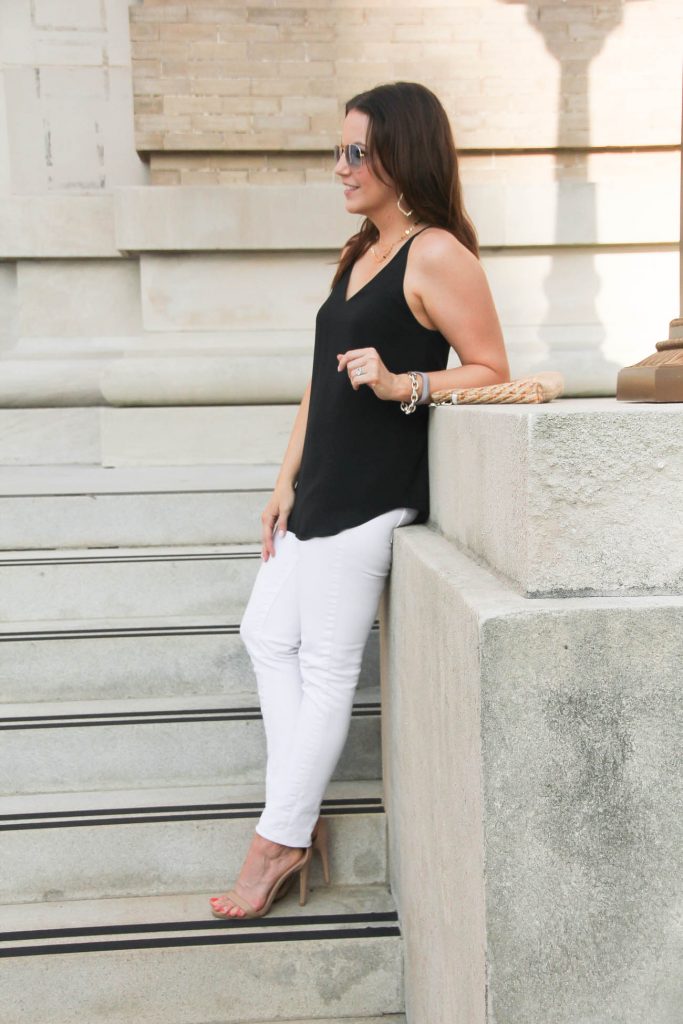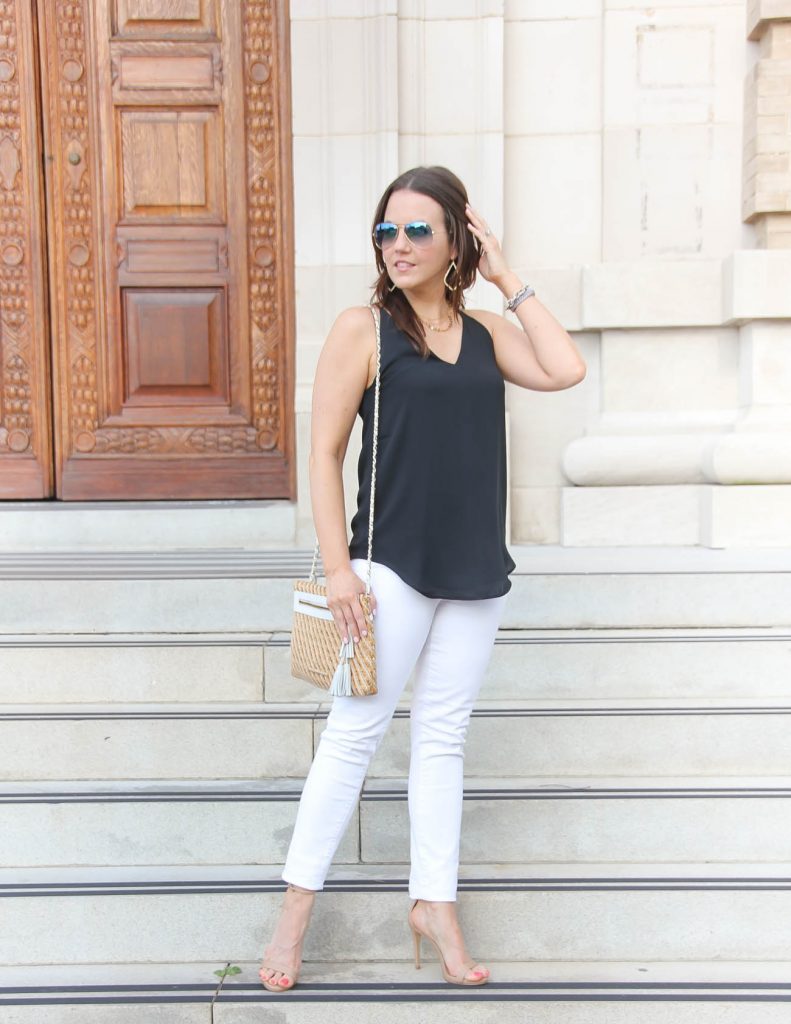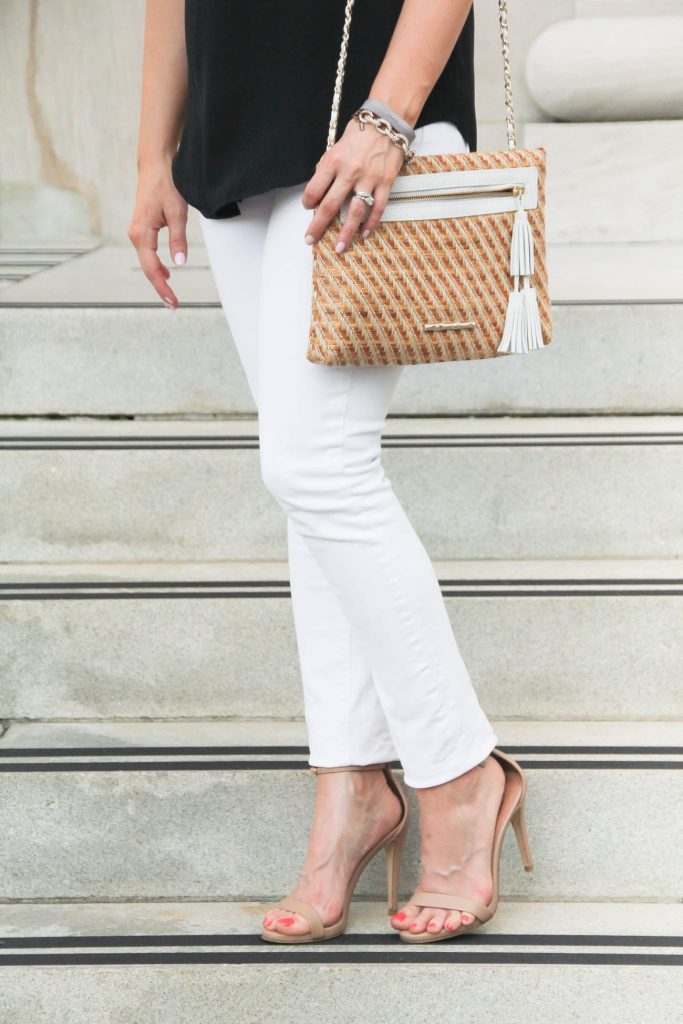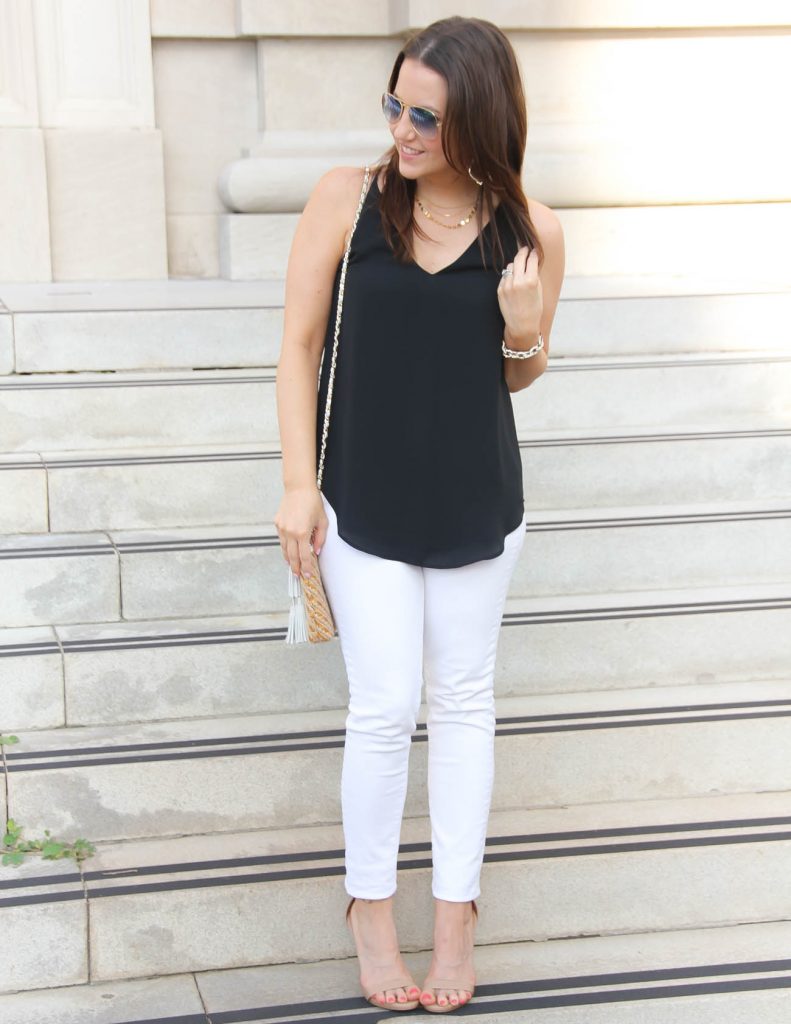 Happy Friday!! I'm so excited because after today, I will be on a LONG 4 day weekend!! It's going to be filled with a good mix of celebrating and relaxing. I can't wait.  A few weeks ago, the hubs and I made our own little 3 day weekend and headed down to Galveston, TX.  It's just about an hour south of Houston.  I love living so close to a beach vacation spot.  It's perfect for weekend getaways.
Today's outfit was inspired by and shot on our trip.  Planning outfits for a beach vacation can be easy, swimsuits and a couple sundresses, but what about what to wear on a vacation date night?   I always pack a simple cute top and my white jeans when we head down to the beach.  It's an easy ensemble that also looks nice in case you decide to eat at a no shorts, no flip flops restaurant.  Classic black and white always looks a bit dressier and sophisticated chic.  Toss on a few gold accessories and you are ready to go!
If you wanted to stay away from heels while on vacation, you could also pair this with wedge sandals or a nicer flat sandal like this one or this one.  Even a basic flat with a cute little pop of leopard would work with this look.
Ya'll I'm OBSESSED with this black strappy cami.  I have been searching for the perfect fitting cami for years that was also affordable.  I can wear a normal strapless bra with this one and it doesn't show, It's not too loose so when I bend over everything is not on display, but it's also not too tight either which is nice for overindulging or a bad sunburn.  Plus, I like the length of it.  I decided to go with an XS because I'm a bit smaller up top, and I find that fit my size just right.  I'm so in love, I ordered the red and purple too when they were on sale this week. 🙂  PS – All 3 colors are still on sale too!!
I hope you all have a fabulous and safe 4th of July weekend!  Thanks so much for taking a bit of time out of your day to read this little old blog of mine.  I really do appreciate it and all your sweet comments so much!
SHOP THE LOOK