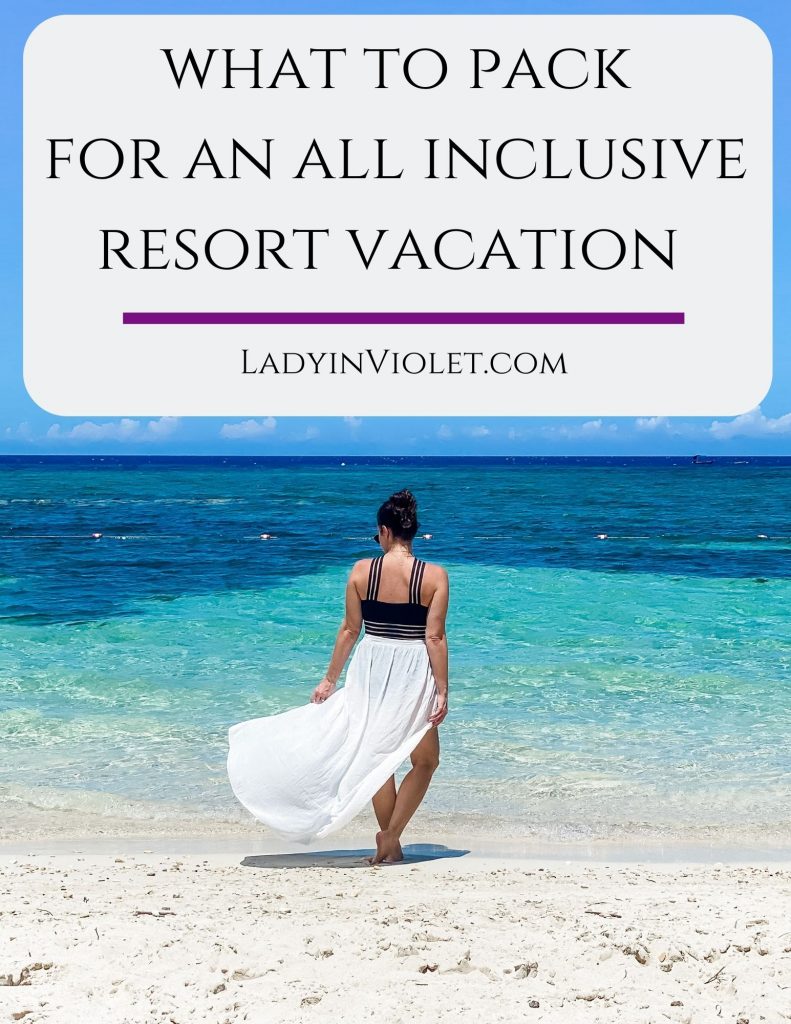 After a year without traveling, I had two big trips this year both to all inclusive beach resorts.  My first was a big family trip to Dream Jade, and the second was my honeymoon at Secrets St. James in Jamaica..  It was my first time vacationing at an all inclusive resort, and I loved it!  I used to do a cruise every year, so I went in with the same packing game plan along with a few tips from family.  Since both trips were similar and about 6 weeks apart, I packed many of the same items for both.  Most of these pictures were taken at Dreams Jade in Mexico.  The lead pick was the only outfit photo I snapped on the beautiful Jamaican beach at Secrets St. James.
WHAT TO PACK FOR AN ALL INCLUSIVE RESORT VACATION
Before you start planning outfits, be sure to check out the restaurant dress codes at the resort.   Some require long pants for men, no tank tops during the day, and certain swim coverups.  You will spend most of the day in a swimsuit and coverup, so you may not need much else during the day unless you have excursions planned.
WHAT CLOTHES TO PACK
LOTS  of swimuits!  I packed bikinis and strapless suits for laying out by the pool, and  a few that would be comfortable for activities like snorkeling, kayaking, or excursions.
Swimsuit Coverups: I packed a variety from skirts that I could tie around my waist, shirts to toss over, and a few dresses.  I would pack at least one dress or shorts/top combo that you can wear into a lunch spot.
Beach and Pool Shoes: I packed an old pair of Old Navy flip flops that I didn't mind wearing in the sand and that don't get slippery when wet.  My patent leather Tory's get slippery when wet.  I also packed a pair of water shoes for any water excursions like visiting caves or waterfalls.  These also come in handy if the beach has lots of rocks or shells.
Workout/Excursion Clothes: Even if you don't have any excursions pre-scheduled, I would still pack something you could go hiking or wear on day trip just in case you change your mind once you get there.  I packed leggings, workout shorts, sports bra, tank tops, and sneakers.
LOTS of dresses! I preferred loose fitting and flowy maxi dresses for the evenings.  I also brought along a few shorter dresses.  You spend lots of time walking around outside, so flowy or short help with warm evenings or restaurants with no to little a/c.
A few other dinner options: I also packed some maxi skirts, tank tops, jeans, and bodysuits that could be mixed and matched into different dinner outfits.  I like my options.
Shoes for Dinner.  I packed wedges, comfy caged sandals, and my Tory Burch sandals.  Choose comfy shoes in case you have to walk to the other side of the resort for dinner.
A Breakfast option:  I packed a pair of shorts and tank top with built in bra to throw on each morning for the breakfast buffet.  It was quick and easy, and I didn't have to be completely ready for the day.  I like my coffee as soon as possible, so this is a must for me.  You could also wear a swimsuit and beach coverup as well and head straight to the pool after eating.
Accessories including sun/beach hats, sunglasses, and a little jewelry.  I didn't wear much jewelry, but I like having a few options for the evenings.
WHAT I WORE ON VACATION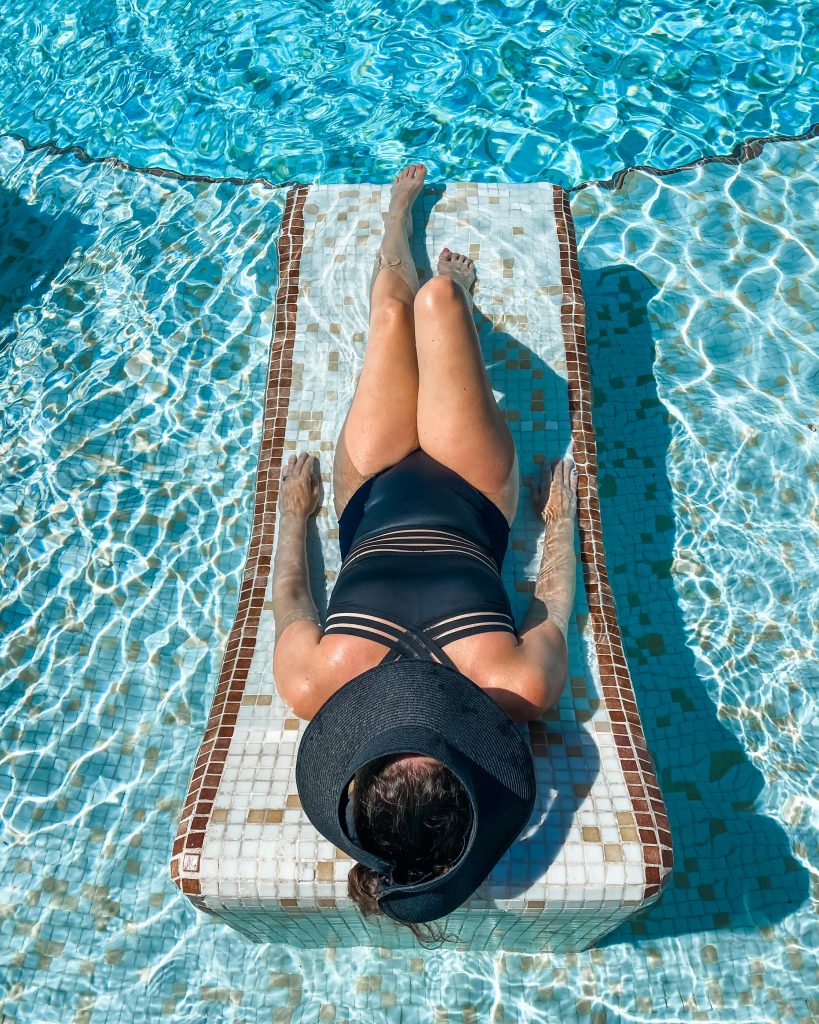 black one piece bathing suit | black sun hat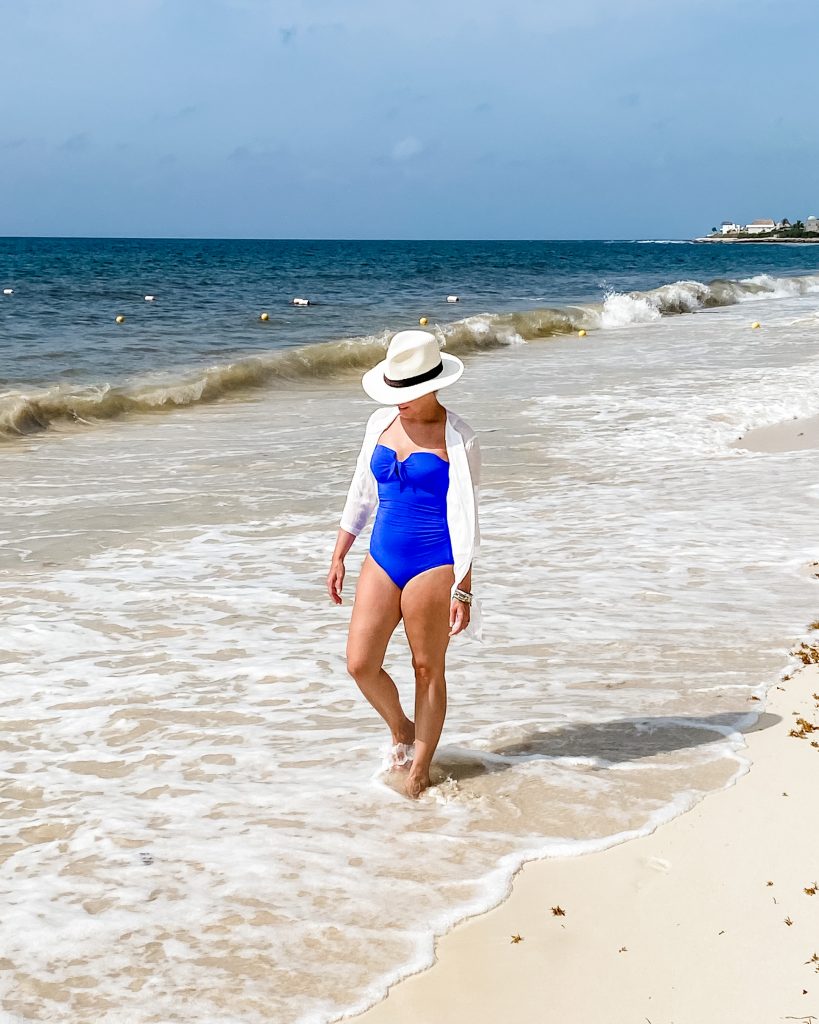 blue one piece swimsuit | white cover up shirt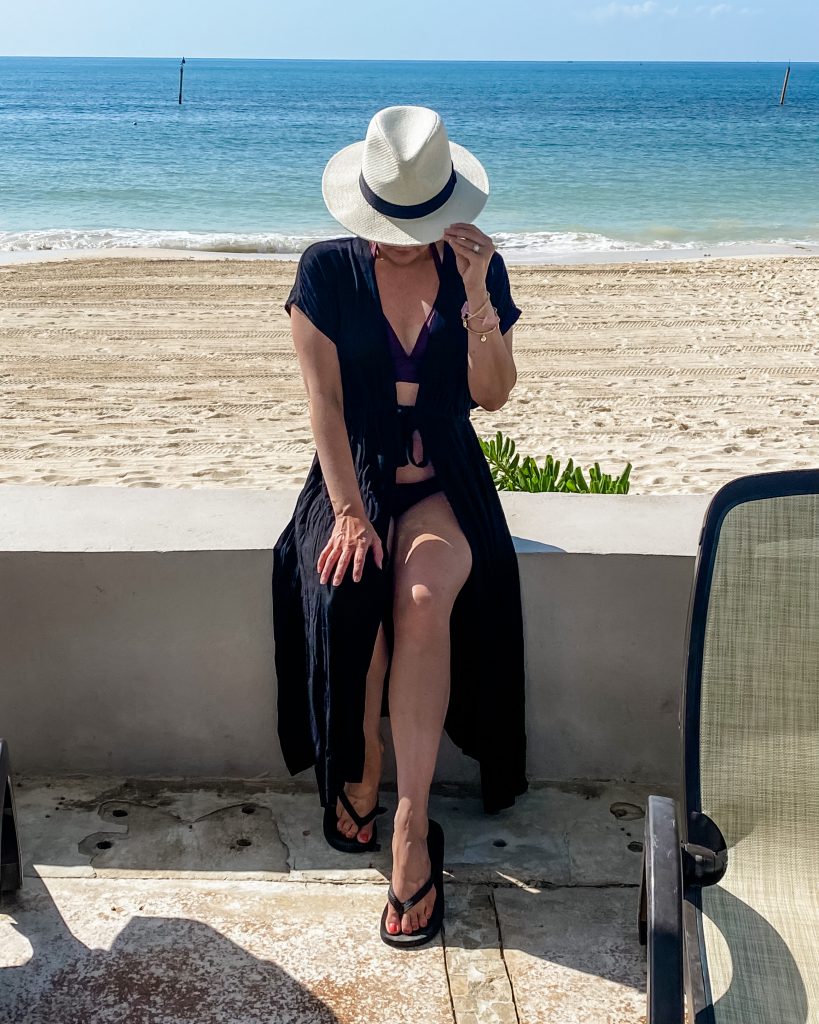 black coverup dress | burgundy bikini top and bottom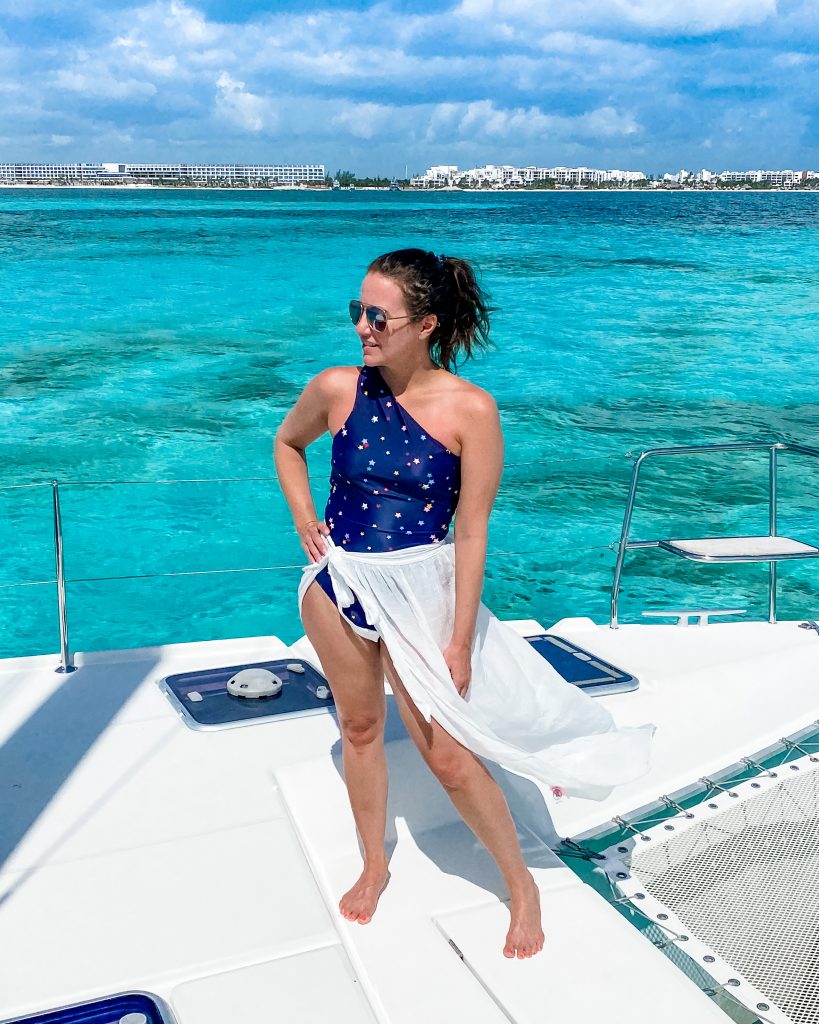 star print one piece swimsuit | white skirt cover up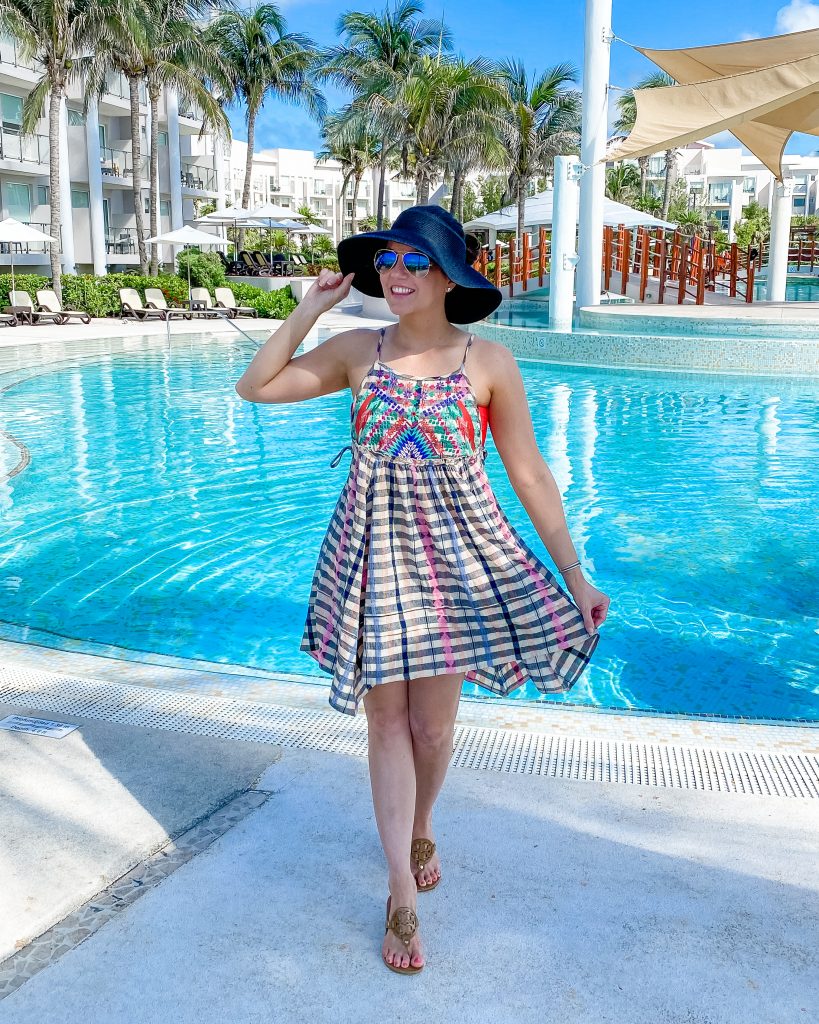 colorful mini dress | black hat | sandals | sunglasses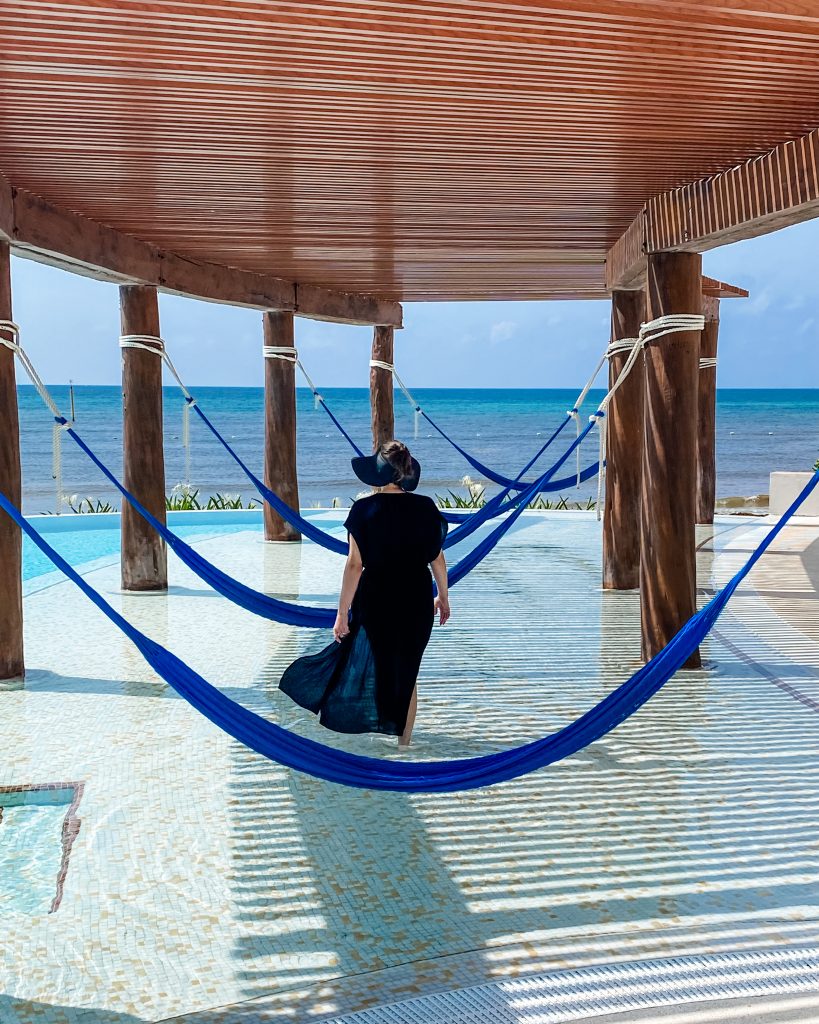 black dress cover up | black hat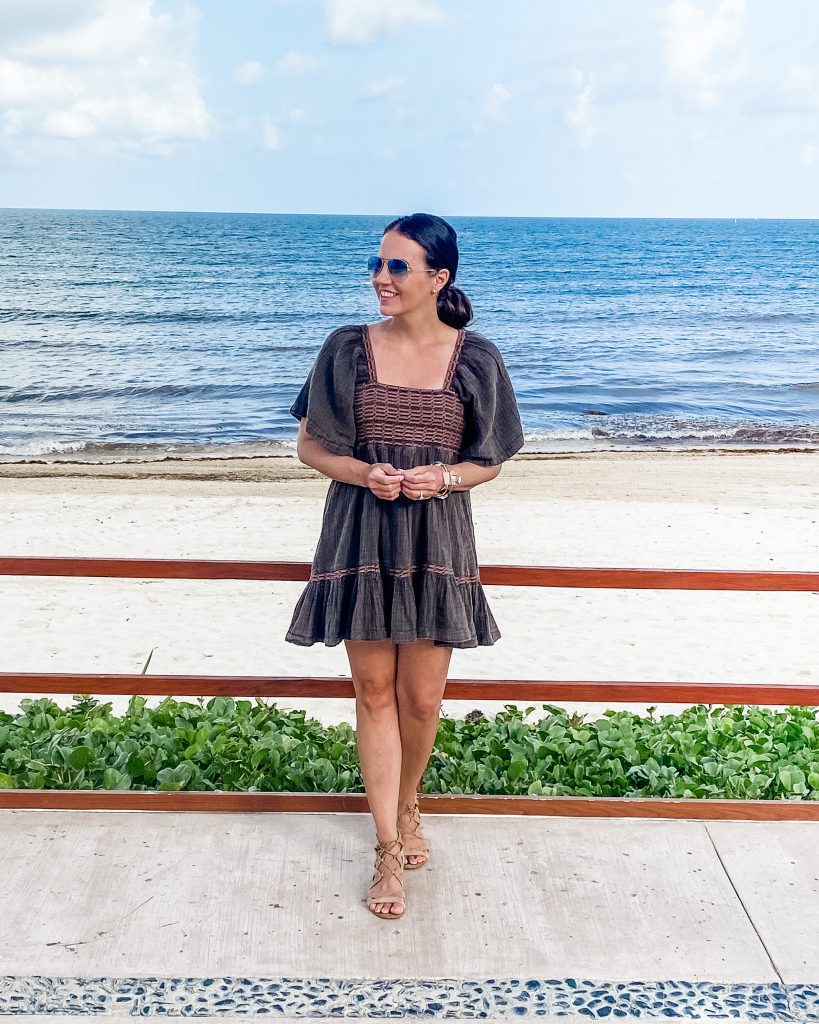 mini dress | sunglasses | c/o pink stone bangle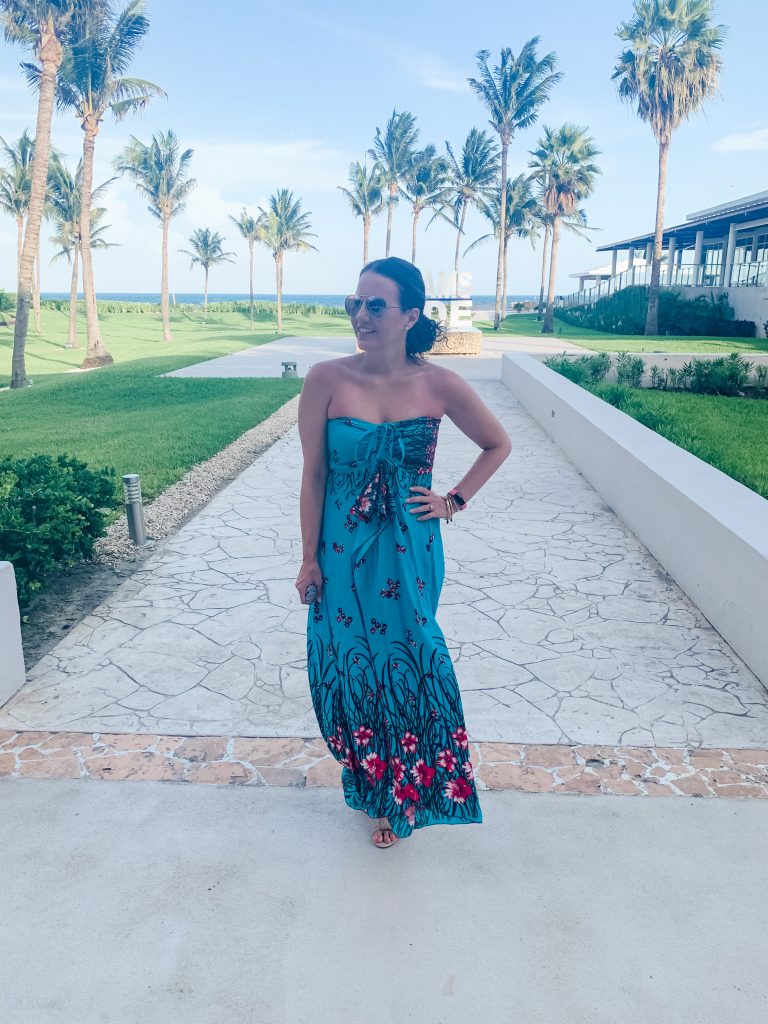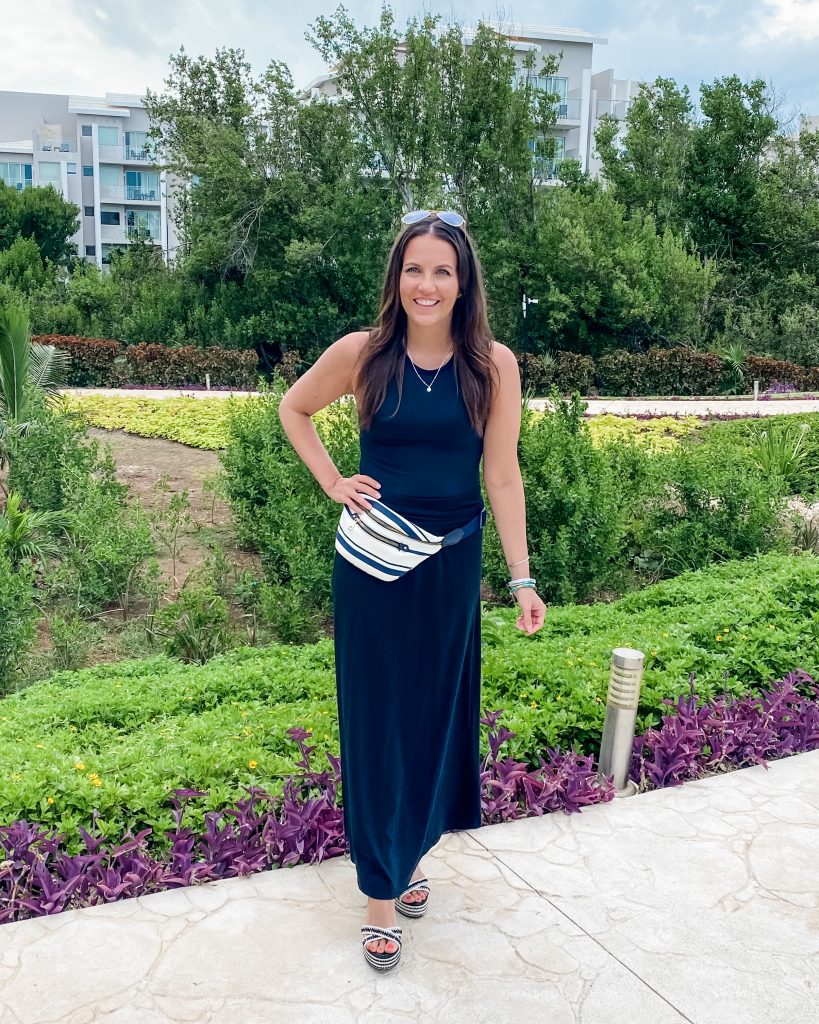 black bodysuit |  belt bag | necklace | c/o teal bracelet | c/o clear bracelet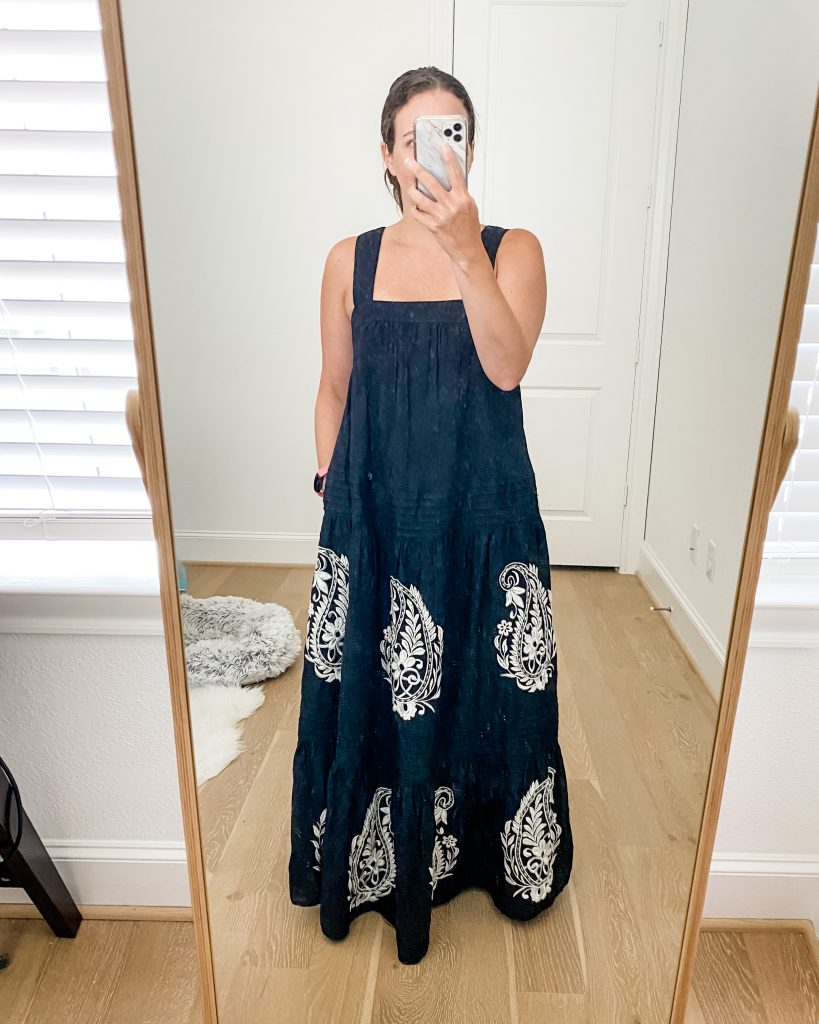 It rained on the night I wore the last one, so I didn't get to snap a resort pic.  This maxi is perfect for a warm weather but want to look dressed up!  I also wore this outfit to dinner on my honeymoon.
WHAT ELSE TO BRING BEYOND CLOTHING
Lots of Sunscreen and After Sun Lotion!  It's expensive in the gift shop, so bring more than you think you will need.  Depending on your location, you may need Reef Safe sunscreen.
Be prepared for humidity! I skipped on straightening my hair and brought a curling gel along with hair ties and bobby pins for lots of fun pulled up and back hairstyles.
Towel Clips: You can find these on amazon and they are great for holding your towel in place when a breeze rolls in.
Yeti cup and a reusable straw: The resorts don't really have straws.  We did get paper ones in Jamaica, but these weren't the best in a frozen cocktail.  We filled our yeti cups with water and ice throughout the day, so we would always have cold water to sip on with our cocktails.  You can also put your cocktails in your cup.
Cash: Bring small bills for tipping and purchasing souvenirs.
 A pool floatie: This comes in nice if you want to relax in the pool, it and can fit flat in your suitcase.  We also saw balls and pool noodles.
Small bag to carry around: I packed a super cute belt bag that I could wear day and night.  I liked that I could just toss it on my waist, have my hands free, and not have to worry about where to set it during dinner.
Beach Bag: Bring a good size bag that will fit a towel, books, sunscreen, sunglasses, and anything else you might bring to the pool.
Books or Tablets: I love reading on the beach, so a few books were a must!  I preferred a book to a tablet, so I didn't worry about it getting wet.
I'm sure I'm leaving a few things out, so I will keep adding when I think of other items.  If you have a must have, be sure to leave it in the comments so we can all add it to our list!
SHOP THE LOOKS