It's that time of year to stock up on your beauty favorites during the Sephora Holiday Sale! The sale opens up in tiers based on your annual spending at Sephora, and you must be signed up for their Free Beauty Insider program.  The first group started shopping last Friday, and the final two groups start this week.
The holiday sale is a great time to stock up on favorites, try out a few new items and pick up a few holiday gifts.  If you don't know where to start, I've rounded up some of my favorites in skincare, makeup, and hair care below.  I'm also sharing a little peek at what new to me products are on my wish list.
SALE DETAILS
Rouge Members save 20% from 11/5-11/15
VIB Members save 15% off 11/9-11/15
Insider Members save 10% off 11/11-11/15
USE CODE: YAYHOLIDAY for discount
SKINCARE FAVORITES
ultra facial cream | protini cream | c-firma serum
3 phase reversal retinol system | eye cream | microneedling tool
midnight recovery concentrate | advanced night serum | pumpkin mask | firming serum
Skincare products can be pricey, especially good skincare products.  A sale is the best time to stock up on skincare in my book.  This list includes some of my favorites over the years in a few different skincare categories.  I'm linking some of my past blog post reviews on a few of these products below if you want to read more on my experience with them.
Retinol System
Microneedling Tool
Firming Serum
I've mentioned this pumpkin mask in a few previous beauty roundups.  It's one of my favorites and leaves my skin so smooth!  I've been trying out different Vitamin C serums, and I still haven't found one I like over this Drunk Elephant one. Same thing for the night eye cream.  Some have come close, but this is still my favorite for reducing fine lines and dark circles.  For night serums, the three I listed all left me with glowing skin in the morning and improved uneven skintone and redness over time.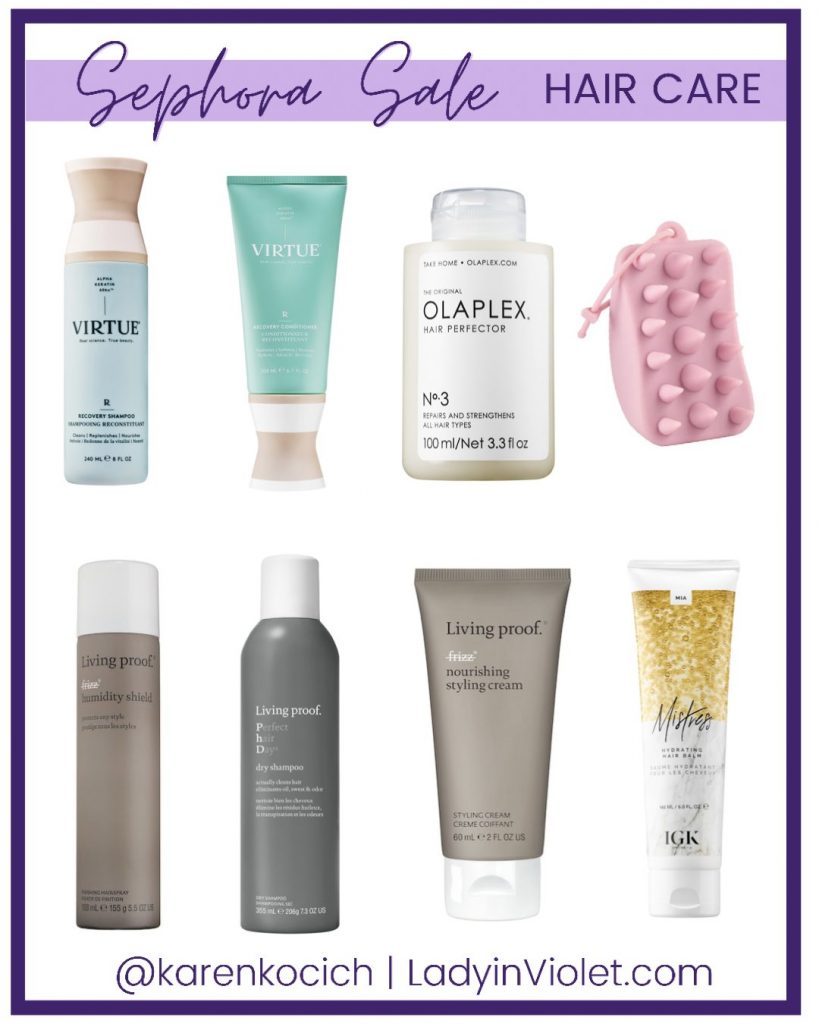 HAIR FAVORITES
recovery shampoo | recovery conditioner | no.3 hair perfector | scalp massager
humidity shield | dry shampoo | styling cream | hair balm
I've been dealing with damaged hair for awhile now, and a few of the products listed have been part of my hair repair journey.  I've noticed an improvement using this shampoo and conditioned a friend recommended.  I've already re-purchased because my results were good.  I just started using this treatment mask and loving the results.  I also added scalp massaging into my routine to help clear out the buildup on my scalp and improve circulation to help with hair growth.
My hair is naturally curly.  I live in a humid climate and love wearing my hair straight.  This humidity shield works! It's not perfect, but it does make a huge difference! I dive more into hair products for heat and humidity in this post which also includes the hair balm.
This dry shampoo is still one of my favorites! It is on the higher end for dry shampoos, so a good item to stock up on during the sale.  Learn how I apply it in this blog post.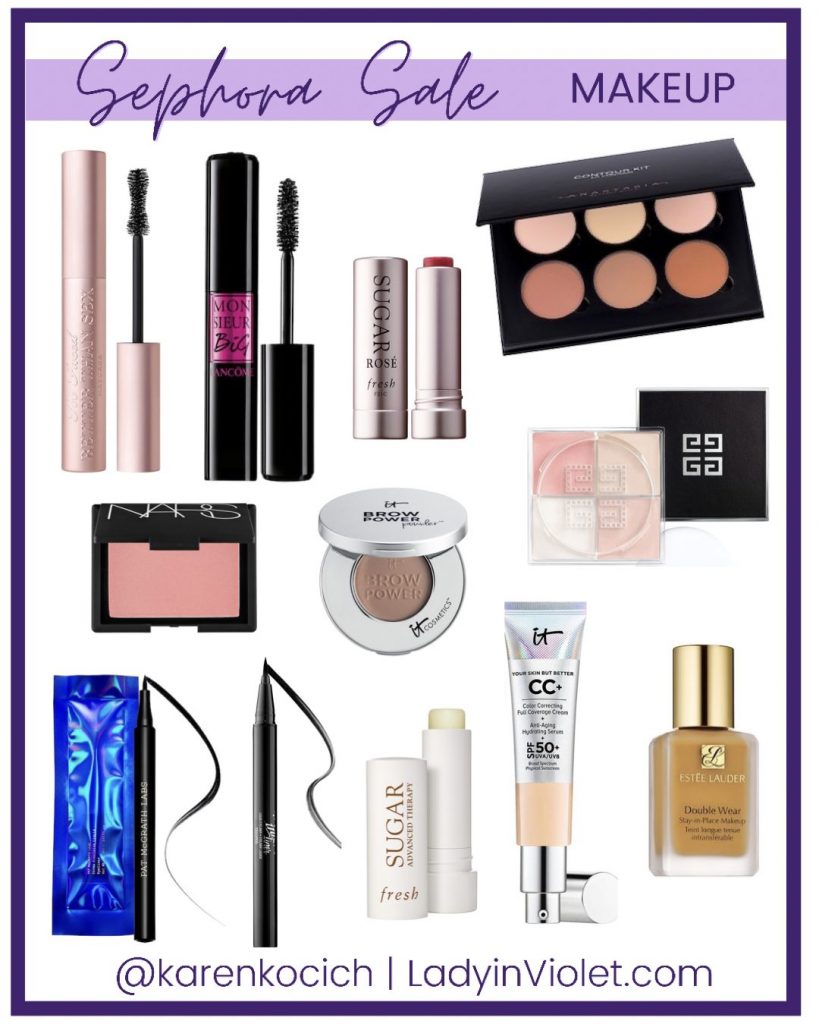 MAKEUP FAVORITES
better than sex mascara | monsieur big mascara | rose lip balm | contour kit
pink blush | brow power | finishing powder
pat mcgrath eye liner | KVD eye liner | advanced therapy lip balm | cc+ cream foundation | double wear foundation
And now the makeup!  I listed a few different options for mascara, eye liner, and foundation.  For mascara, better than sex is still one of my favorites.  I recently tried this Monsieur Big and fell so madly in love.  The volume and length were amazing and no clumping issues!  For foundation, these are my top 2 for coverage, and I love that they don't feel super heavy on.
For the two eyeliners, I like both liner pens for different reasons.  The Pat McGrath tip is little more flexible which is great for creating winged looks and has a lighter feel when applying.  The KVD one has a slightly stiffer tip and helps me apply a straight and even line every time.  Both have staying power and no cross transfer issues.
I've raved on this contour kit before and have a tutorial on using it in this blog post.
The blush, brow powder, and finishing powder are staples in my makeup drawer!  That loose finishing powder gives the best airbrushed finish and helps give a matte look all day.
I transitioned to more lip balms over lip sticks after staining multiple face masks.  The advanced therapy has been a go to for years, and the rose tinted one adds the perfect natural color to you lips.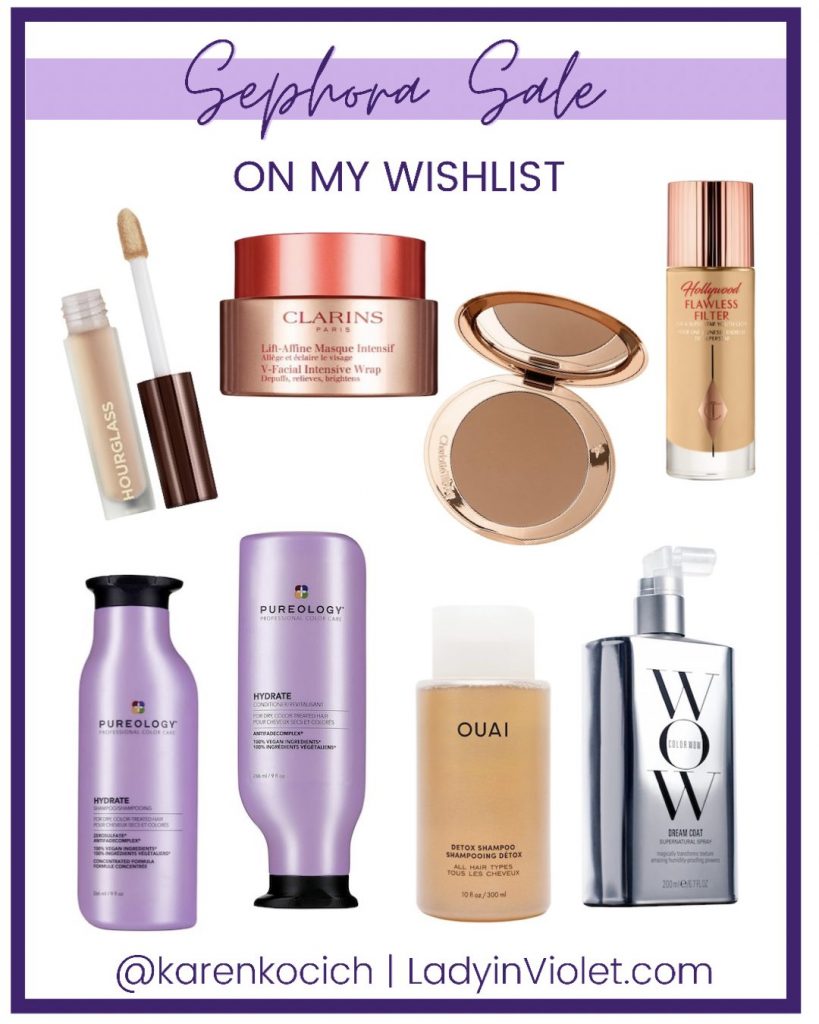 WHAT'S ON MY WISH LIST?
concealer | depuffing face mask  | bronzing powder | flawless filter
hyrdrating shampoo | hyrdrating conditioner | detox shampoo | dream coat
Outside of a few restock purchases, what is on my wish list??
I'm planning to stock up on hair products that have been recommended to help me continue on my hair repair journey.  (and yes a blog post will come once I have the best plan in place!)  This hydrating shampoo and conditioner were recommended to use every few washings since repair shampoos and conditioners can sometimes be drying over time.  I'm also getting this detox shampoo to use monthly to help clear scalp buildup which will hopefully help with hair growth.
I mentioned having naturally curly hair that I always want straight.  This dream coat came highly recommended as being similar to a keratin treatment to give me low frizz straighter hair for multiple washings and a little heat protection.  I'll report back if it works!
This depuffing mask has a cult following and is often sold out! Great for using the day after an overindulgent night out.  Fingers crossed it is still in stock when I'm ready to place my order!
The makeup products all came recommended from makeup artists, so I'm planning to get one or two pending availability of the color I need.
Are you shopping the sale?  What's on your wish list?
Love this post? You may also love: